Winner of Survivor: Blood vs. Water (Season 27): Tyson Apostol
Tyson Apostol was named the winner of Survivor: Blood vs. Water (Season 27) during the finale on December 15, 2013. He defeated runners-up Monica Culpepper and Gervase Peterson by a vote of 7-1-0. At the time of his win, Tyson was a 34-year-old former professional cyclist and missionary shop manager from Provo, Utah. Tyson found two Hidden Immunity Idols and formed strong social bonds as well as had very strong challenge performances. All these components put together allowed him to win in his third time playing. Tyson was also the first winner to ever participate in a rock draw.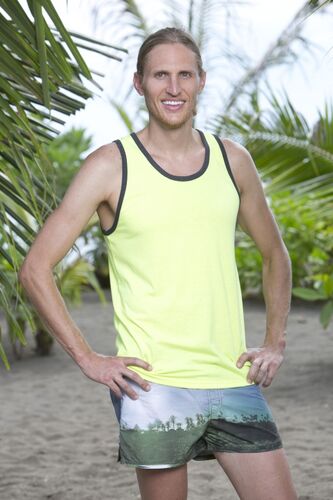 Prior to Survivor: Blood vs. Water, Tyson first competed on Survivor: Tocantins (Season 18). He was voted out on Day 27, finishing in 8th place.
Tyson competed on Survivor: Heroes vs. Villains (Season 20) soon after. He was voted out on day 15, and finished in 15th place.
Additionally, every week, Tyson co-hosts the News AF podcast with Rob Cesternino and Danny Bryson where they examine the week's most interesting news stories.
Tyson Apostol's Appearances on Rob Has a Podcast
NOTE: The list of appearances does not count Tyson's many appearances on the Spyson Hour or News AF podcasts.