Talking with T-Bird: Sandra Diaz-Twine
For everyone who wanted more T-Bird in the Survivor off-season, your wish has been granted as we once again start up the series "Talking with T-Bird." Each episode, Rob Cesternino (@robcesternino) and Survivor: Africa's Teresa "T-Bird" Cooper (@tbirdcooper) will catch up with a former Survivor player and talk about anything and take listener questions. In the forty-seventh episode of "Talking with T-Bird," and in conjunction with Survivor: Heroes vs. Villains's appearance this week at the top of the RHAP All-Time Survivor Season Rankings, Rob and T-Bird's guest is none other than Sandra Diaz-Twine.
Sandra's first Survivor appearance, and victory, came during the seventh season of the show, Survivor: Pearl Islands. Despite her alliance of Drake tribe members being overthrown early in the merge, she managed to maneuver through different alliances with her famous "anybody but me" strategy, winning the game by a 6-1 vote.
Thirteen seasons later, Sandra was welcomed back to the game as a member of the Villains tribe in the show's historic twentieth season, Survivor: Heroes vs. Villains. Despite being on the bottom of the Villains tribe very early own after yet another one of her alliances was overthrown, she managed to make it to the merge using her same coined strategy that netted her the million dollars her first time. She tried working with the Heroes at the merge and with that also failing, her finding of a Hidden Immunity Idol plus her lack of a threat level, she managed to make it again to day 39, and winning again, this time by a vote of 6-3-0.
After another long layoff, this time of fourteen seasons, Sandra accepted the invitation for the show's thirty-fourth season, Survivor: Game Changers. Being one of only three winners in the game, her target was monumental from the get-go. Right away, she played a more aggressive but still charismatic game, winning a power struggle over Tony Vlachos to take control of her tribe. She made it to both swaps and after being in a severe minority at the second swap, her tribe threw a challenge to vote her out on day 16 by a vote of 5-2, leaving her in fifteenth place.
During the show's thirty-ninth season, Island of the Idols, Sandra was relegated to a different role, mentoring new castaways with her fellow Heroes vs. Villains tribemate "Boston" Rob Mariano. She spent thirty-six days on the island as a mentor this time.
Two weeks after filming Island of the Idols, Sandra was back for the show's legendary fortieth season of all-winners dubbed Winners at War. Being the show's only two-time winner going into the season, her target was massive yet again. She got herself into a good position right off the bat, and after being swapped onto a tribe of five, she decided to trade the Hidden Immunity Idol she bought from the Edge of Extinction to Denise for more fire tokens. Unbeknownst to Sandra, Denise had a second idol that she used to save Jeremy in addition to herself, and in a monumental blindside, Denise's one vote took out the Queen of Survivor, again on day 6 by a 1-0 vote. This left her in sixteenth place, and immediately after going to the Edge of Extinction, she chose to leave and not battle for a shot to get back in the game.
You can check out Sandra's statistics on the Survivor Wiki from her illustrious Survivor career here: Sandra Diaz-Twine's Survivor Wiki Profile.
Get your hands on some custom Talking with T-Bird merch! 
Past Episodes of "Talking with T-Bird":
Talking with T-Bird: Helen Glover – May 30, 2019
Talking with T-Bird: Stephenie LaGrossa Kendrick – June 20, 2019
Talking with T-Bird: Gretchen Cordy – July 2, 2019
Talking with T-Bird: Kelly Goldsmith – July 11, 2019
Talking with T-Bird: Judd Sergeant – July 22, 2019
Talking with T-Bird: Sean Rector – July 29, 2019
Talking with T-Bird: Scout Cloud Lee – August 3, 2019
Talking with T-Bird: Robb Zbacnik – August 13, 2019
Talking with T-Bird: Rodger Bingham – August 18, 2019
Talking with T-Bird: Ami Cusack – August 25, 2019
Talking with T-Bird: Frank Garrison – August 31, 2019
Talking with T-Bird: Shii-Ann Huang and Natalie Bolton – September 19, 2019
Talking with T-Bird: Vecepia Towery – January 19, 2020
Talking with T-Bird: Tom Westman – June 6, 2020
Talking with T-Bird: Heidi Hamels – June 21, 2020
Talking with T-Bird: Debbie Wanner – July 8, 2020
Talking with T-Bird: Michael "Frosti" Zernow – July 14, 2020
Talking with T-Bird: Kathy Vavrick-O'Brien – July 25, 2020
Talking with T-Bird: Randy Bailey – August 8, 2020
Talking with T-Bird: Keith Famie – August 18, 2020
Talking with T-Bird: Ian Rosenberger – September 4, 2020
Talking with T-Bird: Lindsey Richter – September 19, 2020
Talking with T-Bird: Robert "The General" DeCanio – September 26, 2020
Talking with T-Bird: Gervase Peterson – October 12, 2020
Talking with T-Bird: Katie Gallagher – October 20, 2020
Talking with T-Bird: Jerri Manthey – October 30, 2020
Talking with T-Bird: Dreamz Herd – November 16, 2020
Talking with T-Bird: Brandon Quinton – November 23, 2020
Talking with T-Bird: Cindy Hall – December 1, 2020
Talking with T-Bird: NaOnka Mixon – December 10, 2020
Talking with T-Bird: Cindy & Mindy Hall – December 17, 2020
Talking with T-Bird: Julie Berry – January 10, 2021
Talking with T-Bird: Kelly Wiglesworth – January 24, 2021
Talking with T-Bird: Ghandia Johnson – January 31, 2021
Talking with T-Bird: Lex van den Berghe – February 7, 2021
Talking with T-Bird: Holly Hoffman – February 21, 2021
Talking with T-Bird: Todd Herzog – February 28, 2021
Talking with T-Bird: Maralyn "Mad Dog" Hershey – March 7, 2021
Talking with T-Bird: Dawn Meehan – March 27, 2021
Talking with T-Bird: Anthony Robinson – April 4, 2021
Talking with T-Bird: Danni Boatwright – April 11, 2021
Talking with T-Bird: Rory Freeman – May 11, 2021
Talking with T-Bird: Clarence Black – May 23, 2021
Talking with T-Bird: Keith and Wes Nale – June 26, 2021
Talking with T-Bird: Shane Powers – June 29, 2021
Talking with T-Bird: Michaela Bradshaw – July 18, 2021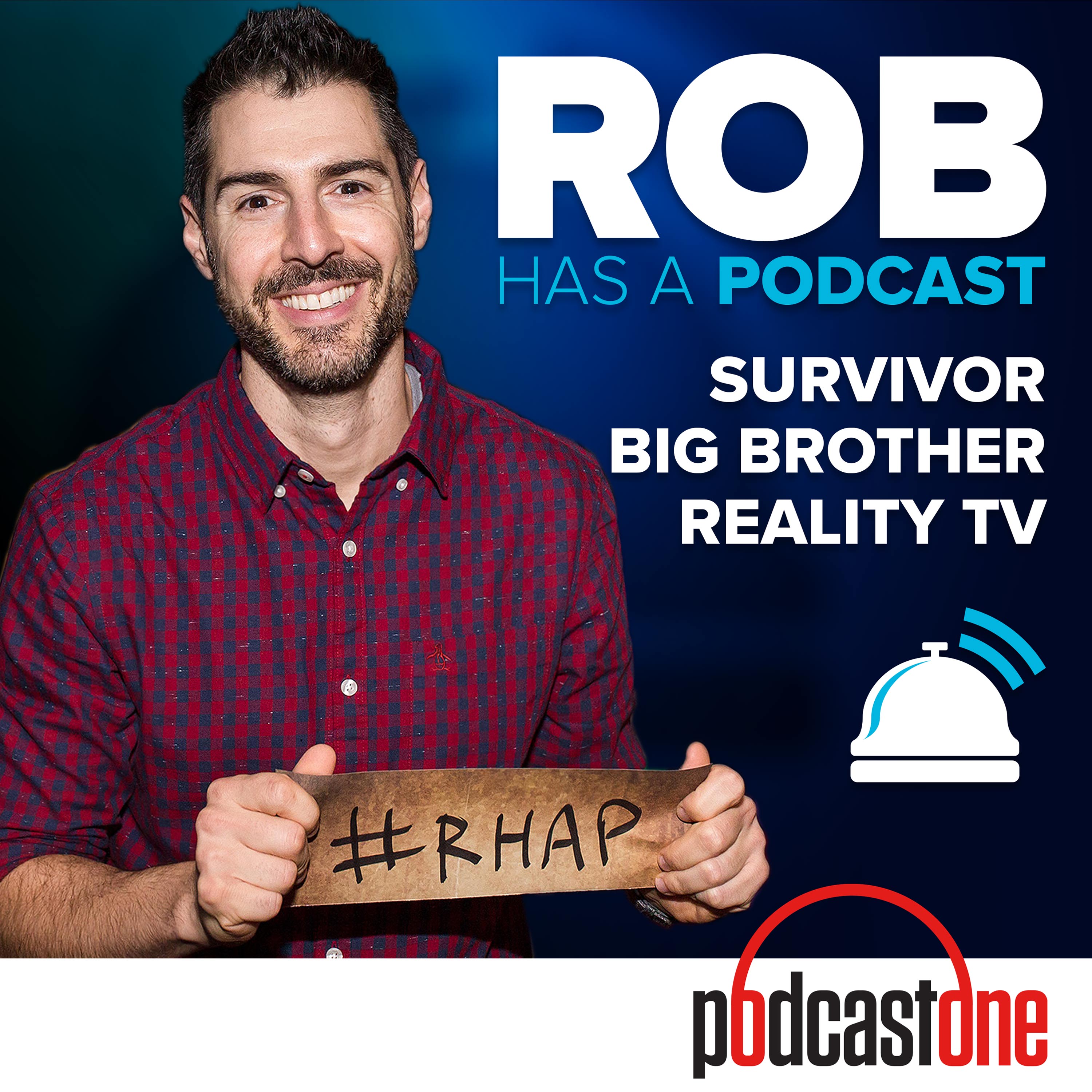 Rob Has a Podcast | Survivor / Big Brother / Amazing Race - RHAP
Survivor, podcaster and creator of RHAP, Rob Cesternino
Survivor & Big Brother Reality TV podcasts from Survivor Rob Cesternino