Survivor 39 Exit Interview with Jamal Shipman
Rob Cesternino is back to interview the ninth player voted out of Survivor: Island of the Idols and the third member of the jury Jamal Shipman in the eighth exit interview of Survivor's 39th season.
Rob speaks with the third member of the jury Jamal Shipman after he was blindsided on a 6-3-0 vote. Jamal started the game on the Vokai tribe, finding himself in the minority with Jack and Molly, but worked himself into the majority on the new Lairo tribe after the swap. On day 19, he was blindsided by the boot of Dean, then tried voting out Dan at the merge and was blindsided by Kellee's boot, and was blindsided again by his own boot on day 24.
Rob and Jamal discuss the speculation behind what "Island of the Idols" meant, how he was compelled to play his idol for Noura on day 19. They also talk about how the entire situation with Dan unfolded, his feelings on the matter and such, her false sense of security, his passion on many issues, all the blindsides he faced, and much more from his 24-day journey in the game.
Jamal Shipman is a 34-year old admissions counselor from Providence, Rhode Island, but currently resides in Jersey City, New Jersey. He said he was most like two-time Survivor Jeremy Collins given the way he played the game.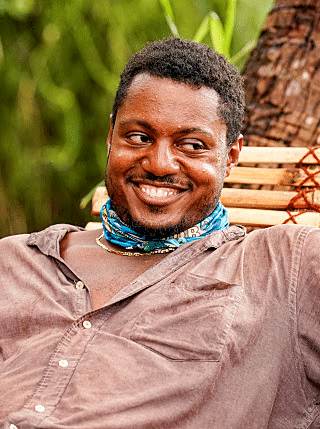 Schedule of the RHAP Survivor: Island of the Idols Episodes 8 & 9 Podcasts
Past RHAP Survivor: Island of the Idols Exit Interviews
Show Links