Interviews, analysis and season summaries for some of the best and most interesting people who have played Survivor. More coming soon…
Cirie Fields
Survivor Seasons: Panama, Micronesia, Heroes vs. Villains
Cirie Fields is arguably one of Survivor's greatest social players. Likeable and highly intelligent, she has proven that she can stay cool under pressure, fly under the radar, and take out the biggest threats one by one.
Corinne Kaplan

Survivor Seasons: Gabon, Caramoan
Corinne Kaplan is a two time survivor player, known for her polarizing personality. Love her or hate her, Corinne's shrewd and intelligent game play is often overlooked. She makes alliances easily and fights to defend those within them.
John Cochran

Survivor Seasons: South Pacific, Caramoan
Cochran said in one of his first confessionals, "I am by far, the most Survivor savvy player ever to play the game." Being the biggest superfan Survivor had ever seen was not all it cracked up to be, however. His keen intellect struggled against his crippling social anxiety.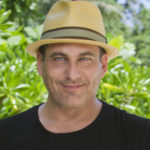 Jonathan Penner
Survivor Seasons: Cook Islands, Micronesia, Philippines
Jonathan Penner is considered one of the smartest yet unluckiest players to never win Survivor. While incredibly intelligent and strategic, Penner's social game is not strong enough to create tight bonds with his fellow castaways.
Jonny Fairplay
Survivor Seasons: Pearl Islands, Micronesia
Funny, combative and polarizing, Jonny Fairplay is considered by many to be the most villainous player to ever play the game.
Kim Spradlin

Survivor Season: One World
Charming, athletic and devious, Kim Spradlin creamed her competition her first time playing Survivor. She dominated the season and is arguably the best liar to ever play Survivor.
Malcolm Freberg
Survivor Seasons: Philippines, Caramoan
Malcolm Freberg is a fan favorite and two-time Survivor player, well known for his movie star good looks and flashy moves. Malcolm was also one of the few people to play survivor in back-to-back seasons.
Parvati Shallow

Survivor Seasons: Cook Islands, Micronesia, Heroes vs. Villains
Parvati Shallow is known for her charm, her physical strength, and her strategic dominance. Parvati is considered by many (including Jeff Probst) as one of the greatest players of all time.
Tyson Apostol

Survivor Seasons: Tocantins, Heroes vs. Villains, Blood vs. Water
Tyson Apostol is known for his athleticism, his goofy antics, and his sarcastic quips. Tyson is a three time Survivor player who has had wildly mixed fortunes in each of his attempts at playing the game.