Rob Cesternino hosts the longest podcast in the history of his career as he welcomes back John Cochran. After discussing Survivor Cagayan Episode 12 with Cochran, Rob is joined Nicole Cesternino to answer your voicemail questions and discuss some of the memorable quotes from the last Survivor podcast.
Winner of Survivor Caramoan, John Cochran, Breaks Down the Survivor Cagayan Final Four
Rob welcomes Cochran back for an episode recap for the first time since the premiere of Survivor One World.  This time Cochran is able to visit with Rob in his studio for a marathon talk about the current season of Survivor, which he is really loving because he is unspoiled and, like Rob, he's been surprised week-to-week at who has gone home. Cochran reveals that he worships Tony and gives kudos to "Survivor" casting because he thinks that Tony is the best new character that "Survivor" has found since Coach.  Cochran also thinks this was the best Final 6 in "Survivor" history, while Rob thinks "Heroes vs. Villains" gives it a run for its money. Rob asks Cochran to explain why Tony voted off Trish and Cochran thinks it's because that would be a vote for him on the jury.  Rob plays a secret scene from the latest episode in which Tony reveals that he feels like Trish's loyalty to him would make her vote for him in the finals. Rob and Cochran run through a number of scenarios for the final Survivor tribal council, which is now CONFIRMED to be a final 2 by Jeff Probst.  After going through a number of scenarios Rob and Cochran use some deductive reasoning to come up with the following conclusions:
There is almost no chance that Kass will NOT be in the final 2.  Anybody in the game would be crazy not to take her.
There is almost no chance that we will get to see a Tony and Spencer Final 2 (See Reason 1)
Though it seemed crazy at one time, there is a real possibility that Woo can win the game.
In addition to discussing what could happen on Finale Night, Rob and Cochran discuss some of the changes that are coming to the Survivor Finale telecast which Rob thinks will make it more like the "Celebrity Apprentice" finale.  Jeff Probst said in his interview with Dalton Ross that he will be live from the finale in between act breaks of the episode.  Rob also hopes they pump in the crowd noise from the finale into the telecast since Rob loves that on the Celebrity Apprentice. Rob and Cochran discuss Kass' game at length and Rob asks John to compare his flip in "Survivor South Pacific" to Kass' flip in "Survivor Cagayan."  Rob wants to know if Kass realized she wouldn't win and intentionally has done everything in her power to get to the final 2 OR if this is actually Kass trying to win the game.
Rob and Cochran also discuss Rob's new X-tra large "Let's Get Weird Chase Rice" t-shirt, how Woo compares to Fabio from "Survivor: Nicaragua," Cochran's dating life and personal training regimen, personal goals and the secret to being happy. They also break down the best episode titles of this season, such as "Hot Girl with a Grudge" and compare them to the episode titles from "Survivor: Borneo." Cochran also discloses his reasons for not tweeting very much about "Survivor" as a former castaway.
To RHAP up the show, Rob asks Cochran a number of questions from the Rob Has a Podcast Facebook page, which lead to a lot of great discussions. The questions include:
What does Cochran think of Spencer calling himself, "The Cochran That Doesn't Suck"? And is, in fact, Cochran the "Spencer That Doesn't Suck"?
Does Cochran think Tony has played like Russell Hantz?
How does Cochran think the Tyler Perry idol has affected the game?
Are there any similarities between Kass and Dawn?
What's the most Hollywood thing that Cochran has ever done?
Is Cochran willing to participate in Sophie Clarke's idea of "Survivor: Family Feud"?
What is Cochran's "baggage"?
What would be the premise and who would be the cast of a sitcom called "The Vlachos"?
Nicole Cesternino Answers Your Survivor Cagayan Voicemails
The first lady of podcasting rejoins Rob on #RHAP to discuss Survivors on social media, Jeff Probst's inappropriate comments, and answer a number of your phone calls which covered:
Is there still time for a family visit this season?
Who is Dominic supporting for #RHAP fan favorite?
How has "Survivor" been able to maintain its ratings while "American Idol" has slipped?
Is this the best season of "Survivor" ever?
Can Spencer get to the Final 2 without winning immunity?
What Does the Llama Say?
We really hope you enjoy the longest podcast in the history of RHAP.  For more coverage of this week's episode check out: Survivor Know-It-Alls Recap of Episode 11 Rob's Exit Interview with Trish Hegarty
Show Links:
The Impact of Cochran's Twitter on Reality TV & Social Media – Rob's Thoughts about Cochran plugging his Twitter on the Caramoan Finale. Tony's Secret Scene: The Hardest Part – Tony reveals why voting out Trish might be good for his game in a secret scene from this week.
Vote for the RHAP Fan Favorite Player of the Season: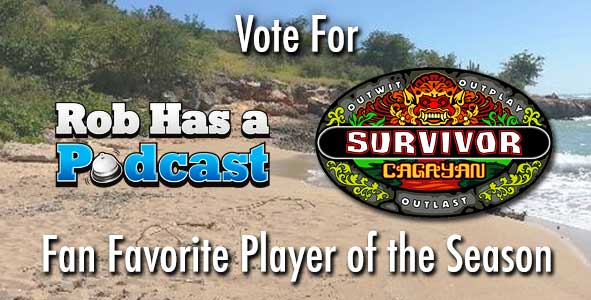 Subscription Options for Rob Has a Podcast: