Rob & Akiva Need a Podcast #99: The Great Debate
Rob Cesternino and Akiva Wienerkur need a podcast and every week, Rob and Akiva spin a wheel of listener-submitted podcast ideas, and whatever the wheel lands on is what they podcast about next. This week, the wheel landed on the "The Great Debate," where Rob and Akiva have debate topics issued to them. Rob and Akiva are joined by AJ Norris (@thekidnorris), LaTonya Starks (@lkstarks), and Big Brother live feed correspondent Melissa Deni (@itsmelissaaa).
After Rob and Akiva have a very great debate, they go through the mailbag to hear what new ideas should be added to the wheel and then spin the wheel to see what will be coming next week in episode 100. If you're interested in skipping ahead to the mailbag at any point, skip to 1:55:54.
For the link to the spreadsheet that Rob and Akiva use to compile ideas, check it all out here: Rob and Akiva Need a Spreadsheet (compiled by the great Will from America).
Past Episodes of Rob & Akiva Need a Podcast
Rob & Akiva Need a Podcast #2: Calling Patriots at Jets in Madden – August 25, 2018
Rob & Akiva Need a Podcast #3: Watching Music Videos from 80's, 90's & Today – September 1, 2018
Rob & Akiva Need a Podcast #4: Top 10 or Trash? – September 8, 2018
Rob & Akiva Need a Podcast #5: All About May 22, 1998 – September 22, 2018
Rob & Akiva Need a Podcast #6: Wife Swap Quiz – October 12, 2018
Rob & Akiva Need a Podcast #7: Watching "Leprechaun" – October 20, 2018
Rob & Akiva Need a Podcast #8: Doing it "Backwards" – November 3, 2018
Rob & Akiva Need a Podcast #9: Your Tweets are Trash – November 10, 2018
Rob & Akiva Need a Podcast #10: Dad Advice Know-It-Alls – November 16, 2018
Rob & Akiva Need a Podcast #11: The Wizarding World of Rob & Akiva– November 22, 2018
Rob & Akiva Need a Podcast #12: TV's Greatest Characters Play Survivor – November 30, 2018
Rob & Akiva Need a Podcast #13: Dinosaurs | Season 3, Episode 7 Recap – December 8, 2018
Rob & Akiva Need a Podcast #14: Kids Shows are Trash – December 14, 2018
Rob & Akiva Need a Podcast #15: Explaining STAR WARS to Akiva – December 23, 2018
Rob & Akiva Need a Podcast #16: Judging Judy – December 31, 2018
Rob & Akiva Need a Podcast #17: Pranking the Listeners – January 6, 2019
Rob & Akiva Need a Podcast #18: I Can't Believe It's Just Banter! – January 10, 2019
Rob & Akiva Need a Podcast #19: Conspirapod – January 18, 2019
Rob & Akiva Need a Podcast #21: The RHAPchelor  – February 2, 2019
Rob & Akiva Need a Podcast #22: All About March 11, 1995 – February 9, 2019
Rob & Akiva Need a Podcast #23: Are Rob & Akiva Smarter than a Listener? – February 16, 2019
Rob & Akiva Need a Podcast #24: Millennial Bootcamp – February 24, 2019
Rob & Akiva Need a Podcast #25: Idea Bracket – March 3, 2019
Rob & Akiva Need a Podcast #26: Akiva's Mystery Episode – March 10, 2019
Rob & Akiva Need a Podcast #27: The "Stan" Tournament– March 17, 2019
Rob & Akiva Need a Podcast #28: The TV Theme Song Tournament – March 25, 2019
Rob & Akiva Need a Podcast #29: Rob & Akiva Solve a Murder – March 30, 2019
Rob & Akiva Need a Podcast #32: Total Idea Request Live – April 28, 2019
Rob & Akiva Need a Podcast #33: Win Shut Up Tim's Money – May 5, 2019
Rob & Akiva Need a Podcast #35: Too Beloved – May 19, 2019
Rob & Akiva Need a Podcast #36: Rob & Akiva Name a Baby – May 25, 2019
Rob & Akiva Need a Podcast #39: Conspirapod 2 – June 23, 2019
Rob & Akiva Need a Podcast #41: MTV Dating Shows are Trash – July 6, 2019

Rob & Akiva Need a Podcast #42: Rob & Akiva Host a Late Night Talk Show in Minneapolis – July 21, 2019
Rob & Akiva Need a Podcast #44: Millennials Killed It – August 9, 2019
Rob & Akiva Need a Podcast #45: Rob & Akiva Go On The Oregon Trail – August 19, 2019
Rob & Akiva Need a Podcast #46: Canadian TV Shows R Trash – August 24, 2019
Rob & Akiva Need a Podcast #47: The Royal Rumble – September 1, 2019
Rob & Akiva Need a Podcast #48: Dawson's Creek | Season 3, Episode 7 Recap – September 6, 2019
Rob & Akiva Need a Podcast #49: The RAANAP Census – September 13, 2019
Rob & Akiva Need a Podcast #50: Watching "The Animal" – September 22, 2019
Rob & Akiva Need a Podcast #51: This Week in Rob & Akiva – September 28, 2019
Rob & Akiva Need a Podcast #52: Watching "The Fanatic" – October 4, 2019
Rob & Akiva Need a Podcast #53: Your Problems are Trash – October 12, 2019
Rob & Akiva Need a Podcast #54: The One With Season 3, Episode 7 of FRIENDS – October 22, 2019
Rob & Akiva Need a Podcast #55: Watching "Leprechaun 2" – October 27, 2019
Rob & Akiva Need a Podcast #56: The Masked RAANAPper – November 2, 2019
Rob & Akiva Need a Podcast #57: 2019 Hot Take Tournament – November 8, 2019
Rob & Akiva Need a Podcast #58: TLC Shows are Trash (90 Day Fiancé) – November 17, 2019
Rob & Akiva Need a Podcast #59: Golden Girls | Season 3, Episode 7 Recap – November 24, 2019
Rob & Akiva Need a Podcast #60: Game Night – December 1, 2019
Rob & Akiva Need a Podcast #61: King of the Matts – December 8, 2019
Rob & Akiva Need a Podcast #62: Jersey Shore | Season 3, Episode 7 Recap – December 14, 2019
Rob & Akiva Need a Podcast #63: Watching Disney+ Plus Kids – December 21, 2019
Rob & Akiva Need a Podcast #64: Rob & Akiva Solve Another Murder – December 28, 2019
Rob & Akiva Need a Podcast #66: Are Rob & Akiva Smarter than a 6th Grader – January 11, 2020
Rob & Akiva Need a Podcast #67: Rob & Akiva Enjoy "The View"– January 18, 2020
Rob & Akiva Need a Podcast #68: Rob & Akiva Need a Catchphrase – January 25, 2020
Rob & Akiva Need a Podcast #69: Ask Dr. Mike – February 1, 2020
Rob & Akiva Need a Podcast #70: Survivor | Season 3, Episode 7 Recap – February 8, 2020
Rob & Akiva Need a Podcast #71: Wheel or No Wheel – February 22, 2020
Rob & Akiva Need a Podcast #72: The Brady Bunch | Season 3, Episode 7 Recap – February 29, 2020
Rob & Akiva Need a Podcast #75: The Bracket Bracket – March 20, 2020
Rob & Akiva Need a Podcast #77: Akiva's Biggest "Stan" – April 4, 2020
Rob & Akiva Need a Podcast #79: Mount Rushmore – April 18, 2020
Rob & Akiva Need a Podcast #80: Family Feud – April 26, 2020
Rob & Akiva Need a Podcast #81: The Pod-Off – May 3, 2020
Rob & Akiva Need a Podcast #82: Cosmo Quizzes – May 10, 2020
Rob & Akiva Need a Podcast #84: Rob & Akiva Watch "Eddie" – May 23, 2020
Rob & Akiva Need a Podcast #85: Escape the Pod – May 31, 2020
Rob & Akiva Need a Podcast #86: Survivor: Stans vs. Ops – June 4, 2020
Rob & Akiva Need a Podcast #87: Rob & Akiva are "Pointless" – June 7, 2020
Rob & Akiva Need a Podcast #88: Alf | Season 3, Episode 7 Recap – June 14, 2020
Rob & Akiva Need a Podcast #90: RAANAPywood Squares – June 27, 2020
Rob & Akiva Need a Podcast #91: Rob & Akiva Get Dragged – July 5, 2020
Rob & Akiva Need a Podcast #92: Rob & Akiva Swipe Right – July 12, 2020
Rob & Akiva Need a Podcast #93: Rob Needs an NBA Team – July 19, 2020
Rob & Akiva Need a Podcast #94: 30 Rock | Season 3, Episode 7 Recap – July 26, 2020

The Origins of Rob & Akiva Need a Podcast – August 3, 2020

Rob & Akiva Need a Podcast #95: Game Night 2 – August 9, 2020
Rob & Akiva Need a Podcast #96: Rob & Akiva are Superheroes – August 16, 2020
Rob & Akiva Need a Podcast #97: Rob & Akiva Answer 97 Questions – August 22, 2020
Rob & Akiva Need a Podcast #98: Rob & Akiva Watch "Murder Mystery"– August 29, 2020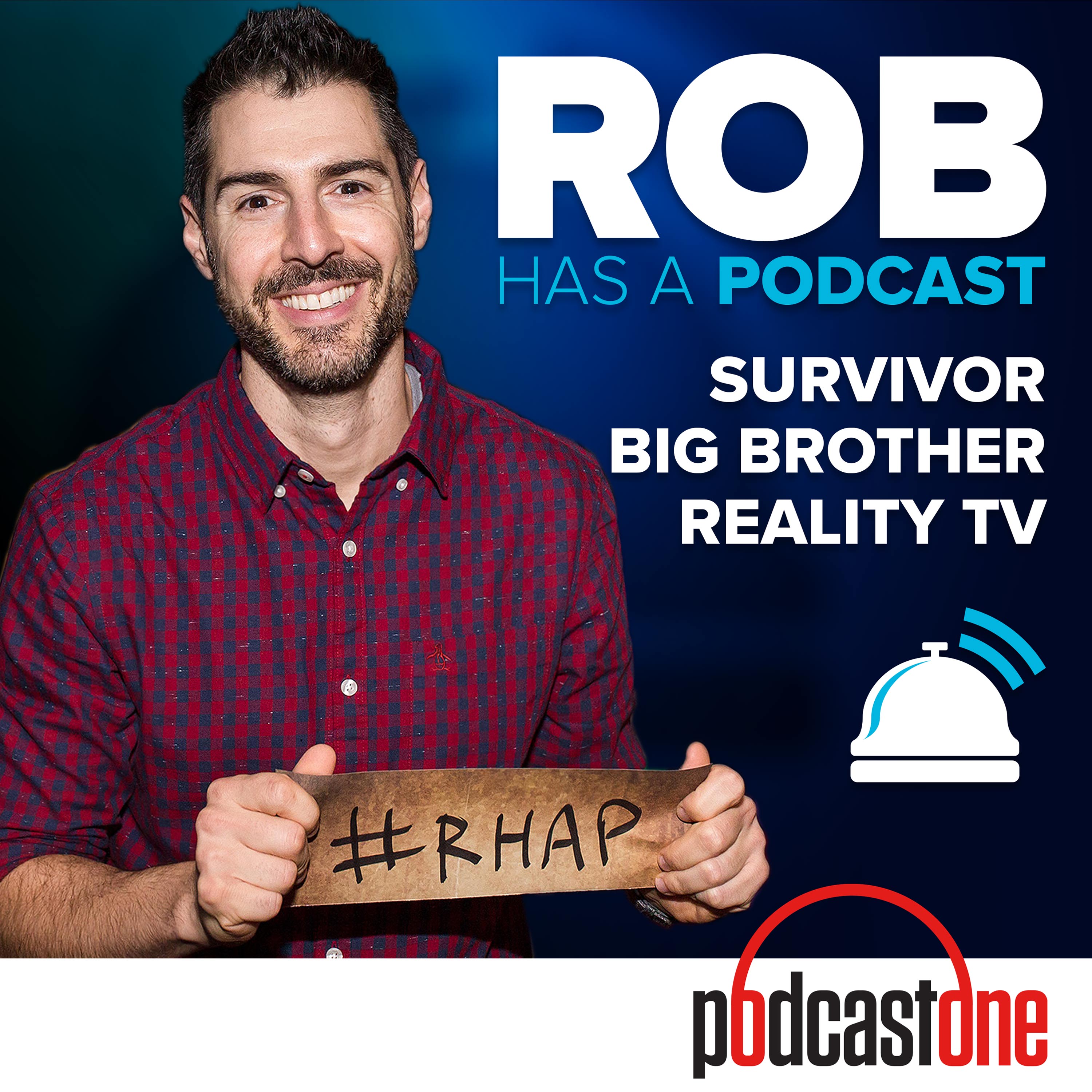 Rob Has a Podcast | Survivor / Big Brother / Amazing Race - RHAP
Survivor, podcaster and creator of RHAP, Rob Cesternino
Survivor & Big Brother Reality TV podcasts from Survivor Rob Cesternino