Jordan is joined by the RHAP live feed correspondents (Alex Kidwell, Brent Wolgamott, and Taran Armstrong) for another rankings podcast. This time the crew works together to compile a consensus list of the Top 10 Worst Moves in the history of Big Brother. They discuss dozens of poor moves that have been made over the course of Big Brother's 17 year history including:
Kaysar giving his HOH to Jen in Season 6 right after coming back into the house
Chill Town's error at the end of Big Brother All Stars
Kail attempting to convince Daniele to vote out her Dad in Big Brother 8
And much more!
Join us LIVE every

Monday

at

6PM

Pacific/9PM Eastern which will be our new time slot during Big Brother 18
| | | | | | |
| --- | --- | --- | --- | --- | --- |
| | ALEX | BRENT | JORDAN | TARAN | |
| #1 | Lawon wants "special powers" (13) | Dani vetoes Dan at F4, giving him the vote (14) | Cody taking Derrick to F2 (16) | Lawon's special powers (13) | |
| #2 | Dustin volunteers himself up, Eric volunteers him out (8) | Julia targets Austin at F6 Veto (17) | Jason evicts Amy instead of Lisa at F4 (3) | Dustin's courtesy flush (8) | |
| #3 | Cody takes Derrick to F2 over Victoria/Veronica (16) | Cody takes Derrick to F2 (16) | Lawon Volunteers to Get Nom'd + Evicted (13) | Shane & Danielle trusted Dan 100% at F4 (14) | |
| #4 | Marcellas decides he's OK without the POV (3) | Ivette smacktalks Goodbye Mssg to Rachel, loses | Marcellas Doesn't Use the Veto (3) | Will tries to woo both girls on his double date at F4 (7) | |
| #5 | Danielle pawns Shane out the door (14) | Lawon WTF (13) | Danielle Uses POV on Dan at F4 (14) | Nathan thinks Alison deserves a second chance (4) | |
| #6 | Cowboy evicts his own sister at 4 so he can go F3 w/ a showmance (5) | Marcellas doesn't use the veto (3) | Dustin Volunteers to Go Up as a Pawn Post Veto (8) | Marcellas should have used the veto (3) | |
| #7 | Zach doesn't use POV at 5 so he can go F3 w/ 2 blood relatives (8) | Zach doesn't use Veto to target Dani at F5 (8) | Zach Doesn't Split Up Donatos at F5 (8) | Howie nominates James and has no regrets (6) | |
| #8 | Adam doesn't use POV at 5 so he can go F4 w/ 2 "fan fave" vets (13) | Dani Donato goes loco instead of glide path (13) | Kaysar Steps Down to Let Jen win HOH (6) | Jason & Danielle have no plan B. They evict Amy (3) | |
| #9 | Kail decides to try to convince Dani to vote out her dad (8) | Cast evicts JoJo instead of Dani AND Dan (14) | Cowboy evicts Nakomis instead of Diane (5) | Roddy just won't lie to Amy (3) | |
| #10 | Ivette decides to give Rachel "life advice" in goodbye messages, loses 4-3 (6) | Kaysar trusts Jen (6) | Howie Nominates James and Sarah (6) | Ollie has Dan's word (10) | |
| #11 | Mike decides to mock HOH Dick during POV comp…until the joke's on him (8) | Jason/Dani evict Amy at F4 instead of Lisa (3) | Ollie Steps Down, Takes Dan's Deal (10) | McCrae exterminates Elissa on behalf of Andy (15) | |
| #12 | Jacob decides to try and "get in the heads" of the power couple on night one (9) | Danielle Reyes's mouth NEARLY evicts her Wk 1 (7) | Matt Hoffman uses Diamond POV on Kathy (12) | Dick & Danielle use Jess to backdoor Eric (8) | |
| #13 | Jason evicts Amy over Lisa at F4 (3) | Chicken George falls for Mike's threat, doesn't nom Janelle (7) | Frank and Jenn City Save Dan (14) | Janelle & Boogie decide to keep Danielle/Dan (14) | |
| #14 | Dan makes Ollie an offer he can't refuse (10) | Da'Vonne's Fight with Clay Gets Her Evicted (17) | Hardy Votes Out Bunky instead of Will at F5 (2) | Season 9 | |
| | | | | | |
| Honorable Mention | Kail decides to try to convince Dani to vote out her dad (8) | Da'Vonne's Fight with Clay Gets Her Evicted (17) | Ollie Takes Dan's Deal (10) | Will gets outsmarted by Erika (7) | |
| | | | | | |
| FINAL RANKINGS | | | | | |
| #1 | Lawon wants "special powers" (13) – 50 points | | | | |
| #2 | Danielle pawns Shane out the door (14) – 46 points | | | | |
| #3 | Marcellas decides he's OK without the POV (3) – 40 points | | | | |
| #4 | Cody takes Derrick to F2 over Victoria/Veronica (16) – 38 points | | | | |
| #5 | Dustin volunteers himself up, Eric volunteers him out (8) – 35 points | | | | |
| #6 | Zach doesn't use POV at 5 so he can go F3 w/ 2 blood relatives (8) – 27 points | | | | |
| #7 | Jason evicts Amy over Lisa at F4 (3) – 26 points | | | | |
| #8 | Ivette decides to give Rachel "life advice" in goodbye messages, loses 4-3 (6) – 16 points | | | | |
| #9 | Cowboy evicts his own sister at 4 so he can go F3 w/ a showmance (5) – 15 points | | | | |
| #10 | Howie unabashedly targets James/Sarah instead of the Friendship alliance (6) – 13 points | | | | |
| #11 | Julia targets her twin sister's showmance during a POV comp she needs one of them to win (17) – 13 points | | | | |
| | | | | | |
| MISSING THE CUT | | | | | |
| #12 | Kaysar gets back into the house only to make a bad deal and go right back out (6) – 12 points | | | | |
| #13 | Taran's radical anti-Will agenda (7) – 11 points | | | | |
| #14 (t.) | Dan makes Ollie an offer he can't refuse (10) – 10 points | | | | |
| #14 (t.) | Nathan uses the POV to "save" Allison Week 3 just so he can go out Week 5 (4) – 10 points | | | | |
| #16 | The BB14 cast decides to evict JoJo instead of Danielle and Dan by proxy (14) – 8 points | | | | |
| #17 (t.) | Danielle throws away her golden key by turning on the vets alliance in Week 3 (13) – 7 points | | | | |
| #17 (t.) | Adam doesn't use POV at 5 so he can go F4 w/ 2 "fan fave" vets (13) – 7 points | | | | |
| #19 (t.) | Roddy just won't lie to Amy (3) – 6 points | | | | |
| #19 (t.) | Kail decides to try to convince Dani to vote out her dad (8) – 6 points | | | | |
| #21 (t.) | Season 9/Jacob decides to try and "get in the heads" of the power couple on night one (9) – 4 points | | | | |
| #21 (t.) | McCrae exterminates Elissa on behalf of Andy (15) – 4 points | | | | |
| #21 (t.) | Mike decides to mock HOH Dick during POV comp…until the joke's on him (8) – 4 points | | | | |
| #24 (t.) | Matt Hoffman gets the first ever Diamond POV….and uses it on Kathy (12) – 3 points | | | | |
| #24 (t.) | Danielle Reyes's mouth almost gets her sent out of All-Stars first (7) – 3 points | | | | |
| #26 (t.) | Frank the Carrot & Jenn City throw Dan a POV lifeline after the funeral (14) – 2 points | | | | |
| #26 (t.) | Chicken George bows to the will of Mike Boogie and doesn't nominate Janelle in Week 7 (7) – 2 points | | | | |
| #28 | Hardy takes Dr. Will at his word and evicts Bunky at F5, only to follow him out the door (2) – 1 point | | | | |
| | | | | | |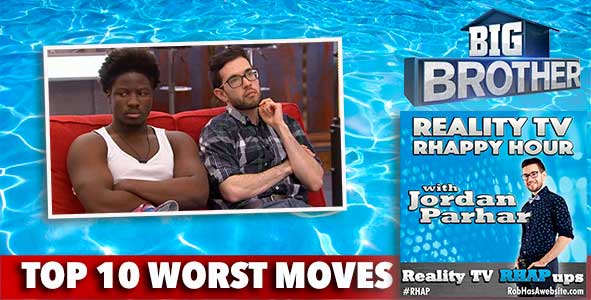 How to Help Support RHAP
Become a Patron of Rob Has a Podcast | RobHasAwebsite.com/Patron