Jordan is joined by Rob Has a Podcast contributor Angie Caunce to breakdown the latest episode of Survivor. Topics discussed this week include:
Does Abi Maria deserve a third shot at Survivor?
Who out performed Angie's pre-season predictions based of her system the most season?
The player that has the highest likelihood of winning the game
And much more!
Join us LIVE every Saturday at 3PM Eastern/12PM Pacific (usually).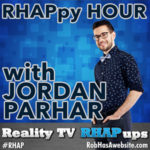 How to Help Support RHAP
Become a Patron of Rob Has a Podcast | RobHasAwebsite.com/Patron