Watch the Show on YouTube     –      RSVP for the LIVE Event
There is no guest this episode, so Rob and Brian tackle the recap of episode 18 of Big Brother with one another. The "deep dive" into the goings on of the house will consider the shifts in power in the house, and the end of the Devin period and the possible end of the Zach period. Brian expresses his disappointment with how boring the live feeds have become, though he admits his bias toward Zach may contribute to the boredom as Zach has mostly been sleeping for the last 48 hours or so.
Rob and Brian begin to talk about the events of the episode. Nicole and Donny win HOH, and Zach claims that he should win an Oscar for his performance in throwing the HOH. Rob expresses frustration with Jocasta crying after losing the HOH competition, and Brian joins him in pointing out the flaws in Jocasta's alliance with God. Zach's reverse psychology doesn't keep Nicole from nominating him, and Brian is disappointed in Donny, who didn't help Zach in any conversations about nominations. Rob and Brian discuss the merits of Derrick's claims that he and Frankie gave up 10 grand because Donny did not want to complete the Team America task. Rob and Brian talk about Derrick and Nicole's discussion about strategy and Frankie, who is as ubiquitous in this episode as Nicole complains about him being, and a backdoor Frankie seems to be in effect. Rob wonders where Cody has been. Donny and Nicole get their HOH rooms, and Caleb develops another ill advised crush, this time on Nicole's friend. Rob and Brian talk about Amber's exit interview, and discuss if it was unwise to get rid of Amber. They discuss Donny's HOH letter from Christine and then Caleb's conversation with Donny about nominations. Team America gets together to discuss nominations, and Donny discusses a backdoor Frankie plan with Nicole.
At nominations, Nicole nominates Jocasta and Zach, and Rob and Brian dissect her nomination speech. Donny nominates Caleb and Victoria. Rob and Brian discuss whether or not Zach is the super villain and if there is a super villain in this cast at all. Rob questions the logic of Zach's shift in focus to Nicole the mouse. Zankie discuss the prospect of "celebratory anal" with Zankie after the Battle of the Block competition. Zach and Jocasta make a fun team, though Rob notes Mama J really don't play. Rob and Brian discuss the Battle of the Block competition and the various punishments, and Zach and Jocasta lose, making them nominees for the week.
Rob and Brian answer the following spoiler free questions from listeners.
1. Will Derrick ever be evicted?
2. Do you agree with the decision to carry the HOH competition into Sunday's episode?
3. Last season there was no Pandora's Box. Should we be expecting it this season?
4. Did you notice that they gave away the Battle of the Block winner by showing Caleb with a shaved head in the Diary Room?
5. What do you think of Beastmode Princess's performance in the competition?
6. Is there a growing trend of HGs just wanting to win HOH to see letters and pictures from home rather than to keep themselves safe for the week?
Rob and Brian discuss spoilers and the houseguests' strategy from the live feeds, including a new alliance with a weak name and friendship that seems to be falling apart.
Rob and Brian answer the following spoiler-y questions.
1. Should Nicole tell Christine she'll backdoor Donny and backdoor Frankie instead?
2. Will the Detonators be able to save Zach if need be?
3. What happened with Christine and Cody on the hammock? Is Christine flirting?
4. Why did the editors show so many Frankie confessionals?
5. What are your double eviction predictions?
6. Does the house know about the Detonators alliance?
7. What are the chances that a Detonator goes home during the double eviction?
8. Can someone become a villain because of competition prowess?
9. Who is Derrick ultimately loyal to?
10. Is Zach actually a hero?
11. At this point in the game, who is in the best position this week?
12. If you were to make a "No chance to win the game" power ranking, who are the top 3?
Special Thanks to @raesanni for tonight's episode recap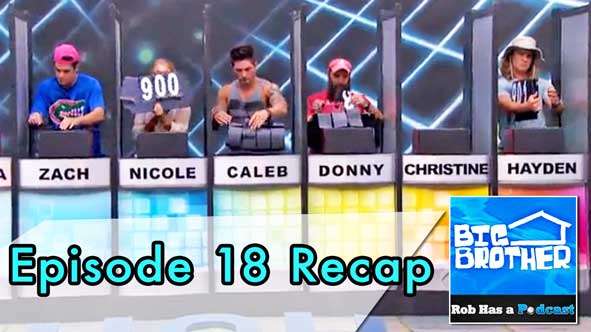 Sign Up for Big Brother Live Feeds