Watch the Show on YouTube     –      RSVP for the LIVE Event
LIVE at 9:15 pm ET / 6:15 pm PT, Rob Cesternino and Brian Lynch recap Episode 6 of Big Brother 16 with Big Brother 15's Judd Daugherty.
The Big Brother house deals with Devin's power trip on the Sunday Night Edition of Big Brother; Nicole and Hayden win the 2nd BB16 Battle of the Block
The Sunday night edition of Big Brother focused primarily on the behavior of Devin Shepherd as he became the only standing HoH left in week 2.  The episode began in the wake of the controversy from Thursday's HoH competition where Cody was disqualified at the last second – making Devin the new HoH along with Amber.
When Devin got pictures of his daughter from home, he began to discuss how he wants to be playing the game with honor and integrity to get ready for when his 2-year old daughter watches Big Brother.  Devin wants to apologize to Donny for throwing him under the bus (these events actually took place on Wednesday, before Devin got his photos from home, but we'll go with it anyway). Devin explains to Donny how he tried to target him but Donny is very forgiving of Devin's trangressions.  After having his apology accepted by Donny, Devin calls everybody in to a house meeting.
In the house meeting, Devin takes the blame for making Caleb nominate Donny last week ; however, Devin inadvertently offends Brittany  who believed she was nominated for falling off the spit too quickly.  Caleb feels like Devin just threw him under the bus, which only makes Devin more upset with Brittany.  Another scene depicted Devin getting angry with Brittany for leaving her lotion in the kitchen (another event that happened in the past before Devin was HoH – but we're still going with it).
Devin nominates Paola and Britney for evcition while Amber nominates Nicole and Hayden.  This was all part of Devin's plan to target Britney.  Devin reveals to Nicole and Hayden that they're actually safe this week and not his target while he tries to get Paola to throw the Battle of the Block competition.
Meanwhile, several other relationships are blossoming in the house.  Nicole and Hayden are flirting with each other.  That flirtation has led to Christine, Nicole and Hayden forming a secret alliance in the house.  Frankie Grande and Zach have an unusual relationship as well.  It's not romantic at this point, but Zach and Frankie's mutual affection is certainly curious.
In the Battle of the Block competition, Nicole and Hayden correctly get more questions right in the "We did that?" competition, forcing Amber out as HoH and leaving Devin in charge.  Paola and Britney will be the nominees this week heading in to the Power of Veto competition.  Join us again on Rob has a podcast this Wednesday when Kara Monaco from Big Brother 14 is our guest.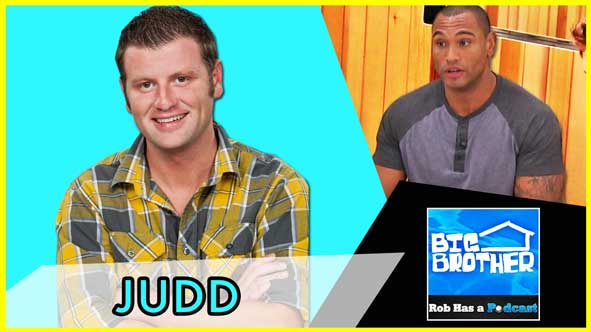 Sign Up for Big Brother Live Feeds
Get More Information about RHAP's Live Feed Bingo