Watch the Show on YouTube     –      RSVP for the LIVE Event
Zach is evicted from Big Brother 16 by a vote of 5-0; Nicole returns to the BB16 House after winning the juror challenge in Episode 25 
Rob Cesternino hosts the Big Brother 16 recap after the #BB16 Episode 25 on Thursday, August 21, 2014 with Big Brother 6's Kaysar Ridha and Big Brother 14's winner, Ian Terry
After introductions, the group begins to discuss the competition between jurors to reenter the house and the close finish between Nicole and Jocasta. Rob asks Kaysar if he agrees with the comparisons being made between BB16 and BB6. Kaysar, having been a player who returned to the game after eviction, discusses what Nicole's strategy should be during her second life in the game. Ian and Kaysar explain why Nicole cannot stay under the radar and avoid eviction if she does not win HOH. The crew then discusses the impact of the end of the Battle of the Block twist, particularly for Donny and Nicole who would benefit from a shift in power. They discuss how the outsiders could use Frankie to their benefit and weaponize him against Derrick.
Rob asks Kaysar about Victoria's big move and Zach's enjoyable exit. They discuss Julie's Ice Bucket Challenge and Kaysar's ventures in his time away from Big Brother. Rob asks Ian and Kaysar about the jury house footage, and Hayden and Nicole's showmance. The crew takes the following spoiler-free questions:
What is Nicole's best strategy to reintegrate into the house?
Do you think the jurors were able to see the opening minutes of the show?
Do you think that endurance competition would benefit Nicole and Donny?
Can a returning houseguest ever win the game?
Did Zach say anything to Nicole before he left the house?
Does Kaysar still talk to any Big Brother houseguests?
Does Kaysar see any similarities between BB6's Maggie and Derrick?
Why would anyone want to flip to Donny's side?
The crew then discusses what has taken place on the live feeds since the end of the eviction episode. They answer the final questions:
Is there any scenario wherein it would make sense for Derrick to reveal that he is a cop?
Did it seem like Julie was trying to get Christine to admit that she threw the Battle of the Block competition?
The crew wraps up the podcast by giving the chances they think Derrick has to win the game and discussing Kathy Griffin.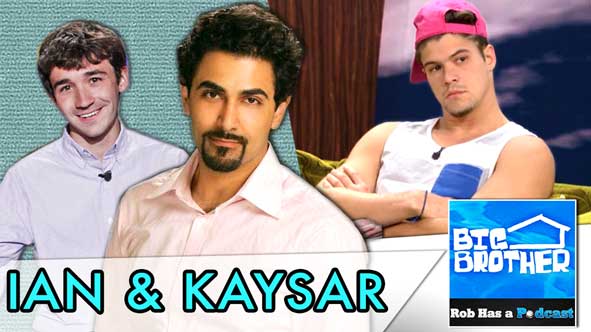 Sign Up for Big Brother Live Feeds
Get More Information about RHAP's Live Feed Bingo