Watch the Show on YouTube     –      RSVP for the LIVE Event
Brittany Evicted by a Vote of 10-0; Frankie and Zach become the new HoH on Big Brother 16's Episode 14
The fourth eviction of Big Brother 16 saw Brittany Martinez evicted in a landslide 10-0 vote, the third unanimous vote of the season so far. The panel agrees that while Brittany herself might not have made for Sabrina-level good TV, her eviction is less than ideal for fans who are looking for a shakeup in the game. Rob was a little confused by Brittany's logic that her kicking the 2,400 goals in 24 hours deemed her deserving to stay in the game, noting that it only made her an apparent physical threat and another reason for The Detonators to want her out. Ian points out that this is the reverse of the argument Devin made last week – because Devin can't hide his physical size, he needs to find a spin on his potential competition dominance, but Brittany could have easily been able to hide it.
Zach and Frankie are the new Heads of Household, so Rob's question is whether this result will yield an interesting week in the house. Ian thinks there certainly could be fireworks this week with Zach's unpredictability, and Brian says that Zach would very much be on board with a plan to backdoor Caleb this week. Rob is concerned that Frankie would be in Zach's ear to talk him out of doing anything too drastic that might rock the boat, and that even with the potential for an exciting backdoor boot like Caleb, it would mean sending the same four nominees (Amber, Jocasta, Victoria, and Donny) into the Battle of the Block this week. Ian doesn't have a really good sense of whom Zach would want to target, again citing his impulsive and unpredictable nature, but agrees with Brian that he could definitely be looking to make a big move.
From there, the panel moves on to discussing whether Caleb should actually be evicted next Thursday. Though he notes that Caleb's veto win (technically) last night was mostly pure luck, Ian believes he's a bad person to keep around because of his potential for going on a competition run. Rob notes that for once he actually agreed with Caleb in the belief that getting rid of Donny, and by extension targeting a player like Hayden, were more beneficial to The Detonators than getting rid of the fairly innocuous Brittany.
Tonight's episode also showed Frankie learning that his grandfather had passed away. Ian thought the situation was handled correctly in terms of letting Frankie in on the news and how the edited segment was presented on the show, but is a little unsure about Frankie being given a full letter by his family. Brian found himself very moved by tonight's episode, noting the familial link between Frankie's grandfather dying and Brittany reuniting with her kids after her interview with Julie.
This week's family visit segment took us to Ubly, Michigan where Nicole's family lives. Ian notes that he has filed the paperwork to change his profession to "farmer" to better meet the standards that Nicole's parents have for her potential mate. Ian felt the segment was similar to the taped package in BB14 visiting the families of himself and his no-mance Ashley, although nobody in that segment claimed Ian was trying to make sex with anybody.
To #RHAP up the show, the panel answers your questions: if Amber became the first member of the jury, would Caleb self-evict to spend a week alone with her? Does Frankie actually want to finally become the sole HOH for the week? Would the use of Big Jeff have improved the family segment, and where should the producers send him next? And what is Ian's call on which unitard Nicole is cuter in? The answers to these questions and more in a live eviction recap on Rob Has a Podcast!
Special thanks to Brendan Noel for tonight's episode summary!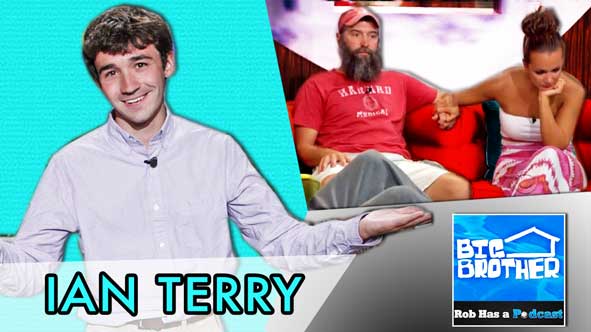 Sign Up for Big Brother Live Feeds