Watch the Show on YouTube     –      RSVP for the LIVE Event
In a wild Big Brother Double Eviction, the Detonators decide to save Zach and evict Jocasta, then Caleb wins the HoH and nominates Hayden and Donny.  When Donny wins the veto, Caleb puts Nicole on the block and the house evicts Hayden.  
It was a huge double eviction night in the Big Brother house, as Jocasta Odom and Hayden Voss were evicted and became the first two members of the jury. While Ian finds it difficult to judge the double evictions in his own season objectively, he believes that tonight was the best double eviction Big Brother has ever done. Rob attributes the feeling of excitement to the live feed watchers knowing that Zach had been saved at the eleventh hour, and anticipating the reactions from Hayden, Nicole, and to a lesser extent Donny.
Rob heard from a lot of people on Rob Has a Planet who felt that Nicole should have been the second evictee tonight. However, Ian notes that with the Battle of the Block being sidelined tonight, Hayden only had one chance to save himself and so the others needed to strike while the iron was hot. Brian adds that Nicole seemed particularly devastated by what happened tonight and so it was an easy choice to leave a rattled Nicole in the game over a potentially more threatening Hayden.
Rob wants to approach the plan to save Zach from both sides – the Derrick/Cody side, and the Frankie/Christine side. Ian believes it made total sense for Derrick and Cody to keep Zach rather than sacrificing a number. He agrees with some of the fans who believe it would have been risky if it ever got back to Zach how close he came to going home, but also feels that their votes to keep him will speak louder than any rampant speculation that could be relayed to him. Ian feels that sticking with a solid alliance for as long as possible is a major key to long term success on Big Brother, so keeping him was the best move for all of The Detonators.
Brian, Rob, and Ian all praise Derrick's gameplay this week, noting how interesting it was that Frankie and Christine took all the blame for throwing Nicole under the bus when it was really Derrick and Cody who made the final decision to keep Zach. Brian plays devil's advocate by noting that it was Caleb of all people who had to remind Derrick that he should be considering the numbers above anything else. Rob thinks, though, that Derrick might have been trying to consider whether or not people think this season is boring and wanted to shake things up. Last week Team America was asked to create a split vote, so Rob wonders if that might still have been in the back of his mind.
The panel was quite surprised to learn that the double HOH/Battle of the Block twist will continue after the brief hiatus tonight, with Ian not believing this to make any real sense. Rob knows that a lot of viewers won't be fans of the twist continuing, but he feels it will lead to more drama; having four nominees each week as the numbers start to dwindle and the floaters start to get evicted means that people will have to start turning on each other sooner and get more blood on their hands.
This week CBS announced that the Big Brother 16 finale will air on Wednesday, September 24 at 9:30pm after the premiere of Survivor: San Juan Del Sur. This is a week later than expected, and seems to line up with Julie's revelation tonight that, like last summer, an evicted juror might have the chance to get back in the game. Rob announces that he won't be doing any more exit interview podcasts until he speaks with the final three on the morning after the season finale.
To #RHAP up the show as always, Rob goes #QuestionModePodcaster to answer everything you want to know about tonight's huge double eviction: what's the move for Nicole going forward? Did Christine unknowingly end up saving the person she wanted out all week? When can we expect an endurance HOH competition this season? Did a failure to communicate literally cause Cody to vote for Nicole? And which classic "Simpsons" reference is Ian's go to line whenever someone walks in on one of strategy conversations in the Big Brother house? The answer to these questions and more as we recap BB16 double eviction night on Rob Has a Podcast!
Special Thanks to Brendan Noel for tonight's episode recap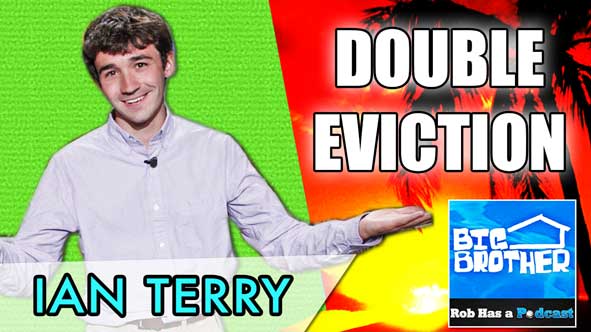 Sign Up for Big Brother Live Feeds