Watch the Show on Youtube     –     RSVP for this Event
Rob Cesternino and Jessica Liese are back to preview the 11 teams competing in The Amazing Race 25.
Before breaking down each pair Rob and Jess talked briefly about the season in general. Rob and Jess both agree that this cast is a big improvement on last seasons cast. Rob feels that they cast a lot of fans of the show just like Survivor did with the Cagayan cast. Jess actually got to see all of the cast and got a selfie with Phil at the live starting line in Times Square. Jess felt that this got a lot of people excited again for the race after last season. Rob and Jess both agree that the new twist is better than having a non-elimination leg however Jess feels that we will not like the team who gets the new power.
Now Rob and Jess breaks down each individual pair:
Adam & Bethany – #SoleSurfers
Rob and Jess both agree that they have one of the better hashtags. Jess immediately recognized them when she saw them on the starting line. They are very well traveled and athletic. Jess feels that they are a very media savvy team and she also thinks that they are actual fans of the show. Rob and Jess both feel that Bethany's disability will not be a factor during roadblocks but they think that we will see at least one preview of Bethany seeming like she is struggling with a roadblock. Rob and Jess wonder if this team will be able to overcome their fame during the race. Adam and Bethany are currently in 3rd place on social media likes with 233. Rob and Jess both feel pretty good about this pair.
Brooke & Robbie- #TheWrestlers
Jess feels that this is the tense and competitive team this season but Rob thinks that they are far less douchey than he thought. Jess and Rob think that them being wrestlers will help them in the race but they might not make friends easily, Rob gets a Tim and Marie vibe from them. Jess suspects that Robbie has cheated on Brooke in the past based on their bio. This pair has their own version of "Providence Amy" in the form of "Brooke Mode" which Jess and Rob both think its guaranteed we she it on the race. Jess feels that they will go far but not win. Despite the amount of Twitter followers they have, Brook and Robbie only have 37 facebook likes.
Dennis & Isabelle- #TheDatingCouple
Both Rob and Jess both feel good about this team despite the fact that Dennis was wearing jeans at the starting line. Jess feels that this team is very self aware and Jess also thinks that this team is a RHAP fan. Rob and Jess feel that they could be over thinking the race due to the practice leg they set up for themselves. They are a team we will want to go far and more interesting than the usual dating couple.
Keith & Whitney- #TeamNashville
Jess is not at all impressed with Whitney even after 2 other reality TV appearances. Surprisingly they only have 27 facebook likes despite both of them appearing on Survivor. Even after charting on the country music charts Whitney said her biggest accomplishment is finding Keith. Jess noticed that Whitney actually laughs like Rachel Reilly. Keith's bio was described as the most boring bio of any amazing race bio of all time. Rob likes that we have a familiar face as the engaged couple instead of a boring unknown couple. Jess thinks that this spot was meant for Hayden and Kat before they broke up. Rob thinks that being on a reality show before will give them a definite advantage on the race. Jess thinks that they will make it about ? but not win.
Kym & Alli- #TheCyclists
Jess believes that being New York city cyclists will definitely help them in the race. Rob and Jess both find it weird that they are moving to LA together. This team reminds Jess of the roller derby moms from Tar 22. Kym actually has a decent number of followers on youtube which would take a lot of work. Rob has accepted that he will never be able to tell this pair apart. Jess thinks that this could be the female-female team that stays at the top of the pack. They only have 35 likes on facebook despite having 37k followers on youtube.
Lisa & Michelle- #MiamiRealtors
They have both said that they are most like Barbie and everything they say seems to be about real estate. Rob and Jess think that Lisa is the more intelligent one who is telling Michelle what to say. Rob and Jess both cannot tell this pair apart. Lisa and Michelle have 451 likes which is the most of any team but this is just because they are telling everyone to like them. Jess thinks that they are on the show to promote themselves and we won't see them for too long.
Maya & Amy- #SweetScientists
Jess and Rob both hope that if they support this team they will give them free ice-cream. Jess and Rob both really like them, Jess thinks that they are the rare female team with really likeable personalities. She also feels like that Amy is like Sue Heck from The Middle. They have 58 facebook likes which is okay compared to some of the other teams. Jess wants them to win the game but she thinks that they will not. They are one of Rob's favorite teams this season.
Michael & Scott- #TheFirefighters
Only being in their forties they are the oldest team this season which might be due to what happened last season. They have 292 likes on facebook which is actually second of all the teams. Rob and Jess think that they have a chance to win but they predict that they will end up in the middle of the pack
Misti & Jim- #TheDentists
Rob is a little afraid of Jim and finds him every intimidating. Both Rob and Jess would not want Jim to be their dentist. Jess thinks that this team will that team where the women is really nice and the guy is very dislikeable. Rob is extremely happy that these are on this season and thinks that they will be great TV. He is very excited to talk about them this season. They have 51 likes on facebook which is pretty okay. Jess thinks that they could go the distance this season.
Shelly & Nici- #MomDaughter
Jess really like this team when she was at Times Square. Jess found their bio very amusing especially the pet peeve of sending pictures of poop. Jess gets a Pam and Winni vibe from them and she is optimistic about them. Rob hopes they do well but does not think that they will do well this season.
Tim & Te Jay- #CollegeSweethearts
Again Rob and Jess are not happy about their hashtag. Rob is not happy that Te Jay will not be racing in drag but Jess is happy as long as he has the attitude on the race. Rob felt like they came off a little boring in their interview compared to their bio. Jess thinks that they will be lost in the shuffle this season. Both Rob and Jess feel that its time for one of the CBS reality shows to put a transgender person on a show. Rob and Jess do not like their chances on the race and possibly could be the first ones out. However they have 242 facebook likes.
Predictions:
Jess is rooting for either Shelly and Nici or Amy and Maya to win. But she thinks Adam and Bethany will win the season. Robs pick for the winner is Dennis and Isabelle. Jess thinks the first team eliminated will be Tim and Te Jay and Rob thinks it will be Lisa and Michelle.
Special Thanks to Shane Gallagher for this episode recap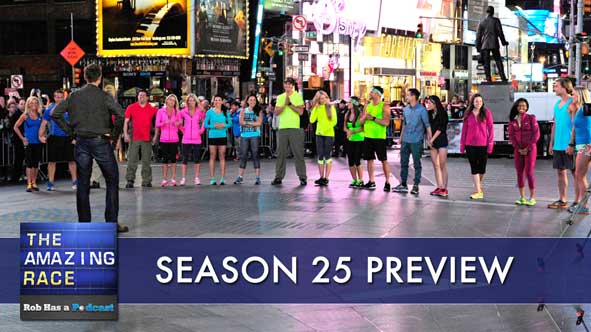 Subscription Options for Rob Has a Podcast: