Watch the Sophie Interview on Youtube
On this week's Survivor Thursday edition of Rob Has a Podcast, Rob is joined by the winner of Survivor: South Pacific, Sophie Clarke to discuss the latest wild episode and the newest member of The Survivor Historians, Mike Bloom, to listen to your Survivor voicemail questions.
Interview with Survivor Sophie Clarke:
Sophie returns to Rob Has a Podcast and Rob wants to know what Sophie thought of Tony's latest big move in the game.  Rob is very surprised when Sophie gushes about how much she like's Tony's game and his recent move.  Sophie thinks Tony's aggressive style of play works for him because she thinks it's in his nature to keep making move after move and play the game round by round.  Rob compares Tony to a shark because if he stops making moves he will die.  Sophie doesn't think anybody can beat Tony if he makes it to the end of the game. She thinks Tony has shades of Russell Hantz but is likeable– you don't ever hear anyone saying a bad word about Tony and he isn't shown saying nasty comments about anyone else in his confessionals.
Sophie feels like LJ was playing a game like she did in Survivor: South Pacific.  Sophie felt like LJ must have thought if he can just make it to the end, everything was going to work out for him.  Sophie wasn't as big of an LJ fan as a lot of other people, but she sympathized with his place in the game.
Among the other players, Sophie is a big fan of Spencer and Tasha and thinks that those two players would also be tough to beat in the end of the game.  She thinks it is good to show the jury that you "overcame something," similar to Denise Stapley in Survivor: Philippines, and both Spencer and Tasha came from the losing Brains tribe.
Sophie also believes that Trish is playing a very good game to this point and has redeemed herself from when Sophie thought she would be like a Sherry from Survivor: Caramoan. She thinks Trish may benefit from having made her "big moves" earlier in the game, before the players were going to jury– so she has built a resume but is less likely to have people mad at her. She also likes Woo and thinks that he is getting a "Fabio edit," and could win in the end if he explains how he made choices. However, Rob disagrees, saying he doesn't think Woo has shown that he has done anything, although both Rob and Sophie have been enjoying his confessionals.
However, Sophie is not a fan of Kass' game this season and Sophie thinks that she isn't a strong player.  Rob asks Sophie why she doesn't like Kass for flipping when Cochran's flip served her so well in South Pacific and Sophie says that her dislike of Kass comes from her attitude about the game and not from her gameplay. Sophie also reveals that Morgan McLeod was one of her favorite players this season, starting from when she told the lie on Day 1.
Rob and Sophie discuss what the 3 Brains (Jeremiah is included in the group with Spencer and Tasha, not Kass) need to do next to move forward. Sophie thinks they need to reel in Jefra and Kass. He doesn't think Tony will be able to go back with Trish and Jefra, but Rob thinks Tony and Trish are still tight. They debate whether they will go after someone like Jefra next week or a player who is more of a threat.
After talking through all the possible scenarios for the coming week, Sophie answers a number of questions from the Rob Has a Podcast listening audience, including how you know if you're on the bottom of an alliance, making "big moves" vs. "smart moves," and whether Sophie would be on the Brains or Beauty tribe. Sophie also notes that she thinks the idea of "standing someone up" for strategy talk, like LJ did to Tasha, is novel and brilliant– even though it didn't work out so well for LJ. She also discusses her idea for Reality Gamemasters: Capture the Flag and how one can infiltrate the Wine and Cheese alliance. She also comes up with the idea of a Survivor: Family Feud.
Hear All of Sophie's RHAP Appearances
Listener Voicemails with Mike Bloom:
Rob welcomes the newest member of The Survivor Historians to the podcast for the first time to answer questions about this week's episode.  Predictably, many of the question were about Tony and his decision to flip against LJ and his alliance this week.  One of the final questions concerns some troubling comments from Tony about the previous tribal council and requires viewing of the photo below. Once you have your verdict, be sure to tweet #TeamP or #TeamNP to indicate whether you side with Rob or Mike on this issue.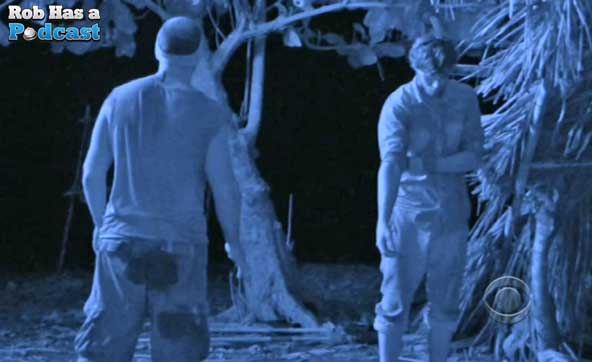 As recapped by: @RHAPrecapper 
Listen to Rob's Interview with LJ: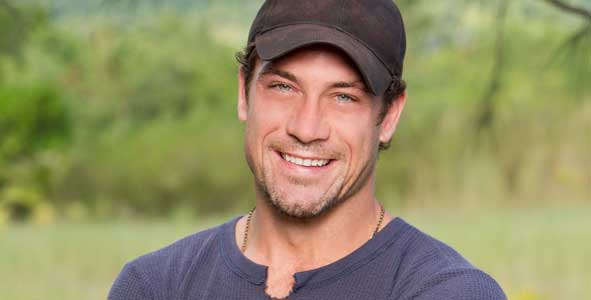 Subscription Options for Rob Has a Podcast:
Watch This Week's Survivor Know-It-Alls: