The Rise and Fall of
Pirate Master
– A retrospective of a one season wonder[/caption]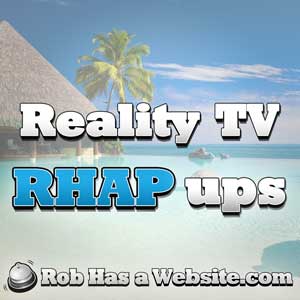 Click to Subscribe to ALL of Reality TV RHAP-ups[/caption]
The "Rise and Fall of Pirate Master" was conceived and hosted by Aaron Robertson (@spi7fan), Jordan Kalish (@JordanKalish) and Nick Fishman.
Welcome to the Rise and Fall series! Reality TV and podcasts are everywhere now but what about several years ago? Back in a time where RHAP didn't exist there were plenty of shows that we all remember fondly that we've been itching to talk about (like The Mole) In these podcasts we'll take a look back and some of those older shows and discuss what worked, what didn't work and how the show rose or fell in Reality TV. This week we'll be diving into the 2007 summer series, Mark Burnett's Pirate Master.
The rising and falling began with a discussion about the complexity of the rules. Azmyth was quick to point out that the newness of the show made for a muddled mess of the show's format. While the structure of the how contestants got certain roles, earned treasure, and became involved in eliminations were among some of the gripes people had, the theme, casting, and unique prize money structure were enjoyed. Our analysis of the gameplay, twists, and cast in order of events had many of us laughing at the fun that was Pirate Master. Azmyth had plenty to say about his own experience, being one of the more dominant forces in the middle of the run, and had a great attitude about his time despite being eliminated at the halfway mark.
Not sure what to expect from our chat with Azmyth? The questions below, answered in the podcast, will give you better idea.
What critical game mechanic never came to fruition?
What deep dark secret does Azmyth have that he revealed for the first time here?
Where did Captain Azmyth's accent come from?
What do we think about Cameron Daddo, the host?
Why didn't the show get the necessary airtime?
What did it feel like to be cut adrift?
How did Azmyth get cast for the show?
In what ways could the show's rule have been changed for the better?
How would the show have progressed if it got a second season?
What similarities does Pirate Master have with Survivor: Pearl Islands?
Who excused the cast of not being "pirate-enough" and how did he/she exact revenge?
All this and more can be found in our Rise and Fall of Pirate Podcast.
If you have any suggestions for shows or the podcast, please let us know in the comments below.
If anyone would like more contexts about the contestant, we have some spoiler-filled descriptions of each player below for those who want a reference.
John Lackness – A 25 year old scientist/exotic dancer from Carlisle, Massachusetts. He was a Jack Sparrow wannabe who most notably stole two compasses on his way out of the game and lost the all-important key for the ghost pirates a few weeks later. He served on Christa's crew during the final expedition for Captain Henry Steel's treasure.
Christian Okoye – A 45 year old former NFL running back known as the 'Nigerian Nightmare'. While physically strong, he lacked the necessary speed and endurance to perform well in the expeditions. He only amassed 200 dollars in gold, which was by far the least out of any pirate on the Picton Castle.
Alexis Shubin – A 26 year old fashion publicist from Laguna Beach, California. Not known for having a positive attitude or strong work ethic, she was cut adrift by Captain Azmyth after a tied vote.
Cheryl Kosewcz – A 35 year old deputy district attorney from Sparks, Nevada. She was a savvy and strong competitor who served as an officer under Captain Joe Don. She was cut adrift due to her close ties with the former captain, but went on to serve on Ben's winning crew during the final expedition.
Sean Twomey – A 27 year old actor and bartender from Venice, California. He was strong on expeditions and served as the cook during his time on the Picton Castle. His downfall in the game was getting on Jay's bad side by taking his bribe to vote out Cheryl but not sticking to the arrangement.
Joy McElveen – A 21 year old actress from West Columbia, South Carolina. She was very outgoing and likeable, but her weakness in expeditions due to injuring her knee in the second week led to her being cut adrift. She also experienced sea sickness in the first episode.
Joe Don Morton – A 36 year old firefighter and Navy search-and-rescue swimmer from Fairbanks, Alaska. After his crew won the first expedition, he was elected captain, therefore receiving half of the loot. Unlike the Captains who would follow him, Joe Don chose to keep his large share of the gold instead of dividing it evenly amongst the winning crew. He separated himself and his officers, Ben and Cheryl, from the crew creating animosity towards his captaincy. This, and his status as a threat on expeditions, led to his ousting a few weeks after his reign as captain ended.
Jupiter Mendoza – A 30 year old bartender from Los Angeles, California. She briefly served as an officer in Azmyth's first stint as captain and later took over as the cook once Sean was cut adrift. She was an asset in expeditions and a close ally of Azmyth and Jay, but dug her own grave by talking mutiny in front of the whole crew at dinner. She was actually trying to warn Azmyth about the other pirates trying to get him out of the game, but it came off as her threatening his captaincy.
Azmyth Kaminski – A 26 year old music producer and actor from Los Angeles, California. Before becoming captain, he was known primarily as an expedition beast with a chill attitude and a piratey dreadlock look. After the fall of Joe Don, he served a one week stint as captain, but was quickly returned to the post in which he would serve for a long stretch of the game. He continued to win expeditions with his officers Ben and Jay who called themselves 'the triad'. He was at first a popular captain who shared the loot equally amongst the winning crew, but in later expeditions skewed the distribution of gold in favor of the triad. Much of the crew thought that the power had gone to his head, and this, along with being a huge threat, ignited talk of mutiny. While mutiny never occurred, he lost his captaincy after the officer position was disbanded, leaving him without his triad for the expedition. He was cut adrift in a unanimous vote, which included his former alliance of Ben and Jay. You can hear Azmyth talk about his experience on the show in this podcast!
Nessa Nemir – A 29 year old makeup artist from Berkeley, California. She was a very strong competitor in expeditions and had an uncanny ability to rally certain members of the crew in regards to mutiny. While these plans never came to fruition, the captain and officers saw her wit and strength as threatening and black-spotted her. She was also known to canoodle with Joe Don on various occasions. Ben and Christa both wanted her for their crews during the final expedition, but she chose Christa's after being promised all her gold (not including the final treasure) if she won.
Kendra Guffey – A 38 year old dive master from Los Angeles, California. Despite her profession, she was by far the weakest swimmer aboard the Picton Castle, and often cost her crew in expeditions. Many of her fellow pirates grew tired of her antics, such as hiding around the ship and listening to their conversations. She was black-spotted more times than anyone else, but kept being saved by her non-threatening status. She was closest with Jay and often served as his pawn on the crew, voting the way he wanted her to. She was finally cut adrift while going up against Louie, who was just too damn likeable to vote out over her.
Laurel Schmidt – A 21 year old glass blower from Los Angeles, California. She was a floater throughout the season who never voted with a specific strategy. This made her a wild card which annoyed people like Jay and Azmyth who wanted her to pick a side. She also clashed with Azmyth after he became captain, and even erroneously accused his dreadlocks of being fake! She was cut adrift by Captain Christina after a tied vote between her and Ben.
Louie Frase – A 43 year old fishing dock operator from Fishing Creek, Maryland. He started the game as the most vocal opponent to Joe Don's captaincy. He played an incredible social game and was beloved by the entire crew. This allowed him to survive several black spots. He served as captain for one week, but felt far more comfortable as part of the crew. He became a father figure to many of the younger women on the ship, and was friends with everyone. However, his strategic game and expedition prowess left a lot to be desired. He often voted in the minority and never really swayed the direction of the game. His crews lost many expeditions, and he won less gold himself than many pirates who weren't in the game as long. He was cut adrift by Jay who decided to keep his alliance of Ben and Christa intact.
Jay Hatkow – A 37 year old auto parts salesman from Detroit, Michigan. He was the driving force behind the majority of strategic decisions made during the season, gaining friends and enemies along the way. He had the ability to manipulate others and garner trust, even from people who had no reason to trust him. He was never the captain of the Picton Castle, but basically ran the ship from behind the scenes. He was given the unofficial title of 'Bosun' by Captain Joe Don, which put him in charge of the crew, made an officer by Captain Azmyth (which formed the triad), and served as part of Captain Christa's brain trust. These lucrative positions filled his pockets with gold. He was never black-spotted by a captain, and therefore was never in danger to be voted out until the final 3. Unbeknownst to him, the ghost pirates would be the ones to make the decision of who went home at that point, and voted for him 12-1 due to his deceptive gameplay.
Christa DeAngelo – A 29 year old mother and former member of the military from Tamaqua, Pennsylvania. She wasn't all that visible during the first half of the show, but was shown to be strong on expeditions, especially as a swimmer. She became a big character after Azmyth was unseated and she became the new captain. She had a strong relationship with Ben and Jay, who served as her unofficial officers, despite the position being disbanded. She appeared to give out black spots democratically, asking each pirate who they wanted to be put up for elimination. This was a savvy move which took the target off of her, while still being able to give black spots to whomever she wanted to receive them anyway. Ben and Jay threw expeditions to keep her in power, as her captaincy was beneficial to them. At the final 5, Christa lost confidence in this alliance after hearing of their plotting to possibly mutiny against her. She gave Ben a black spot, but decided to continue trusting Jay. Ultimately, she kept Ben in the game over Laurel after a tied vote. She was kept in the game by the ghost pirates, who voted out Jay instead of her at the final 3 and ended up losing to Ben in the final expedition.
Ben Fagan – A 23 year old musician from Charleston, South Carolina. He was immediately put in a position of authority by Captain Joe Don who named him an officer along with Cheryl. He came off as naïve at first, but was loyal and very strong in expeditions. He wasn't targeted after Joe Don's captaincy, and was even named as an officer again by Captain Azmyth. The triad of him, Jay, and Azmyth dominated expeditions. During Christa's captaincy, he was also in a position of power but took heat for conspiring against the captain and was almost sent home. He survived however, and went on to win an immunity expedition at the final 3. In the end, he and his crew of Azmyth, Cheryl, and Jupiter proved to be superior to Christa and her crew. He found Captain Henry Steel's $500,000 treasure in the Chest of Zanzibar located on the ship, and became the Pirate Master.
For more of the "Rise and Fall" series, Subscribe to Reality TV RHAP-ups:  Subscribe in iTunes   |   Subscribe via RSS