The nominees for this year's 10th annual Podcast Awards have been announced and Rob Has a Podcast has been nominated for the Best Entertainment Podcast and the People's Choice Podcast of the Year.  Rob kicks off this campaign with the first of 15 podcasts discussing the latest news from the campaign and answering one voicemail question a day in a daily update form.  You can send a voicemail in for the daily podcast at RobHasAwebsite.com/Voicemail
Voting for the podcast awards is open now through March 18th, 2015.  You can vote once a day in as many categories as you like.
How to Vote
1.  Go to PodcastAwards.com and vote for the categories you choose.
2.  Enter your name and e-mail address at the bottom of the page.  Be sure to check your e-mails to see if you need to confirm your vote.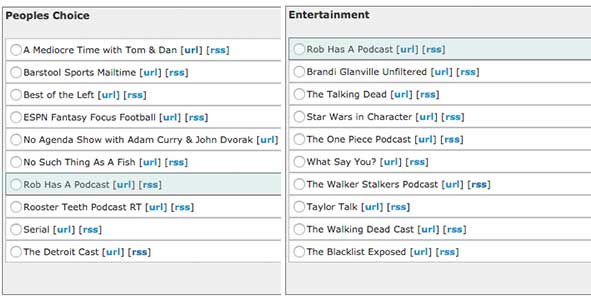 Subscribe to the Podcast: