Listen:
[powerpress]
This week we revealed the three finalists in this year's Miss Survivor competition – Kim Spradlin, RC Saint-Amour and Chelsea Meissner. This interview is the first in our series of talks with the three women vying to be Miss Survivor.
Rob is joined by the winner of Survivor One World to discuss her campaign for the 2013 Miss Survivor competition. Rob asks Kim about her upcoming wedding and Kim reveals that she will be having a destination wedding this March. Kim is extremely humble about her chances in the competition and believes that Chelsea Meisner might be a better candidate to be Miss Survivor.
In the talent portion of the interview, Kim has some trouble coming up with something that could be done on the live broadcast. Rob asks Kim about her talent to tell us what animal people look like. Kim says of her competition that Chelsea looks like a Fox and R.C. looks like a lemur. Kim also says that she herself looks like an ostrich or a horse.
Rob brings up some questions from the Rob Has a Podcast Facebook Fan Page. Joe Coombs asked Kim if she would compete in Miss Survivor with more emotion than we saw her play Survivor with this spring. Kim says that she feels like that had more to do with the edit than a lack of enthusaism. Gary Dreslinski asked Kim what contributions might she make to the RHAP community if named Miss Survivor and Kim said that she will be on call for whatever we need and even said, "Rob Has a Kim".
The third question was from Enan Heneghan who asked about what is the biggest thing that Kim didn't expect about winning Survivor and Kim answers that she was most surprised by how little it changed her. The fourth question was from Tyler Sloan who wanted to know how whether the most important quality of being Miss Survivor was gameplay on the island, represting Survivor post-show or how Miss Survivor would look in a Troyzan Robertson photo shoot. Kim said that she believes Miss Survivor is about the first two and that Chelsea would look the best in a photo shoot with Troyzan.
Finally, Scott Chupack wants to know if Kim wants to change what animal she said Rob looks like – in the past Kim has said that Rob looks like a falcon. Kim says with the shaved head, Rob looks more like a buzzard or something that burrows in to the ground like a mole. (The Rob that burrows?)
Rob tells Kim that he shaved his head as a promise he made to the listeners of Rob has a Podcast to help him win The Podcast Award this year.  Rob asks Kim if she is prepared to make a similar promise to the voters in return for making her Miss Survivor but Kim was reluctant to make such a deal since she believes her hair is her best feature.
Stay tuned next week for our Miss Survivor finalist interviews with RC Saint-Amour (Monday) and Chelsea Meissner (Later in the week).
See Other Finalist Interviews: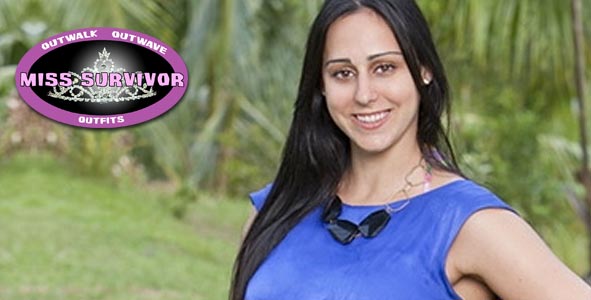 Miss Survivor Interview: RC Saint Amour
What did the Survivor: Philippines standout have to say about why she deserves to be Miss Survivor 2013