Rob Has a Podcast Wins the Award for Best Entertainment Podcast of 2012
Wow!  What a night!  This weekend Nicole and I drove to Las Vegas for the New Media Expo conference and the LIVE 2012 Podcast awards.  We were so thrilled to find out on Monday night that Rob Has a Podcast won the Best Entertainment Podcast of the Year at the Podcast Awards.  Thanks to your votes, we beat out 9 other amazing Entertainment Podcasts including Kevin Smith's "Hollywood Babble-On".  I can not thank everyone in our community enough for making this possible.  It's an amazing honor and one that means more to me than I can ever express.  Working on Rob Has a Podcast and getting to interact with our audience has become such a wonderful part of my life and I hope that you can share in this success because this was something that everybody had a part in helping to make a reality.
I also realize there's also a little matter of getting my head shaved… but more on that after I recap our Vegas weekend.
Saturday
Nicole and I head to Vegas on Saturday afternoon.  Big thanks to our good friend and fellow Podcast Award nominee John Norton from "The Tribe" podcast for keeping an eye on our dog, Reyes, while we were gone.  It's about a four hour ride from our place in Sherman Oaks, California to Las Vegas.  I thought this was a perfect opportunity for Nicole and I to record one of our carcast episodes.  You can hear about 90 minutes of our road trip in the podcast episode called, "The Road to Vegas Carcast Special".  In the episode we answered 25 questions submitted to us from our listeners over on our Facebook Fan Page.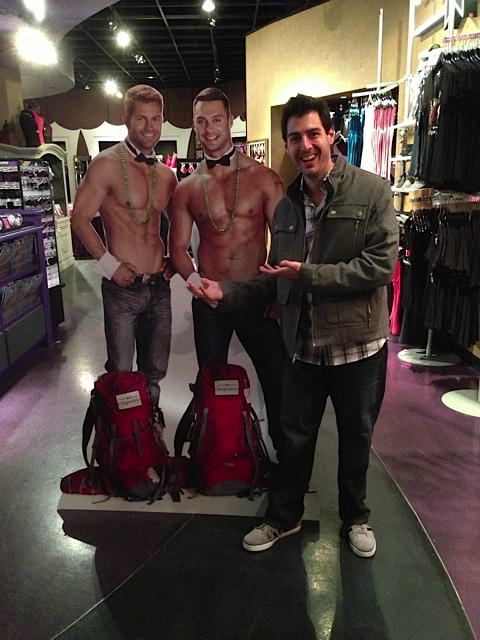 The NMX conference was being held at the Rio and we arrived around 5 pm and checked in to our room at the hotel.  To my great surprise, I learned that the Rio Hotel in Las Vegas is home of the world famous Chippendales – including Amazing Racers Jaymes and James from this season.  There are lots of photos of Jaymes and James up around the hotel – so much so that I wonder if the other Chippendales are annoyed that J & J have become the world's most famous Chippendales.
After a quick shower I attempted to go to the NMX Speakers Happy Hour at HYDE at the Bellagio.  Since we drove I decided to take my car to get there.  If you recall the tagline from the film "The Hangover", it said "Some People Just Can't Handle Vegas".  I would certainly like to submit that Apple Maps also be added to the "can't handle Vegas" category.  After Apple Maps and Siri took me on a tour of Las Vegas Blvd, I was finally able to get down to Hyde for a bit and talk with some of the other conference speakers.
I got back to the Rio to head to dinner with Nicole at the Voodoo Lounge at the hotel.  Nicole and I came down off the elevator and saw a huge concert being performed in the center of the gaming floor around 9pm.  I looked up and couldn't believe that the lead singer of the concert was none other than Chippendales member Jaymes from the Amazing Race.  Sadly, he was not singing his hit song Vampire.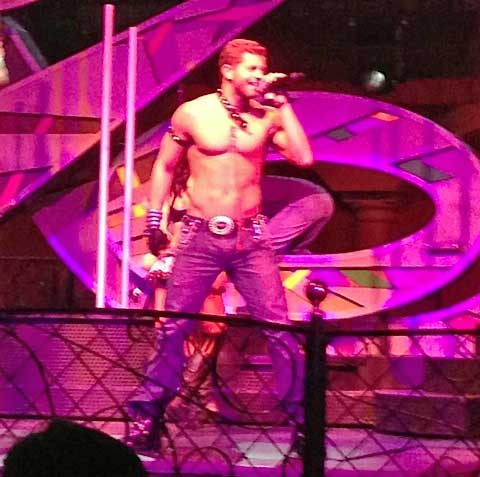 Unfortunately, Jaymes didn't come down to talk to the crowd after the show and Nicole wouldn't let me scream out during the performance.  We made our way up to the 50th floor of the Rio to eat at the VooDoo lounge and had a really great dinner.  Although it was freezing, we got to go out on the patio and check out the view.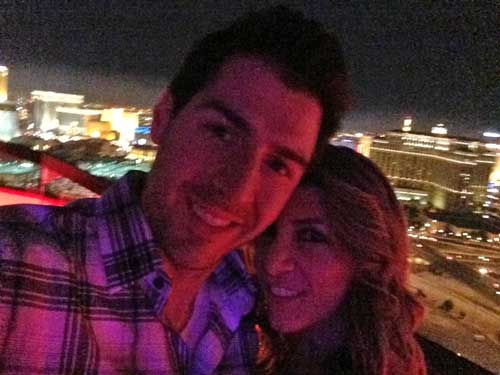 Following dinner, we went up to the Voodoo Lounge Night Club at the Rio which is pretty wild.  They have some bikini girls who are dancing with masks on – but I guess thats just another night in Vegas.  We were trying to connect with Dan Gheesling and his wife Chelsea who were also attending New Media Expo and finally were able to catch up with them on our way out of the night club.  We got another round of drinks and I got to catch up with Dan for a little bit.  It was pretty hilarious that Nicole and Chelsea were wearing almost the identical outfit.  We tried to get a picture, but our photographer was pretty wasted so we ended up with a picture that was a little out of focus – which was probably exactly how Crystal the drunk chick saw the world.  (Funny story that Nicole told me was that before this girl took our picture, she came up to Nicole and Chelsea to ask who those "two a–holes" were that were next to them at them bar.  Nicole and Chelsea said "Uh… those are our husbands").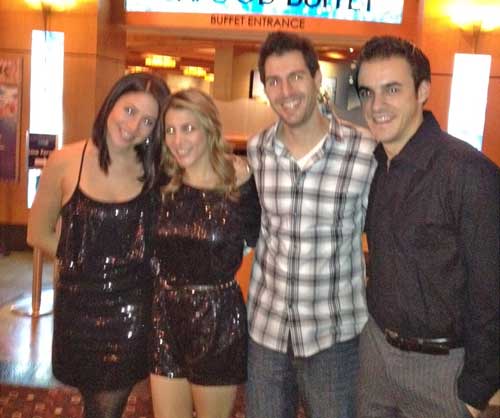 Sunday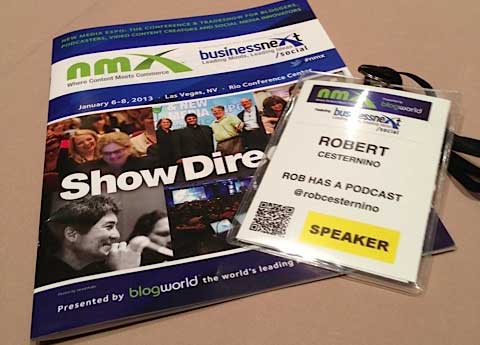 Sunday started the actual beginning of the conference.  Nicole and I both were attending this time.  New Media Expo is the worlds top conference for blogging, podcasting and web tv.
On Sunday afternoon, I got to see a panel led by Cliff Ravenscraft, aka "The Podcast Answer Man".  I listen to everything that Cliff has to say about podcasting and if you're ever thinking of starting a podcast of your own, his stuff is the best place to start.  Even though Cliff is under the weather, he was really inspiration describing why we're so lucky to have the audiences that we have as podcasters.
Sunday night was really fun too.  Dan Gheesling signed us up for a meetup that Pat Flynn from the Smart Passive Income blog was having at the Carnival Buffet at the Rio.  I first got turned on to Pat's blog and podcast my Dan in the spring and he is THE guru for website monetization.  Pat Flynn was really cool and actually ended up paying for dinner for about 50 people at the buffet!
Later on, Nicole and I went to the NMX Kickoff party which was at the Lavo Nightclub at the Palazzo Hotel.  This was a big thrill because normally if you wanted to go to a night club in Vegas there's a line that's a mile long and they want about $30 for a guy to get in – but not this time!
Monday
With only the slightest of hangovers, Nicole and I set out for day two of the conference.  We went to get some breakfast and I tried my hand at some restaurant Keno.  I decided to let Nicole pick out my 8 numbers for Keno and she selected all numbers between 1 and 32 (a Keno card goes up to 80).  I tried to explain that this was not a great strategy but since Nicole is often more in touch with the universe than myself – we gave it a whirl.  This was not one of the times that Nicole and the universe were on the same page.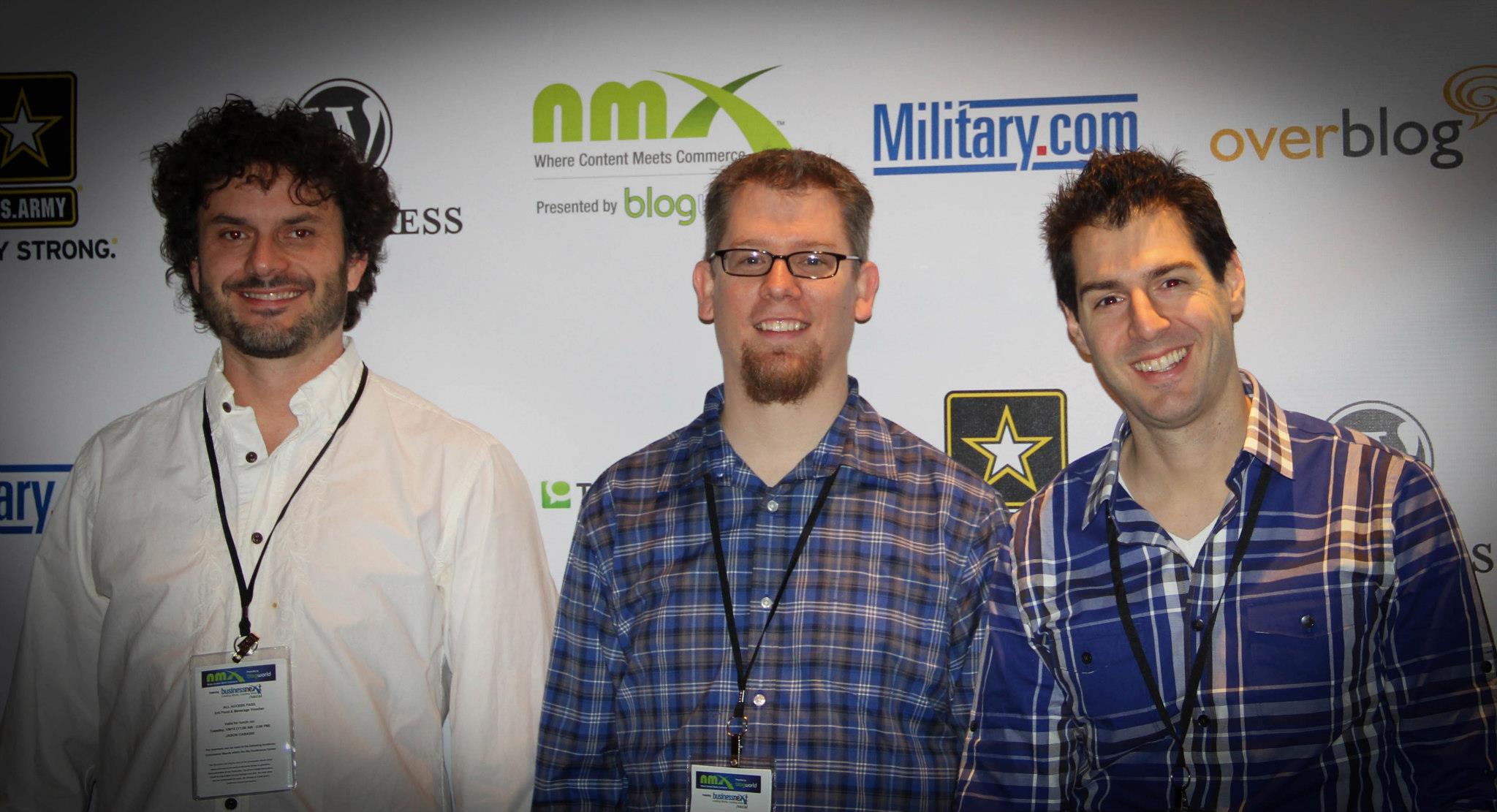 The best part of Monday morning was getting to speak on a panel that was put together by Darrell Darnell from "The Fringe podcast".  The panel was called "Tips for Building a Successful Fan Podcast" and was about how to make a podcast about TV, Films or Books.  Darrell asked me to first appear on this panel back in June and I was thrilled when he asked me to appear on it once again this time around.  We were also joined by Jason Cabassi from "The Walking Deadcast".  I believe that our session was recorded and if I'm able to get my hands on it on I'll post it as a RHAP episode.
If you're a fan of either "Fringe" or "The Walking Dead", you should check out their podcasts.   I'm currently watching Season 2 of the Walking Dead on Netflix and I'm going to start listening to some of the old episodes of "Walking Deadcast".
Podcast Awards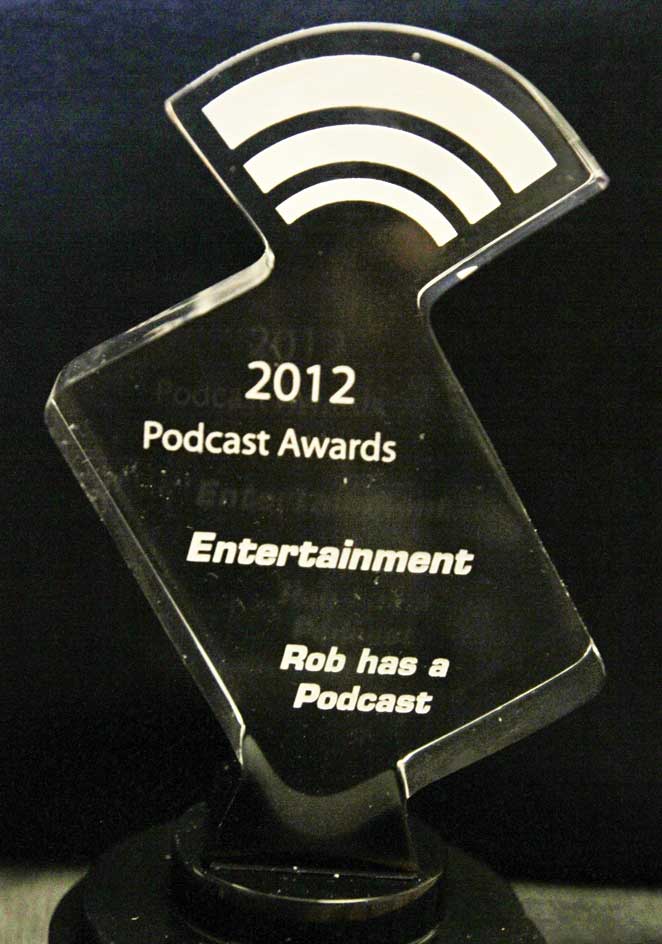 Monday Night was the LIVE Podcast Awards Show.  This was the 8th Annual Podcast Awards but this was the first time that the show was presented LIVE with all of the attendees able to come to the awards show.  The Awards were hosted by Leo Laporte from This Week in Tech.  I thought that I would be pretty calm and cool by the time the awards show came around – but I found myself with an extreme case of the butterflies.  First and foremost on my mind was the promise that I made to our voters that if we won, I would shave my head.  This was a promise that was extremely upsetting to my wonderful wife, Nicole.  There were many nights when she would beg me to change my mind and threatened to divorce me as tears would begin to form.  All along I promised her that "Don't worry, I'm not really going to win, so I won't have to actually do it".  I wasn't lying, I did not think that we had a chance to win so in my mind, I wouldn't ever have to go through with it.  She begged me to change my mind because she KNEW we would win – sometimes she IS in touch with the universe.  I just kept thinking that if we could just lose to one of the nine other nominees in our category, my life would be easy and my marriage would be saved.  What a relief!
The show started to a room packed full of podcasters.  Luckily, unlike the Oscars, there weren't numerous bits and musical interludes between the awards – they got right down to business.  Alphabetically, our award for "Entertainment" was about the fifth or sixth award that they did.  Leo Laporte rattled off the ten nominees in the category and then blurted out that the winner was "Rob Has a Podcast".  I can't help but smile even as I write this.  I jumped to the stage like a Price is Right contestant coming down to contestants row.  I have little recollection of what I actually said.
I believe that I thanked the audience and the community of this podcast – yes, you, the people that are reading this.  Thanks again for all of your voting, I'm always amazed by all your support for my show which discusses a whole lot of nonsense.  I also know that I said thanks to Nicole for all of her support through all of my shenanigans and begged her not to divorce me after my head gets shaved.  I also said thanks to my Dad, whom many of you know died last Decemeber.  If you've never read my blog about my last conversation with my Dad, I think it's the most important thing I've ever written.  All through my life, every time I was in the car with my Dad there was always talk radio on.  Whether it was Howard Stern or WFAN, these were the shows that he passed his love of on to me.  It's my biggest influence in podcasting and I hope that he knew what a big influence that was on me.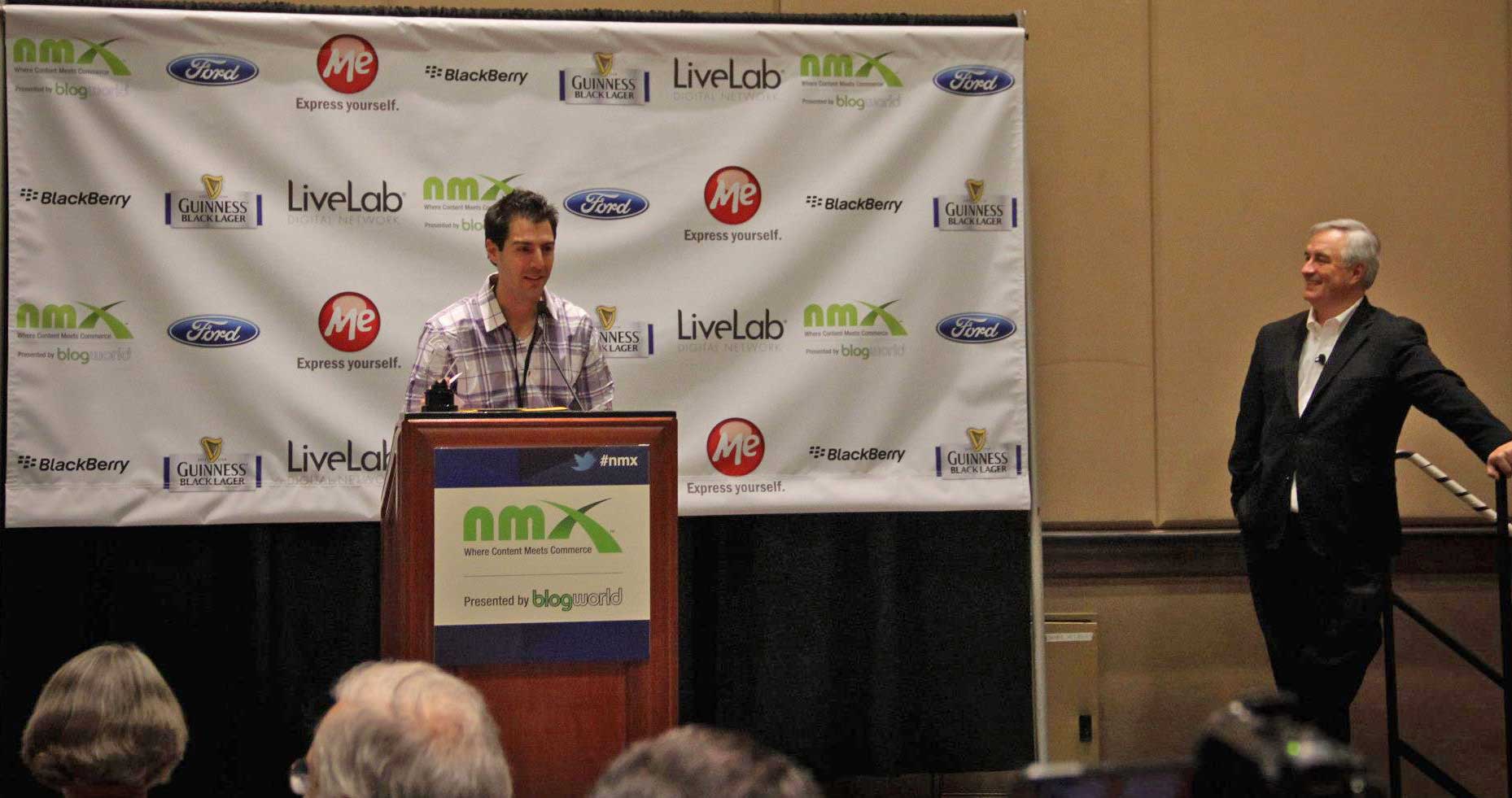 Once the awards were over we got to hang out with other Podcast Award nominees and winners.  The big thrill for me personally was getting a chance to talk to the winners of the Best Sports Podcast of 2012 and the People's Choice Award for 2012, from the ESPN Fantasy Focus Football Podcast, Matthew Berry and Jay Soderberg (aka Pod Vader).  As many of you guys know, I am an avid Fantasy Football player and finally won my longtime keeper league after 6 years of playing in the league.  (The last month has been quite a hot streak between getting into the Survivor Hall of Fame, winning my Fantasy League and winning the podcast award).  Matthew Berry is probably the world most renowned Fantasy Football expert so it was a true pleasure to get to meet him in person.  I thanked him for his hate of Ryan Mathews this August which led me to not keep him in our league (a key decision along the way).  Matthew is a crazy Big Brother fan and Jay is a longtime Survivor fan and I'm going to try to get them both for some podcasts in the coming year.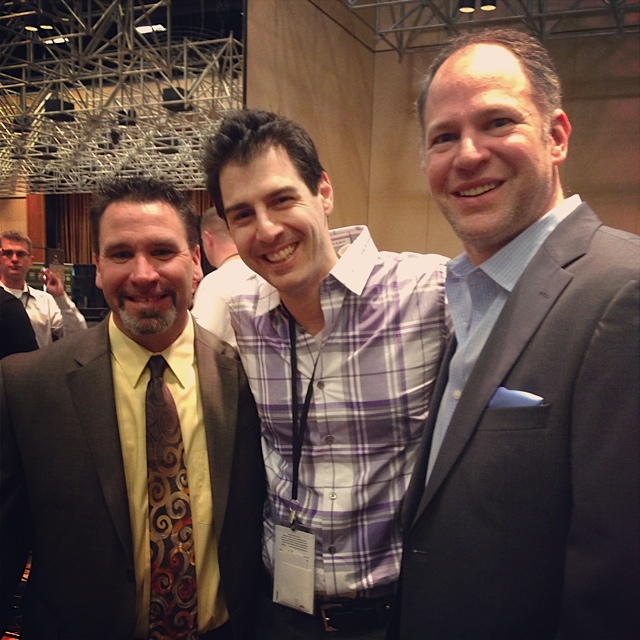 Tuesday
Now with an undeniable hangover, I went to a few more panels on Tuesday morning.  With checkout looming at 12, Nicole and I were forced to get our act together and head back to Los Angeles after a pretty eventful Vegas weekend.
The conference was really tremendous.  We had a great time and learned a lot about how to have an even better coming year on the website and podcast.  No matter what your field is, I really recommend going to conferences like this because they are great motivation to keep pushing yourself to the next level and basically, isn't that what it's all about?
Hair Today, Gone Tomorrow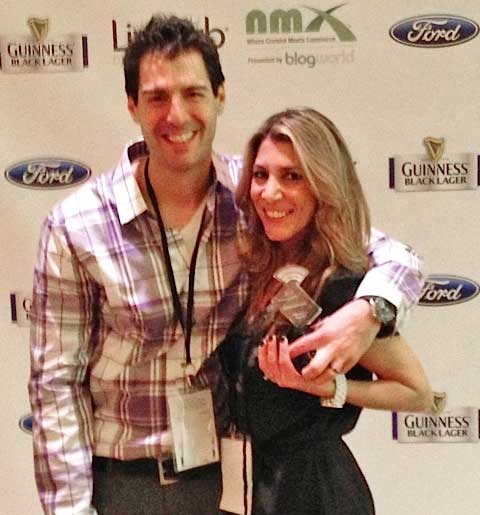 Now, I'm sure you're wondering, what going on with my hair.  As of writing this early Wednesday morning, I still have my regular, familiar haircut on my head.  Initially, the idea was that if I won Dan Gheesling was going to perform the hair-ectomy during the conference, but with the crazy scheduling of the conference, we never saw Dan or Chelsea again after Monday morning.  So now I will be performing the surgery on myself.
There has been much, much, much discussion my beautiful and wonderful wife Nicole and I about this issue.  If Nicole had her preference, this would not be happening.  This whole thing has made her very upset and understandably so.  Nicole is an amazing person and deserves to be married to someone who isn't a lunatic who basically lost a bet to his podcast audience.  That being said, I am a man of my word and I will be going through with this at some point on Thursday.  I'm hoping that Nicole will find it in her very generous and forgiving heart to eventually look past this transgression and to someday allow me to be back in her good graces.
There will be a video coming as well – I'm still working out the details on this part.
Thanks for Everything
All in all, none of this would be possible without you guys.  The conferences, the awards, meeting celebrities, the head-shaving and all of the day to day highs and lows are all because you guys hit play after I babble for an hour or so in my apartment.  Doing the podcast has made my life more fun that I had any right to expect it to be and I'm so lucky for being able to get to do it as often as I get to.
I hope to find more ways to bring as much fun as I can into your lives.  Please don't hesitate to ever reach out to me and tell me how I can better be doing exactly that.  Looking forward to plenty more nonsense in the coming year and THANKS AGAIN!
-Rob
Epilogue
So, the next day I did go through with shaving my head.  You can watch the video here: