Matt Liguori ranks the players each week with a new guest in RHAP's Survivor Power Rankings. This week Matt is joined by RHAP Big Brother Live Feed Correspondent, Taran Armstrong.
Note: If reading on a cell phone, rotate your device horizontally to read the rankings side-by-side. However, this may not work for some devices with smaller screens.
Survivor: Ghost Island Week 10 Power Rankings
I think I'm ready to wrap this season up. It started off strong, but it's been getting harder to care with half of the cast being so irrelevant. Luckily (for me), I like almost all of the characters who have been involved with the story, but waiting around for the heavily edited players to vote off people we don't care about is anti-climatic. But hey, two or three more weeks and we'll be at the end where all of the excitement is bound to be unleashed as the big characters have to take a swing or two in order to get themselves to the end. So as we continue on….
My guest this week is Big Brother chief Live Feed Correspondent and host of The Taran Show, Taran Armstrong! Now that Big Brother Canada 6 has just about ended, I figured Taran needed more work to do, so I roped him in for some Survivor rankings. Follow Taran (@ArmstrongTaran) and I (@mattliguori) on Twitter, tweet us to let us know what you think and/or leave a comment below!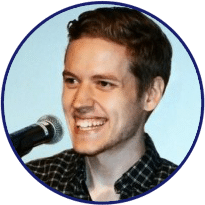 Taran
---

Let's see… half of the players left in the game are aligned with Dom, he proved he's capable of winning individual immunity, and he found another "advantage". Domenick is unstoppable. Dom and Wendell are the clear front runners to win this thing, but the gap is getting wider each week and I really feel Dom pulling far ahead.

1. Domenick
Domenic or Wendell will win the game, and right now Domenick seems to be more in the driver seat than Wendell is. His aptitude for finding idols (both real and fake) has proven to be a very valuable skill when it comes to winning the game. His connections with Kellyn, Laurel, and Wendell seem to form a vice-grip around the game and it's difficult to see a scenario that loosens that grip.
---

2. Wendell
Every reason Domenic should win also applies to Wendell except for the fact that we've seen less of Wendell actually calling the shots and driving the action than we have Domenick. But Wendell remains a very compelling option.
---

3. Kellyn


4

It's pretty painful to watch Kellyn these days. The edit isn't doing her any favors by consistently showing her to be overthinking, trusting bad information, not trusting good information, following her gut in all sorts of wrong directions, etc. She's ranked this high because there are only eight people left and I think she's actually in the middle? She has those Naviti ties (shocking, right?) that'll probably get her to at least the finale… but I'll provide the cold take that she probably won't win.

3. Laurel
Laurel is the dark horse here. She sits in a precarious position of having to make a move against the double-idoled & better-connected Dom & Wendell. She also hasn't made the most amount of friends along the way if we're to believe Des & Kellyn will continue to harbor any amount of the resentment they hold/held for her during the game. All that said, if there's any player capable of doing it, it appears to be Laurel.
---

4. Laurel


1

I can't imagine Laurel takes too kindly to finding out Kellyn put votes on her last Tribal. Things are not going to be pretty back at camp. As Laurel and Donathan are the last two Malolos, there's obviously worry here, but their close ties with Domenick and Wendell should push them through, I think far enough to get one or two more Navitis out at the very least.

4. Donathan
Donathan has found an idol and is likable enough. I think he'll stick around until the finale. It's tough to see him winning, but anything is possible in Survivor.
---

5. Donathan


1

I'm really not sure where Donathan's head is after this last vote. We know his loyalty lies with Laurel, but I'm not sure if he's as attached to Wendell and Domenick as Laurel is. Unfortunately for him, he's probably out of other options. Hitching his wagon to Sea Bass, Angela, or Chelsea doesn't seem like a realistic possibility.

5. Kellyn
Kellyn was a front-runner for most of the season, but in the last couple of episodes, her stock has taken some major hits. From making bad reads left & right, to making adamant demands of her allies that aren't fulfilled, it's very difficult to picture Kellyn as our ultimate winner anymore. But again, anything is possible in Survivor.
---

6. Sea Bass


1

Joke's really on us for thinking Sea Bass and Jenna were such a close duo based solely off the Instagram thing. We obviously should've been paying attention instead to their story on the episodes and all of the confessionals where they've explained they're not actually that close and Sea Bass planned on staying Naviti strong. You know…. all of that content we've definitely gotten over the past few weeks.

6. Angela
Angela can swallow a sea slug whole. That's about the extent to which I understand her position in the game. I honestly wish I knew more, as she seems pretty amazing, and if anyone could pull off a surprise win it would surely be someone who can also pull off swallowing a sea slug whole.
---

7. Angela


1

As far as we know, Angela has no relationship with Domenick, Wendell, Laurel, and Donathan. Angela has no shot to win the game, so whether she goes this week or next week or in the finale, she'll hang out here at the bottom of the rankings.

7. Sea Bass
To preface this, I spent an absurd amount of hours editing a pre-season podcast all about these players called First One Out. I knew their voices and names like the back of my hand before any of the names had even been released to the public. And I literally just had to double-check Wigler's cast introduction article on the Hollywood Reporter to make sure I had his name right. Also, a joke about him being high.
---

Two immunity wins in a row has the target on Chelsea's back as big as it could be for… Chelsea. Laurel isn't going to be happy with Kellyn after that last vote, and if she has any influence over Dom and Wendell, she'll use it to take out Kellyn's right hand woman who has proven to be a bigger threat in challenges.

8. Chelsea
I lied about how anything is possible in Survivor.