This season, Rob and Stephen decided to reverse the curse (of Wigler's Wombats?) by moving the Know It Alls live show to Boston instead of New York. While this didn't stop most of the usual crew from attending, many New Yorkers decided that while we can come to them, they don't come to us. Yes, I'm looking at you, Josh Wigler and Mike Bloom with your implausible "too busy" excuses!
"Too busy" didn't stop Haitham coming from Saudi Arabia or Nick Iadanza from Australia. "Too busy" didn't stop Peggy bringing a basket of Boston KIA cookies or Tom from bringing a Jeff Probst stand up. Somebody brought pin buttons of the RHAP Ghostbusters picture. Many people even brought the loves of their lives to share in the magic: Nick brought his wife, Bret brought Chris, Dom brought Colin, Rob brought… oh, wait. Never mind.
To be fair to Rob, he wasn't the only RHAPper there without his spouse. Readers of Lita Brillman's My Entertainment World recaps will know that James Lim is, in fact, her husband, and she didn't bring him. In that case, it was because they had never actually met, but I'm sure Rob's excuse was just as good.
Different city, same traditions, so on Know It Alls Eve, members of RHAP nation packed into an unsuspecting karaoke bar where Bret LaBelle inevitably made himself the evening's emcee. The bar tried to fight it, but this is Bret's hometown. He knows people. In the end, RHAP's favorite singing cop prevailed and did his own turn on the stage, with Adam Klein meekly serving as his microphone stand.
Podcast House, ever up for making things more complicated than necessary (you should see them play Uno), pre-gamed with trivia at another bar. Somehow, they gamed the system so that despite finishing in the bottom three teams, they still won a round of shots to fortify them for the main event.
However, what nobody knew was that the Karaoke event itself was a competition. With the renown of the Wandoff spreading far and wide, I can only assume this was a conspiracy on the part of the bar's regulars to prevent RHAP's competitive spirit coming out. But while a local girl won the top spot, they couldn't shut us out. Game or not, Brice Izyah always brings it, and he ran away with second place.
The day of the Know It Alls was rainy and foggy. While some hardy RHAPpers ventured out into Boston, Austin Trupp offered a cosier alternative: a viewing party for the Survivor Maryland: All Stars premiere at Podcast House. If you don't watch this unofficial series, no familiarity is needed to appreciate the audience reaction to the end of the immunity challenge:
https://twitter.com/colinstone/status/989245036792565761
The biggest reaction there is from one Adam Klein. We know from Run it up Reno that Adam really likes winning. We know from TWISH that Adam really hates losing. True to type, Adam spent the last ten minutes of the episode loudly (and correctly) lamenting the imminent loss of his pre-season winner pick.
Once Adam had worked his way through the five stages of grief, we dispersed through the rain for our separate dinner plans before reconvening along with three hundred other people at Laugh Boston for a second episode of Survivor… this time, on Ghost Island.
The joy of seeing Survivor in a packed room is the crowd reaction and interaction. We all made knowing nods to each other at Desiree's visibility spike, furiously debated what each scene meant for Kellyn's and Domenick's winner edits and cheered at every opportunity.
Naturally, Sebastian's line about not needing food when you're high got the biggest laugh, but this was a crowd-pleasing episode throughout. Dom going into godfather mode? Big cheer. Chelsea fulfilling her goal of participating by winning the immunity challenge? Bigger cheer. Stock footage of a sea turtle? The crowd went wild. (I was sitting in front of the University of Maryland contingent. Go, Terrapins!)
Once Desiree's torch was snuffed, it was time for the main event. Bret took to the stage along with Will from America, to welcome us to Boston Know It Alls Live.
Rob was a little hoarse after a night of Karaoke with Bret, but luckily for him, Stephen had been too much of a professional to peak the night before, and he held the podcast together. Even more luckily, Boston provided him with a vast supply of Survivors to pull up on stage to do the talking for them.
We heard from way too many Millennials (Adam) and Gen Xers (Bret, Chris, Jessica), way too many winners (Adam, Michele, Jeremy, Bob), way too many Survivors in general (plus Brice, Denise Martin, Rodney, Mama C, Val, Jimmy T, and Australian Survivor Nick Iadanza).
Denise was the surprise MVP of the evening, working the floor long before the podcast was over and keeping everybody updated on the Bruins' score. (I think that was an ice hockey game. It was most definitely a sports.) Bob was the most prepared—I had recently watched Gabon with the kids, so I told Bob that my nine year old son was a big fan, and he promptly whipped out a photograph from a secret stash in his jacket and signed it for him. Props also to Jessica, who had brought her husband along with her, possibly solely to have a group picture photographer.
At a grand total of fourteen, besides Rob and Stephen, this was the already the most Survivors ever at a Know It Alls, but gradually news spread of a mystery lurker in the audience… Ghost Island's own James Lim was walking among us.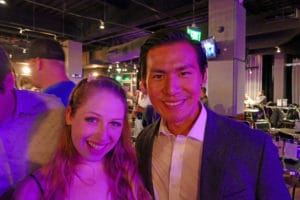 For Lita, it came as a great thrill (and mild panic attack) to learn that she could come face to face with her fanfictional spouse. Never before had she been so nervous to meet a Survivor, but with a little encouragement (and judicious supervision) their meet-cute took place under the pink lights of the Laugh Boston stage. Luckily, Lita was wearing her jeweled cat ears, which served as an admirable tiara as she posed with the unwitting James for their wedding pictures.
As James was in high demand, Lita limited herself to a five minute speed date before withdrawing. She is, after all, too much of a professional to act desperate.
Of course, for many of us, it was not the Survivors but the RHAP icons that we were here for, and Boston delivered on that score as well. We might be missing Mike Bloom, but his co-host, Liana Boraas was in the house. Taran Armstrong must have learned something from having his own show, because he was having actual conversations with fans. The best tweeter in the business, Ari Ferrari, made his first return to Know It Alls in two years. And—perhaps the biggest holy grail of all—we had Jenny, from Jenny and Colin of Wandoff fame. Despite my best efforts, I was unable to track Jenny down for a photograph, and there are no words to express my devastation. Jenny, come back next time!
(Edited to add: Apparently Phil T was also in attendance. I have failed both as a Wandoff Fan and as a journalist. I will do better next time.)
The staff of Laugh Boston were also in despair throughout the afterparty as they attempted to keep us from being fire hazards. Wherever a Survivor was, there was a mob of people blocking all movement. Matters only got worse when they closed the bar and attempted to kick us out. Rob attempted to help them, but our shepherd had definitely lost control of his flock. After about half an hour, they succeeded in pushing the Survivors and their respective swarms of fans into the foyer of the main building, where we all spent another half an hour talking about leaving for the after-afterparty but actually taking advantage of last minute photo opportunities.
Thus the setting for Nick Iadanza's induction into the Pyramid Puzzle league table. This is a puzzle I've brought to RHAP events before: only two pieces but the average solving time is supposed to be five minutes—in reality, most people give up in frustration by the three minute mark. Nick had been intrigued enough to ask me to bring it this time around so he could have a go. It did not disappoint.
Watch Nick attempt the puzzle!
Nick did solve the puzzle, with a very respectable time of one minute thirty six seconds. This places him third in the fandom rankings, behind Colin Stone (under a minute) and Jeff Pitman (one second), though he is currently leading the Survivor Nicks—pending Nick Brown and Nick Stanbury showing up to a Know It Alls to have their time recorded. If anybody else would like to give the puzzle a try, just let me know ahead of the next KIA and I'll bring it with me.
Eventually, we all made our way through the evening drizzle to the after-afterparty venue… which hit maximum capacity almost immediately. Somebody came through with some hasty reorganising, and we changed course for an after-after-afterparty at Howl at the Moon. This was for twenty-one and over only (Sorry, Will Seamon), but it fulfilled the Bret LaBelle requirements of a bar and live music. He worked the floor once more, singing along with any and everybody. The Podcast Housers joined him in a rendition of Bad Romance that was truly Lady Gagariffic. (That one's for you, Josh.)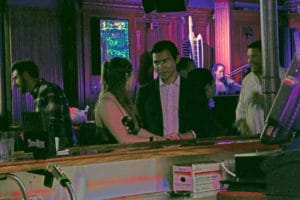 He wasn't the only Survivor to continue the evening there. James Lim was also at the bar, no doubt seeking out the cat-eared beauty to whom he felt some mysterious connection. Lita did not make him search for long…
Of course, she's not a clingy wife, so she left his side for a few minutes, only for him to start talking to other female fans. It was almost as if he didn't know they were the OTP.
Fortunately, as a fully sworn in member of Podcast House, Lita has devoted friends who also happen to be the greatest minds in Survivor fandom. This collective think tank put its alcohol-fueled brains to devising the best strategy for Happily Ever After, and came up with Operation Dom Harvey Fights a Ho for Canada. (Trust me, there's logic behind this.)
Sadly, Dom did not follow through, and RHAP's own KIAmance ended at Howl of the Moon's bar… for now?
(James, if you're reading this, please know that True Love will endure. Just reach out and ask for a guest spot on an American Ninja Warrior podcast.)
(Lita, if you're reading this, please know that I am too far away to kill.)
Despite the effects of the previous night, Rob stuck it out through all the afterparties, somehow still finding enough voice to talk to me, as he was particularly anxious not to get criticism in this blog. Well, Rob, perhaps you should have got me a drink… What, they don't have extortion in Boston?
However grudgingly, I do have to award Rob kudos for another crazy, amazing evening, pulled off by him and the community that he's grown over the years. Know It Alls Live is just one of many RHAP traditions, but it's possibly my favorite, and Boston did us proud.
Further thanks to Charles Kurz (who does know how to avoid in-blog criticism) for acting as photographer/videographer, to Matt Liguori and Dom Harvey for technical assistance, to Joshua Spaulding for the photographs of the podcast, and to David Bloomberg, Jessica Lewis, Megan Z, and Laura Holzwasser for sharing their own pictures. Enjoy the gallery!