Click to Subscribe or Give Ratings to the SURVIVOR ONLY Feed on iTunes[/caption]
It's the premiere Survivor: Cagayan recap podcast so Rob is doing it up in style with an in-studio Mount RHAP-more guest: the 2014 Mr. Survivor runner-up, Survivor: Exile Island Winner, Survivor: Blood vs. Water Middling Finisher, and undeniable DILF, Aras Baskauskas (That's OddUs Bush-cows-kiss, if you're cool).
The BBBros start off talking about the first castaway voted off the Brains Tribe, Marlins owner David Samson. Aras muses about whether it was genuine when David said he doesn't have any regrets. Rob also mentions that Survivor's ratings are up and informs Aras that it's due to the #RHAP Bounce, but then admits that it's just the Rob Has a Podcast interns who are saying that. Although both Aras and Rob think social media has really helped Survivor, as it connects the fans to the contestants. Aras reveals he is a social media triple threat: he's a former player, a fan of the Survivor, and most importantly a fan of RHAP.
Next the discussion moves to the second castaway voted out of the Brains Tribe: Garrett Adelstein. Aras discusses how Garrett doesn't understand the production aspect of the game– He can't babysit the tribe 24/7, as individual contestants will be pulled away for interviews. Rob and Aras talk about how people hate when they're told "You can't do this," which was what Garrett instituted at camp. They also talk about this really pushed Tasha's buttons. Aras takes issue with Tasha saying there wasn't strategy going on– there was strategy afoot, even if it was Garrett's poorly executed strategy.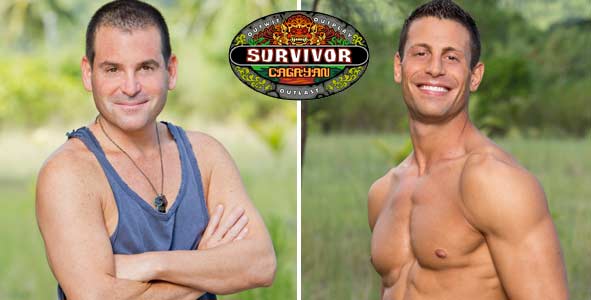 Rob and Aras also debate whether or not Kass McQuillen changed her vote at tribal council. Aras thinks Kass saw that Garrett would make poor decisions and try to control her, whereas J'Tia would just have emotional outbursts. Aras, borrowing a term from Jonathan Penner, talks about how Kass is the "fulcrum point" (or "swing vote") among the 5 votes.
Aras also mentions that J'Tia Taylor reminds him of how Ciera Eastin was early in the game– she was saved by 2 votes that she had nothing to do with, and was an early target. Although neither Rob and Aras think that J'Tia will have the same impressive turn-around that Ciera showed in the Blood vs. Water endgame.
Rob raises the issue of whether Garrett was going to quit, as he showed hints of Osten Taylor from Pearl Islands, whining about being hungry and how difficult island life was. Aras talks about the starvation strategy that he employed pre-game and recommends it as a method for future Survivors, as he never once felt hungry while on Blood vs. Water. Rob and Aras talk about how Garrett seems spoiled, wanting someone to bring him chicken and vegetable on a plate, and they wonder if this is a staple item in his professional poker tournaments. They also discuss whether the Brains tribe deserves that title, and Rob makes the astute observation that when you give people a label, they feed into that label, and probably telling people they are on the brains tribe makes them feel like they are smarter than they are.
Next Rob mentions that he rewatched tribal council, and on re-watch it seemed to him like Kass and Tasha Fox were blaming Garrett for what happened with the rice, while the rice tosser herself J'Tia seemed to being getting off scot-free. Aras also discusses whether he would trust Morgan as a girlfriend, and he does not agree with the LJ McKanas theory that hot girls are not trustworthy. Aras also requests the "a/s/l" of the commenters because he's 32 wants to know if he's the average RHAP listener, so he'd like everybody to post their age in the comments. He wonders if most of Rob's audience would understand the Lorena Bobbitt reference he made. Rob then challenges Aras to a rapid-fire game of determining which Survivor women are "cute" or "hot." The results are: Cute = Jefra Bland, Alexis Maxwell, Sarah Lacina, Kat Edorsson, Katie Collins, Andrea Boehlke, Christina Cha; Hot = Morgan McLeod, J'Tia Taylor (if based solely on looks and not her Survivor performance), Candice Cody, Ciera Eastin, Hope Driskill, Brenda Lowe (who he says is hotter b/c she's a MILF), Kim Spradlin (also a MILF), and Chelsea Meissner.
They also break down the lyrics of Brice Johnston's single "Freak" and compare it to RHAP-favorite Lisi's "Tighty Whities." Aras is dismayed that Lisi has more hits than the music for his band Odd Us, but says deserves the Grammy for all Survivor musicians. Aras also answers questions about his college basketball career and the NBA players he played with. He then dives into a Blood vs Water discussion and reveals that initially he was willing to work with Colton Cumbie, but that later the Returnees tribe had wanted to throw a challenge in order to vote Colton out. Aras also says that if he were on this season, he probably would have been put on Brains or Beauty, but he would prefer to be on Brains. Rob mentions that he gets a little bit of a Frank Underwood vibe from David Samson, and had fun on his exit interview with him.
In the voicemail segment, Aras takes a question from his former campaign manager and gives advice to Spencer Bledsoe about his Mr Survivor 2015 run. Aras recommends that Spencer immediately begin growing out his mane, and also to engage with the RHAP audience. Aras and Rob both felt that his chatroom presence in the Miss Survivor debates helped Aras catapult to 2nd place. Aras says at this point, of the males on this season, Spencer has his Mr Survivor 2015 vote. They also talk about Spencer's chances in the Brains tribe and Aras feels good about Spencer, feeling that he is an astute player who can find the cracks.
They also talk about the "Tyler Perry Idol," which Aras feels gives too much power, calling it a "God Idol." Rob is waiting to reserve judgment, but Aras says "I'm judging it and I don't like it." Aras then submits his own spontaneous live voicemail question, asking Rob who his top 5 men and women returning players (who haven't yet come back yet) would be. Rob, trying to think off the top of his head, says for the men he would pick: Shane Powers, Stephen Fishbach, Todd Herzog, Yul Kwon, and Brian Heidik and for the women it would be: Kim Spradlin, Sophie Clarke, Shambo Waters, Ciera Eastin, and RC Saint-Amour or Denise Stapley. Aras adds Danni Boatwright and Rafe Judkins as ones he'd like to see. Rob says Rafe would never go back because people only go on Survivor if they don't have much else going on, a comment Aras finds hurtful.
Aras then provides a Rob Has a Podcast Exclusive: He reveals that he is having a boy and that his son's name will be River (although keen listeners would know that he already revealed the baby's gender in his Mr Survivor song). Aras wants Rob to provide him with parenting tips, but Rob says Nicole is the one who knows everything, and that she's a great mom. Aras and Rob also discuss the players they think people are sleeping on, that show potential for doing well, Brice Johnston and Tasha Fox. They also talk about the players they think have a chance to win based on the first episode… and there aren't that many of them!
Every episode Rob likes to talk about the Jeff Probst Out of Context Inappropriate Comments of the Week. This week, Rob came prepared with the audio clips. Jeff's comment is: "All three tribes working together well, taking turns going down." Rob also has an inappropriate comment to share from Survivor contestant Tony Vlachos. The comment itself is "This is HUGE. I needed this." However, reading it does not do it justice– it must be listened to for the accompanying noises to get the full effect. Aras declares that this will be the best clip of the season, and Rob wants it for his ringtone. Rob and Aras also finally feel redeemed with how they've been pronouncing Aras's name (OddUs), as Jeff Probst was able to give a shoutout to Aras during tribal council, saying "This is the OddUs tribe I've ever seen." Spencer also had a good out of context comment with "Who wants to welcome me to the bottom?" but it couldn't compete with Tony's contribution.
In the social media segment, Rob shares tweets from current castaways Morgan, J'Tia, Tony and Garrett, and Rob and Aras also critique their twitter handles. Rob would like to offer his Twitter Handle Consulting Services to any Survivor contestants who would like it. J'Tia's is "JTiaPhD" and Aras says it's another instance showing that J'Tia would like everyone to know that she is smart. Rob has always felt that the more you have to proclaim something, the less likely it is to be true. Rob is surprised to find that #TeamJTia has significant support on Twitter. Rob was literally 98% sure that there wouldn't be many using that hashtag, but he readily admits whenever he is wrong. Rob and Aras also talk about how they feel the IQ tests on Survivor are dubious, as Rob points out they were told Heidi had the highest IQ on Survivor: Amazon. He also reads a poem by Tasha, which seems quite similar to Jonathan Penner's "Twas the Night Before Tribal" from RHAPpy Holidays 2. There are also tweets to share from Julie Berry, Sophie Clarke, Tyson Apostol, Francesca Hogi, and Eliza Orlins– who Rob feels is perhaps the greatest Survivor tweeter of all time. And Russell Hantz had the tweet of the night, telling Brandon he had found the perfect woman for him (J'Tia) and that he would even throw rice at their wedding. Aras suggests holding a "Tweet-Off" contest to determine if anyone can top Russell's tweet by the end of the season. Rob says that every week is a Survivor Tweet-Off when it comes to RHAP and the Survivors best be aware to step up their game.
Rob and Aras also name their winner picks. Both want to choose Sarah Lacina to win it all, but Aras decides to switch up to Spencer Bledsoe, thinking that he may be able to pull off what Malcolm Freberg was not able to do. Rob calls this a bold prediction, thinking Spencer will do well but not go all the way.
RHAPping up the podcast, Aras mentions his new music venture, My Swedish Friend, a "folktronica" project (mix of folk and electronica). Their first single is a remix of an Odd Us song called "Old Walls." He also talks about his fiancee's new clothing line: ShopDawn.com, and says he is the "Tony in the #spyshack" of the operation.
Rob also reminds listeners about the Patreon group where listeners can donate a set amount per podcast– RHAP will always be free, but this is an optional way to support the costs needed to produce Rob Has a Podcast. You can set your donation in any amount according to your budget and you'll get to be part of a private Facebook group and other fun incentives.
Loved this podcast with Aras? Never fear– Rob says Aras will be back later in the season to help with Voicemails, and that's why he wanted to start the season off with a blam by having him on this premiere episode podcast.
Special Thanks to @RHAPrecapper for this tremendous recap of the show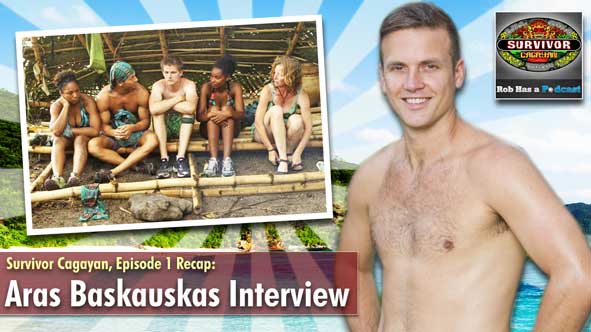 Subscription Options for Rob Has a Podcast: