Three-time Survivor player and great friend of the podcast, Jonathan Penner returns to talk about Worlds Apart Episode 9.  Penner gives his thought on Jenn's decision to stay in the game, the dynamics of Joe and Mike, whether Rodney is a legit threat to win and much more.
In his first podcast back in the studio after being named the People's Choice at the 10th Annual Podcast Awards, Rob welcomes back three-time Survivor player and friend of the podcast, Jonathan Penner to be the storyteller for the ninth episode of Survivor: Worlds Apart.
The discussion begins with Jenn's place in the game and if Jonathan believes that her recent ambivalence towards the game mirrors Fairplay and Chet in Micronesia. Could she gain a second wind in the game or is the wind out of her sails for good? In another comparison familiar to Penner, Rob and Jonathan weigh the similarities and differences between Tyler/Carolyn and Malcolm/Denise.
Then, Mike's position in the center of the game becomes the center of conversation. Does Rodney's foursome have any chance against Mike's side now that he seems to be working with Shirin? After comparing Mike's game to Yul's in the Cook Islands, Rob and Jonathan marvel at Joe's idol craftsmanship and Mike's jury management.
The comparisons keep on rolling with an examination of the parallels between Mike/Rodney and Penner/Jeff Kent, and also a look at how Shirin might just be the female Cochran. Jonathan reveals how Shirin and Jenn can be the ultimate underdogs of this season and help Worlds Apart live up to its pre-season hype.
To shed some light on the background of his infamous sound byte as the Survivor storyteller, Jonathan explains his conversation with Lisa Whelchel. Was he telling her to be a "good guy" in the eyes of the jury or in the hearts of Survivor viewers at home? What makes a good storyteller and how can that be a benefit in the game?
Finally, Jonathan answers questions your questions, including:
Would he be White Collar, Blue Collar or No Collar?
Who on this season would he tell to suck eggs?
What pre-season knowledge did he pass along to Max?
What is the different between faded and toasted?
Whose chances of winning the game are bollocks and they know it?
Is playing the game of Survivor actually a life-changing experience?
Special Thanks to Kevin Kickham for this week's episode recap
Listen to This Week's Exit Interview with Joe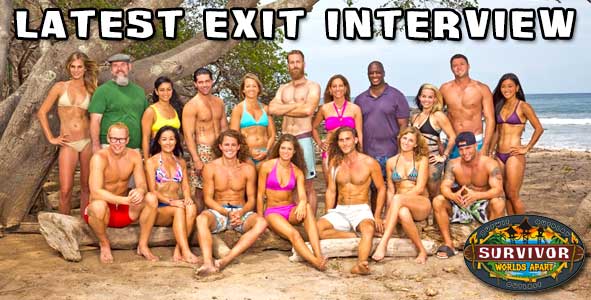 Watch this Week's Survivor Know-It-Alls
Watch the Show on YouTube     –     SUBSCRIBE on YouTube     –      RSVP for the LIVE Event
Subscribe to the Podcast: