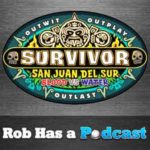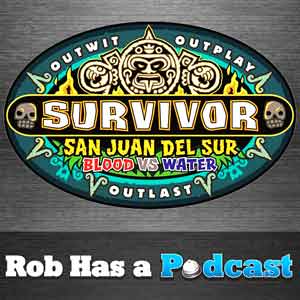 Subscribe to our Survivor ONLY Podcast in iTunes[/caption]
After a jam-packed 90-minute premiere of Survivor San Juan Del Sur, Rob speaks with the winner of Survivor One World, Kim Spradlin and then answers your voicemails with Nicole Cesternino.  This episode marks the official start of the 10th Survivor season on Rob Has a Podcast.
Survivor One World Winner Kim Spradlin on the wisdom of Jeremy's alliance making, theories behinds Josh's vote and much more from the Survivor San Juan Del Sur premiere.
Rob Cesternino welcomes Kim Spradlin back to Rob Has a Podcast for the first time since the birth of her baby, Michael Thomas.  Rob and Kim discuss the players that Kim is really enjoying this season.  Rob asks Kim about Jeremy's early season strategy to form such a big alliance early on.  Kim compares the early alliance that was made successfully in Survivor One World with other Day 1 alliances that were not as successful.  Rob and Kim discuss whether or not it's better to be a Day 1 alliance maker.
Of course, no Survivor San Juan Del Sur discussion could be complete without rampant speculation about why Josh voted the way he voted.  Kim doesn't have any clue why Josh did what he did despite thinking about this question a great deal.  If Josh didn't seem like he knew the game lots of possibilities would be on the table but since Josh is a fan, nothing yet makes any sense.
After Wes confronted John Rocker about his identity, Rob and Kim discuss what is the right strategy when you recognize a famous person on Survivor.  Rob and Kim both agree the move is not to go up to them and confront them about what you know like Wes did.
Rob and Kim discuss Kim's Interview with Nadiya Anderson on Kim's morning TV show.  Kim will be interviewing the voted off castaways each week via skype during Survivor San Juan Del Sur.
Watch Kim's Exit Interview with Nadiya on Good Day SA
Rob asks Kim a number of questions from the Rob Has a Podcast facebook fan page including:
Does Kim want her last name used as an adjective to describe Reality TV contestants?
What are Kim's feelings about placing 4th on the RHAP all-time poll?
What are Kim's thoughts on the Blood vs. Water format?
Of last season's standouts, who would Kim most want to play against?
Which pair does Kim think will go the furthest in the game?
Nicole Cesternino Answers Your Voicemails
Rob welcomes the first lady of Podcasting back to the show to celebrate the 10 seasons of podcasting Survivor together.  Rob and Nicole discuss a number of Survivor topics including:
Who are the players that can potentially win?
Will we ever learn the identity of the two players who didn't get on the season?
Is Jeremy moving too quickly with his alliance?
What are Nicole's thoughts on Josh's vote?
Plus much more!
It's a Survivor recap podcast 10 seasons in the making!
Subscription Options for Rob Has a Podcast:
Survivor Know-It-Alls From Episode 1
Watch the Show on YouTube     –      Podcast Episode Page
Rob's Exit Interview with Nadiya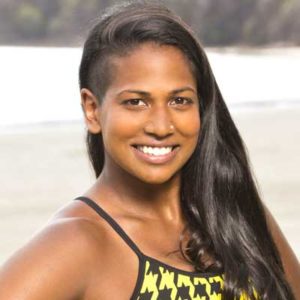 Listen to Rob's Interview with Nadiya Anderson