Mike Bloom (@AMikeBloomType) and Jasmeet Sidhu (@JasmeetSidhu) recap episodes 26 & 27 of season 7 of Shark Tank, the former of which features guest shark Chris Sacca, along with the May 4th and May 6th episodes of Beyond the Tank.
SHOW LINKS:
Watch Shark Tank Episodes:
In Canada:
(note the episode number is one lower than in the USA)
Season 7 Episode 26 Pitches
A developer from San Francisco, California, incites a battle between two of the billionaire Sharks, as they fight to invest in his early education software platform. A fashion blogger from Los Angeles, California, hopes to win over the Sharks with her fashion networking mobile app; a pair of entrepreneurs from New York introduces a convenient way for people to access umbrellas on a rainy day; and two business partners from Altadena, California, have designed a way for kids to enjoy eating healthier. Also, an update on Ryan Fant and Nayeem Hussain from New York and Keen Home, their line of home enhancement products that Robert Herjavec invested in during season six.
PITCH: FashionTap
FashionTap helps people find and follow influencers who will inspire them to buy great fashion and beauty products. FashionTap is a fashion and beauty social network that lets members make money from sharing and tagging the brands and products they already know and love. Consumers, brands, and designers can now easily find fashion influencers according to the demographics and reach they want for their campaigns.
Learn More: http://fashiontap.com/
PITCH: Brightwheel
Brightwheel is the all-in-one platform for early education, serving as the hub for preschools, daycares, and families. Brightwheel saves administrators and teachers valuable time with easy tools for learning, communication, and online bill pay. Parents get a real-time view of their child's day as it unfolds to stay connected and continue the learning at home. Schools and families across the globe have fallen in love brightwheel.
Learn More: http://www.mybrightwheel.com
PITCH: brellaBox
brellaBox is the first umbrella sharing service that makes it easier, cheaper, and more environmentally friendly for city dwellers, hotel guests, college students and more to use umbrellas. 'brellaBox was co-founded by New York city residents, John O'Connor and Anusha Kambhampaty. Rather than continuing to purchase flimsy umbrellas from street vendors, John and Anusha decided to create 'brellaBox as an eco-friendly alternative. Every year, we throw away enough umbrellas worldwide to build 25 Eiffel Towers! Broken umbrellas go directly into solid waste landfills, which are the biggest source of man made methane gas in the United States. At 'brellaBox, we believe that stopping the warming of our planet begins with using resources, even umbrellas, in a more mindful way. When the sun comes out, put your umbrella into a 'brellaBox rather than a trash can!
Learn More: www.brellaboxnyc.com
PITCH: My Fruity Faces
My Fruity Faces are deliciously flavored ALL-NATURAL EDIBLE stickers designed for application to your kids fruits and veggies to make them fun, exciting and engaging! They are a moisture sensitive product made of completely all natural edible ingredients and when placed on fruits or veggies they absorb moisture and dissolve into the food. There are various stickers of full faces, face-parts, and accessories that make fruit and vegetables fun for children of all ages.
Learn More: https://myfruityfaces.com/
Season 7 Episode 27 Pitches
An entrepreneur from Honolulu, Hawaii, cuts her own hair in front of the Sharks to demonstrate her products; an award-winning, self-taught baker from Rochester, New York, hopes to sweeten the deal with her healthy ready-to-eat frosting; and three business partners from San Diego, California, are determined to convince the Sharks to hop on board with their wheelless skateboards.
PITCH: Dollop Gourmet
Dollop Gourmet is the first healthier and tastier answer to one of the scariest processed foods on the planet: Frosting! With its organic vegan and gluten-free ingredients, and lower sugar count, Dollop Gourmet frosting spread is not only better for you, but it tastes incredible. Not just a frosting though, Dollop Gourmet doubles as a delicious sweet spreadable delight that inspires food adventurists to break the rules and explore how fun healthier eating can be.
Learn More: www.dollopgourmet.com 
 PITCH: The Spooner
Three surfers stumbled across a fun toy balance board and called it The Spooner. We got a patent and have been riding the wave of building, marketing, and selling ever since. With sales of over half a million boards and counting we have the plan to not just build and sell our company, but build a quality brand and keep it for the long run.
Learn More: www.spoonerboards.com
PITCH: CreaProducts
CreaProducts is a brand of beauty products for DIY home haircutting, nails and makeup! Our products empower the consumer to get professional results saving you time and money. Mai Lieu is an Inventor, bestselling author and inspirational speaker she is passionate about empowering and inspiring through her creative products.
Learn More: www.creaproducts.com
 PITCH: Yourself Expression
Yourself Expression is an interchangeable accessory company created by siblings Shelby (16) and Gordy Gogulski (11). What started as a fun hobby has grown into a company that offers beautiful jewelry and accessories for the entire family at an affordable price and allows our customers to be the designer of what they wear. Yourself Expression is growing into the souvenir industry to make this trendy concept a tradition for families to keep for years to come. Women, Men, Kids and even the family pet can Create, Wear and Change with our collections.
Learn More: http://www.yourselfexpression.com/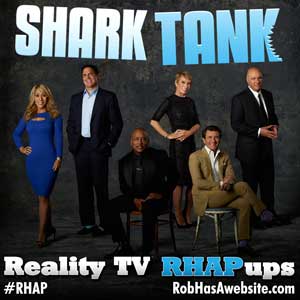 How to Help Support RHAP
Become a Patron of Rob Has a Podcast | RobHasAwebsite.com/Patron