The Shark Tank podcast is back! Thanks to audience response, Mike Bloom (@AMikeBloomType) and Jasmeet Sidhu (@JasmeetSidhu) have returned to begin a recurring podcast on the ABC reality show. Make sure to subscribe as Jasmeet and Mike talk about Ashton Kutcher's guest spot on this week's show, phone accessories, and whether Kylie Jenner can boost sales of any product.
Watch the episode:
In the USA, on Hulu:
http://www.hulu.com/watch/927239
In Canada, on CTV.ca or on the CTV GO app:
http://www.ctv.ca/SharkTank/video.aspx?vid=847175
S7 E24 Episode 24 Description
A man from Los Angeles has an innovative way to check your pet's health instantly with your phone, but an old-fashioned way to capture the specimen; an engaged couple from Monarch Beach, California have a lot riding on making a deal for their hand-held surfing boards; two men from Encinitas, California provide female consumers a stylish way to listen to music on fashionable headphones; and an entrepreneur from Mountain View, California has an idea that makes the most of the unused space on the backside of your cell phone. Also, Barbara Corcoran invites several entrepreneurs from businesses she's invested in to Cabo San Lucas to discuss topics ranging from opening up an online business to dealing with the "overnight" success of being on the show.
———-
PITCH: Slyde Handboards
Slyde Handboards is an entirely new, innovative, and design-driven brand exclusively centered on the sport of handboarding.   We collectively use our design and technology backgrounds, to create beautiful, perfectly shaped bodysurfing handboards for increased lift, speed, longer rides and more fun for all ages and skill levels!
Learn More: Visit www.slydehandboards.com
 PITCH: popSLATE
popSLATE's Smart Second Screen puts the back side of your phone to work with an e-Reader, smartwatch & battery case all-in-one super thin case.
Learn More: Visit www.popslate.com
PITCH: Petnostics
Petnostics helps pet parents keep their pets happy and healthy through a line of at-home urine test products. Using the same diagnostic test strips that vets use in their clinics, pet parents can check their dog or cat's health instantly with the Petnostics app and be alerted to potential health issues such as urinary tract infections and diabetes. With results easily shareable to vets and at a fraction of the cost of a vet visit, Petnostics makes healthy living easier for pet families.
Learn More: Visit https://www.petnostics.com/
PITCH: FRENDS
FRENDS is the premiere brand for designer audio accessories with a purpose to make life beautiful through our products, while inspiring other dreamers to never settle with our approach towards innovation and design.
Learn More: Visit www.WeAreFRENDS.com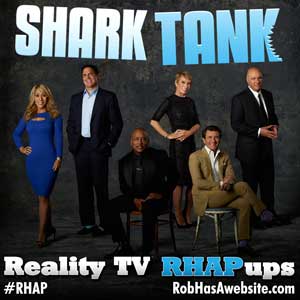 How to Help Support RHAP
Become a Patron of Rob Has a Podcast | RobHasAwebsite.com/Patron