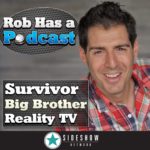 CLICK to Subscribe to Rob Has a Podcast on iTunes[/caption]
Every year, I like to give back to our amazing podcast community with a special holiday show, which I call "RHAPpy Holidays".  This show is a little different than a regular podcast because you won't know what its about or who is on it until you listen to it.  You've just got to trust me and go along for the ride.
Thanks again for everything that you've given to me in 2013.  2013 was far and away the biggest year that we've ever had on Rob Has a Podcast.  I've had such a blast again this year "coming to you live" and talking about all of the nonsense that we get to discuss week in and week out.
The Christmas week is always a busy one, so while you're running errands and or just enjoying the time off from work, I hope that you'll get a chance to enjoy this special holiday show.
Plus, be on the lookout on Monday for my second annual holiday movie-cast with Ian Terry.  This year we'll be discussing the film, "A Christmas Story".
I truly RHAPpreciate all the support this year.  Enjoy the Holiday Show!
Your Truly,
-Rob
LISTEN TO LAST YEAR'S RHAPPY HOLIDAYS SHOW
LISTEN TO LAST YEAR'S HOLIDAY MOVIE CAST OF 'HOME ALONE'
Plus many more that I don't feel comfortable writing about in the show description!
Subscription Links:
Subscribe to RHAP (All Shows) on iTunes: RobHasAwebsite.com/iTunes
Subscribe to RHAP (All Shows) on Stitcher: RobHasAwebsite.com/Stitcher
Subscribe to RHAP (All Shows) on Soundcloud: RobHasAwebsite.com/Soundcloud
Subscribe to RHAP (All Shows) on YouTube: RobHasAwebsite.com/Youtube