Official Rules
1.  Voting will begin at 12:01 ET on Sun, January 18th, 2015 and run through 11:59 pm ET on Sat, January 24th, 2015.  You can cast your votes directly on the poll page using this link: https://www.surveymonkey.com/r/rhapms2015
2.  Voters will select up to 3 eligible women for the title of Miss Survivor and 3 eligible men for Mr. Survivor. To be nominated, a participant must have competed on Survivor during the calendar year of 2014. Each vote is counted equally.
3.  Voters may vote once from any computer, tablet or mobile device they own.  Intentional ballot box stuffing will be discovered and those votes will be discarded.
4. The top three (3) finalists for Miss Survivor and Mr. Survivor will be announced LIVE on a results podcast during the week of January 26th.  On the live show we will count down from 20 – 4, to reveal the top 3… but not the order of their finish in this round.
5.  The top finalists will have 72 hours to accept their nomination in to the Miss Survivor Final Three.  If they do not accept their nomination for Miss Survivor, their spot will be offered to the next highest place finisher, and so on and so forth.
6.  There will be no write-in candidates
---
Get Ready for Survivor 30 with the FREE Borneo Chapter of "Evolution of Strategy"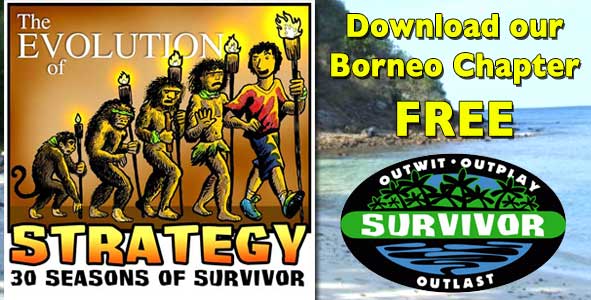 We're commemorating 30 Seasons of Survivor this year our 3-part audiobook presentation of "The Evolution of Survivor".  I'm re-watching each season of the show with entertainment journalist, Josh Wigler, to discuss how the game's strategy changed from season to season.
You can listen to the nearly 6-hour first chapter all about Survivor Borneo for FREE at EvolutionOfSurvivor.com

Buy this on Selz
Selz powering ecommerce websites