This week's episode of the Celebrity Apprentice inspired me to take a trip to South Africa, so I'm actually writing this from my hotel room.  I'm slightly distracted due to the number of people that have been murdered outside my window, but the lovely romantic sky is keeping me calm.  After this, I think I'll go for a bush massage and some bunny chow.  Hopefully I don't get killed by a shark fart along the way.
Week 8 MVP: Trace Adkins
Obviously Gary is the real MVP, but if I give the award to him one more time I'll have to change the name to the Busey Award.  Trace had a very strong episode, and while he will never be as funny as Gary Busey, he did provide some memorable moments.
The South African travel executives told his team that they shouldn't use the safari as one of their attractions.   He compared this to a farmer with six daughters, one being hot, who would only let you see the ones who aren't hot.  While I'm sure that Trace has been in this situation before, I think he might have meant this as a subliminal dig at Trump.  In the boardroom we've seen a bunch of former Apprentice winners, plenty of Eric and Don Jr., and even George Ross this season, but Ivanka sightings have been pretty rare.  Being that she is the only hot boardroom adviser, unless you're into old men or guys with douchey haircuts, Trace's farmer scenario seems pretty parallel to this trend.
Trace also had that great line "you polish your turd and I'll polish my turd and we'll all end up with shiny shit… that ought to be a song."  I don't foresee that being on his next album, but I also never thought that Lisi Linares would write a song about underwear and various bodily orifices.  Trace was referring to how bad his team's South Africa exhibit was going to be based on the juvenile crap they were coming up with.  His snide confessional comments became a theme throughout the episode and proved that he's actually a funny guy who also has a pulse on the game.
One more thing that earns Trace the MVP was his advice on how to act like a man, which reminded me of those old Miller Lite 'man-law' commercials.  First was when he told us that 'glamping', or glamorous camping, is only for sissies and women.  To view an example of glamping, look up Koror's professionally built shelter on Survivor: Palau.  When Trace camps, he likes to rough it, often building subterranean shelters on the beach.  He also gave us invaluable knowledge of how men should shop while in the sporting goods store.  We now know that whenever the season starts at Dick's or we gotta go to Mo's, we should ask if they have balls in their establishment.  Nobody will ever dispute our manhood if we're asking the same kinds of questions as Trace Adkins.
The Trump Factor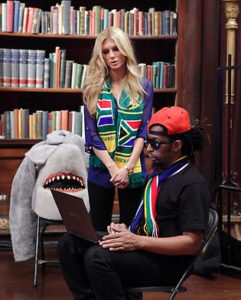 When I did my power rankings a few weeks ago, I put Brande Roderick dead last.  She was attractive and seemed pretty intelligent, but committed the greatest sin on the Celebrity Apprentice, which is being a glacier.  Trump made the right decision by firing her.  Not only was she boring, she also lost her second task as project manager.  In both cases she didn't really appear to lead her team or come up with any creative ideas.
It was interesting to see that Trump was the one sucking kneecaps this week instead of people sucking up to him.  George Ross has always been one of my favorite characters on the Apprentice, but the Donald went pretty far overboard with his praise.  He spent a decent portion of the boardroom talking about how great of a real estate lawyer he is, and even went as far as saying that he's better than his own kids.  Trump also began the episode by saying that he spent many nights with George as number one together.  I guess Carolyn Kepcher doesn't get any of the credit anymore.
Other Notes
ROMANCE (Relying On Magnificent And Necessary Compatible Energy) is potentially the most creative 'Backronym' of the season so far.
I'm very happy that Penn taught me the word 'Backronym' so I don't have to use 'Buseyism' all the time.
After doing some research, I can confirm that Lisa Rinna's middle name is Deanna, not Cray Cray.
Penn Jillette apparently thinks he's Harvey Dent, carrying around that double-headed coin.
Not even South Africa is as romantic as Gary throwing around chicken bones.
Unintentional Inappropriate Lines
Marilu Henner: "I strapped George in and gave him a great ride."
Marilu Henner: "I have a rock star tied up."
It is also important to note that Marilu humped Lil Jon for a few seconds.  I think she may have been hornier than Trace this week.