The Dictator: Chapter 1
His hands shook as he stared at the TV in disbelief.  How could this happen?  How could Donald Trump fire such a great man?  He had never had much respect for Americans, but Ambassador Dennis Rodman was different.  What a rebounder; not just in basketball, but in life!  "What is the point of watching this show without my good friend Dennis", thought the dictator.  As he replayed the episode in his mind, Kim Jong-un pondered his next move.
Episode 6 MVP: Gary Busey
Busey was a wonderment this episode.  He followed up last week's incredible performance with an even better one.  While my genitalia have never been so excited that it spins like a Ferris wheel, I bet the feeling is at least 5,001 miles past heaven.  I really hope Gary stays around for a while.  While he won't win, the show needs him in order to be entertaining.  He isn't the show's secret weapon or secret miracle anymore.  Everyone watching knows that he is the star of All-Star Celebrity Apprentice.
The Dictator: Chapter 2
Kim Jong-un could care less about Gary Busey's antics.  "Ambassador Rodman asked Milania Melania Trump if he could see her bathroom!  That's funnier than anything Gary Busey has ever done!", he yelled, causing his great palace to shake.  The dictator would never let Gary be a male spokesman for both sets of North Korean men, heterosexual and homosexual, but would give the job to Dennis Rodman in a heartbeat.  "Trump even said he had great skin, and that's without the use of caviar!", he yelled again.  This yell caused one of his servants to enter his chamber.   "Is everything ok?", asked the servant?  "No!", answered Kim Jong-un.  "It's not ok.  Trump fired the wrong man.  Now fetch me my binoculars!"  The servant was back quickly.  If he lingered, death would surely follow.  The dictator grabbed the binoculars, walked out to the balcony, and stared off into the distance, looking at whatever it is he's always looking at.  "America has always been an enemy, but this is the final straw", thought Kim Jong-un as a smile ran across his face.
Other Notes
Stephen Baldwin prayed that angels would tie Gary Busey's tongue.  The angels never came, not even one in an earth suit.
Instead of looking for a bunch of gold shit at the prop shop, Lil Jon should have just taken his grills out and photographed them with the caviar cream.
The whole cast still has remnants of Trump kneecap stuck in their teeth.
Eric Trump was very offended that Penn compared him to hamburger meat and not something classier such as caviar.
The Dictator: Chapter 3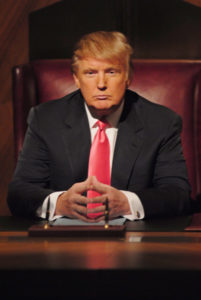 He left the balcony and walked down to the nuclear control room.  How dare Donald Trump get rid of Dennis Rodman, a man who was potentially the third best player during the Chicago Bulls' championship runs of the 1990's!  Kim Jong-un knew that he must retaliate.  Finally the world would take him seriously.  A large red button in the middle of the control board beckoned him closer.  "Mr. Trump will pay for his actions and for having a slightly better haircut than me!", said the dictator before laughing manically and lowering his hand so it was right over the button.  Kim Jong-un took a deep breath and pressed downward with all the force he could muster.
The Dictator: Chapter 4 (aka. The North Korea Job: Chapter 1)
Unbeknownst to Kim Jong-un, his nuclear weapon had been disabled hours earlier by Gary Busey and the Specialist, Phillip Sheppard as part of a military operation known as 'The North Korea Job'.  America was saved, and the Busey/Sheppard buddy cop movie looked like more of a possibility than ever!