If Gary Busey doesn't win my MVP this week, I deserve to be fired.  This would cause problems for me, and while problems are opportunities in disguise, I'd prefer to keep writing this blog.
Week 5 MVP: Gary Busey
No Gary, MVP does not stand for Major Vasectomy Problems.  This week Busey was not only great; he was great great, very great, greatly great, and excellent.  After starting the task by playing with clay (not Aiken) like a four year old, he gave some transcendent advice to Lisa Rinna.  He said that "art is only the search, its not the final form."  After being blown away by his wisdom, and subsequent musical skills when he sang that line multiple times, I realized that I had heard this before but I couldn't remember where.  Finally I figured it out.  I'm sorry to talk about 'Entourage' again, but he told Turtle the exact same thing when he played himself on the show!  I really hope Gary pulls more from his appearance on Entourage.  As I said last week, Stephen Baldwin is the real life Johnny Drama.  Gary paints Johnny Drama, and by that I mean he flings paint all over his body with a brush.  If Busey ever does that to Stephen, it would be the greatest Celebrity Apprentice moment of all time.
Apparently the idea to make 'Lightening Strikes Mr. Hangbrain' came from Gary's present consciousness that's really in his subconsciousness.  While this may sound like a brief yet overly confusing synopsis of the movie 'Inception', I guess it made sense to the guy who spent 25k on it.  When it sold, Gary broke into his second song of the episode, which consisted of the word 'Yay' and nothing else.  This shouldn't be confused with Lil Jon's song that consists of the word 'Yeah' and nothing else.
Power Rankings
This is where I'd normally talk about the Trumps, but none of them really did anything of note this week.  Trump did claim that the globe in front of his building is an icon of New York City, but it's hardly news when The Donald attempts to boost his own importance.  Rob and Ryan Pappolla gave their power rankings on the podcast last week, so I figured I'd do the same.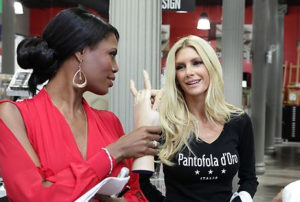 9.  Brande Roderick: Before Lisa Rinna won as project manager this week, I would have had Brande second to last.  Since performing terribly as the losing project manager in episode one, she's done ok on the tasks.  However, she adds little to the show's entertainment value and has absolutely no chance of winning.
8.  Lisa Rinna: Luckily for her, she gotten farther than she did last season.  She won as project manager this week, but that won't give her much staying power.  I think Trump have kept her around this long just so he can keep making fun of her lips.
7.  Stephen Baldwin: I'd say that his chances to win are as low as Lisa's, but I think he may stick around a little longer due to the fact that he adds more to the show.  I'm sure his fake art dealer would disagree with his low ranking.
6.  Gary Busey:  I wish I could put him higher on the list, but I think it's going to end up like his last season.  Trump will carry him as far as possible in order to make the most of his comedic value, but will cut him off either when he loses as project manager or when only the real contenders remain.
5.  Dennis Rodman:  Before this episode, I wasn't buying into the hype.  Typically on fund raising challenges, Trump fires the guy who raises the least amount of money, but that obviously wasn't the case when it came to Dennis.  I don't think that he will win, but at this point it's pretty obvious that he will go far.
4.  Marilu Henner:  She's sort of a glacier, but she comes off well and has won as project manager.  I don't think she'll win or get to the finals, but it wouldn't be a major shock if she did.
3.  Penn Jillette:  If Trump were actually going to hire one of these people to work for him, it would be Penn.  However, he hasn't been too prevalent on the edit despite the fact that he seems to come up with all the ideas for his team.  I agree with Rob's point that Trump doesn't like people who are smarter than he is.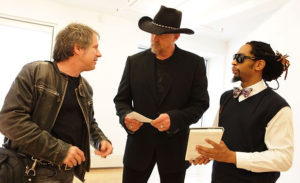 2.  Lil Jon:  My numbers 1 and 2 are very close.  I think Lil Jon definitely has a great shot to win, but has yet to prove himself as project manager.  Of the people I believe are contenders, Lil Jon is the one I'm currently rooting for.
1.  Trace Adkins:  Along with Lil Jon, Trump seems to like him the best.  I think he's been complimented on literally every task so far.  I'd say he has a slight advantage over Lil Jon because he's already won as project manager and has raised the most money.  He seems to bring in a lot of big donors, which is vital on the final task.
Other Notes
Stephen's art piece was called 'I'm Not Alec'.  We've noticed.
When Omarosa was fired, Big Tom did the same dance as when Sue Hawk quit Survivor: All Stars.
If any of the Yankees were traded to the Jets, they'd be in serious contention for the starting quarterback job.
Piers Morgan was secretly angry that Trump fired Omarosa, as he now serves no purpose on the show.