This may be the seventh blog I've done recapping the live Know It Alls events, but as I am neither a podcaster nor on the patron group, most of the attendees don't know who I am. During the after party, Mary Kwiatkowski innocently asked me if I would be doing anything with the pictures I was taking.
Frail Mary, welcome to my fanfiction—I mean totally legitimate and factual reporting (with some cherry-picking of context for dramatic effect). Actually, strike fanfiction. Once it's in this blog, it's RHAP canon.
Sadly (for me at least), this will also be my last KIA blog, as I'm moving back to the UK in June and am unlikely to attend future events. I was hoping PhiladelKIA would send me out on a high note. I was not disappointed.
Tuesday: Brice and Wen Present
It was the first time the Know It Alls had come to Philadelphia. New York City has been the traditional home of the live event, but the New York Survivors have become perhaps a little blasé about the whole thing. The Philadelphia Survivors? They did not take this for granted. Brice Izyah and Wendell Holland became a two man Philadelphia Reality PR team, and they turned the traditional KIA Eve Karaoke into their own event: Brice and Wen Present (complete with hashtag).
The venue for the evening was the Reserve Lounge nightclub, and the guestlist included a staggering lineup of over fifteen Survivors. Philadelphia has historically been a vital part of African American culture and the African American community has been an active part of Philadelphia, so it should have come as no surprise to see so many black Survivors, but still… did we ever expect to see Russ Swan at an RHAP event? Or Sherea? I'm pretty sure season one's Ramona was involved as well, though nobody reported seeing (recognizing?) her. (We stan an elusive legendary queen.)
The Ramona Encounter may have been an Easter Egg for the luckiest superfans, but there were ample picture opportunities with other Survivors. The lineup included (in reverse Survivor chronology): Davie and Gabby, Desi, Darnell, Rodney, Tasha and Alexis, Russell Swan, Denise Martin and Sherea, John get-him-back-on-Survivor Carroll, the Philadelphia OG, Gervase… and Big Brother favorite, Kevin Schlehuber. Despite karaoke being available along with a host of Wandoff Stars, there was not a whole lot of singing this time around, as fans were more excited to get pictures with their friends and favorites. Fortunately, Brice and Wendell had them covered with a photobooth. (And Davie has you covered with the best karaoke video of the night.)
The other staple of Live Know It Alls, be they in Philadelphia or NYC or Boston, is Podcast House: a tradition started by the LFC with the population steadily ballooning ever since. I've always hung out with the Podcast Housers, but I've never stayed at Podcast House itself. My last KIA seemed like a good time to rectify that. If nothing else, transatlantic moves are very time-consuming, so this way, I could just let fellow blogger, Matt Liguori, organise my trip.
Matt did a sterling job, finding us a place that was bigger than the KIA venue. The palatial main room had darts, it had ping pong, it had cornhole (we should have invited Brice over), it had a freaking stage… I'd brought an air mattress with me, but I needn't have bothered: not only were there numerous beds, but mattresses were stuffed in random crannies. And if that wasn't enough, Matt also ordered me pizza before the show. Matt, just as soon as I can afford a PA, you're hired.

I wasn't the only person joining Podcast House for the first time. Lita Brillman's crusade to reduce the gender gap is paying off, as Kirsten "I don't know how to be coy" MacInnis had brought her Riverdale podcasting partner, the afore-mentioned Frail Mary. N.B.: That name is a misnomer. She may be no bigger than I am, but she could have taken any one of us in a fight.
Which leaves us with one final Podcast House debutante. RHAP may be a home for superfans, but if there's one thing superfans are fascinated by, it's a casual. What are they thinking? What do they want from Survivor? Over on the Dom and Colin podcast, Colin Stone's text exchanges with a childhood friend have become a popular recurring feature. Somehow Colin talked the woman known only as Casual Anna into joining us for PhiladelKIA, even though she had zero knowledge of RHAP (or what she was in for.)
As it turns out, casuals are people too (who knew?!), and the secret to Podcast House is mostly sleeping and gaming. Despite her short term memory of Survivor events, Casual Anna settled right into this laid back atmosphere.
Podcasting at Punch Line Philly
The thing about traditions is that we do take them for granted. We buy our tickets, we show up by 8pm and we watch Survivor and a podcast. It's awesome.
Unless you're Rob, in which case it's a little more complicated…
New city, new venue. Punch Line Philly is a good-sized comedy club, but it was still smaller than the most recent NYC events, and the 340 tickets sold out so fast that they went almost exclusively to patrons. (And Casual Anna. Yes, she took your spot, dear reader, though I'd argue she deserved it.)
Big or small, all venues require set up, and Rob was there at 5:30pm, joined by Alex Rubino (RHAP blog editor and Gen Z tech guy) and Sam More (Rhapisode filmer). Rob did the set-up while Sam and Alex helped him test audio and video. Two hours after they arrived, they were still trying to get audio to record properly.
Outside, patrons began to line up along the sidewalk—in keeping with the theme, a rat was spotted crossing the street to join the line. (We were clearly snubbed by Philadelphia's snakes.) Davie, who was on SurvivoronCBS Instagram duty for the evening, took on the role of crowdwarmer, rousing the line to cheers before settling in the entry-way for opinion polls.
As we filed past Davie into Punch Line's theater, Alex was on stage, gamely talking into different microphones, while Rob livestreamed it as a test. At last, they had got the audio working successfully, Sam spurred the audience to sit down while Taran Armstrong was pulled in to double check the camera angle, and Rob could finally breathe a sigh of relief. They were good to go.
Rob's co-host had fewer worries; instead Stephen Fishbach was responsible for wining and dining Chrissy Hofbeck and her sister, Ellen. Of course, as the eternal hero of these events, when he did make it to Punch Line, he received an immediate standing ovation. The cheering patrons hoisted him onto their shoulders, and carried him back outside, just to carry him back in again in the style he deserves.
… Or so he told me. (Fishy, fishy? Hold that thought.)
Certainly, we are always an enthusiastic audience. Casual Anna was not used to watching Survivor with others (or, indeed, as it aired), and could not fathom why we kept cheering. Honestly, we were expecting this to be one of the lower key KIA episodes. Two votes in one hour? Rote stuff, surely. I polled our tables beforehand on who the boots would be and got a lot of Gavins and Auroras. Shoutout to Charles Kurz and Austin Trupp who both said David, but nobody was expecting Kelley to go home. We are, however, wise to the rhythms of live shows now, so as the votes for Kelley were read, more than one person whipped out their cellphone to video the crowd reaction for twitter. (Though as Mike Bloom was not in attendance, we did not achieve anything as memorable as the Malcolm boot-vid.)
As Alex Rubino got behind the camera with his headphones ready to stream the podcast, we realized another loss had happened a few weeks earlier. The Amazing Race's premiere had been rescheduled to the same date and time as the Know It Alls, so Bret LaBelle was at his own party and not in attendance to sing the Know It Alls theme.
Fortunately, this is one area in which RHAP has a lot of Wiggle Room. Rob had already put out the Wombat Signal, and Jason Curtis Rivera marched up to the microphones with a guitar and a lineup of Wandoff All Stars: Becky and Taylor, Alex G, Phil T, Corey B, Karen from Canada, Will from America, Jessica Sterling, Jenny Autumn, and Michael J Clark all sang Rob and Stephen onto the stage. (Shout out to Taylor for nailing the "Well, actually…" solo.)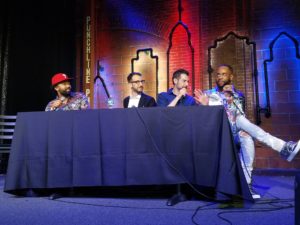 Most (but not all!) of the Survivors from Brice and Wen Presents also came to the podcast, giving us a lineup far from the usual suspects, but just as much a gallery of rogues: there were authorized bell-dings and dropped expletives galore. In the audience, Chrissy stood up to double fist pump as she was crowned the sole survivor of being blocked by Wardog, Russ Swan instagram-bombed the stage, while Rodney and Kevin were nudging and giggling like schoolboys at the back of the class.
The wise superfan lingered at Punch Line after the podcast had finished, for many of these Survivors either did not continue on to the after party or did not stay long… For all but Chrissy, this was their second straight night of meeting fans, and several retired early, leaving us asking: "Where's Davie?"
Frankford Hall: The After Party
There was a single drawback to the after party venue: it had an age limit. Everybody was required to show their ID before they could enter. A year ago in Boston, a similar rule had left young Will from America out in the cold. Now he was 21 and celebrated this rite of passage by swanning around Frankford Hall with a comically oversized beer. Instead, Alex Rubino had to skip the party. Nineteen is young enough to be tech support, but not responsible enough to party.
At the other end of the spectrum, I had got separated from Matt Geoghegan who was carrying my wallet for me. I arrived at the bar with no ID whatsoever, but when I explained my predicament, the door woman took one look at my face and waved me through. Clearly, I have yet to discover Jeff Probst's secret of eternal youth.
But as I said, that was the only drawback. Amanda Rabinowitz had picked the venue, and deserves all the thanks we can give her. In the past, we've squashed ourselves into noisy and claustrophobic spaces; this one was not only a decent size to start with—large enough to house a ping pong table—but it also had a large courtyard out back, with fairy lights and a firepit. Dr. Amanda had been afraid it would rain, but it was a mild evening and being outside meant we could actually hear each other talking, instead of having to yell over five other conversations within the same five square feet.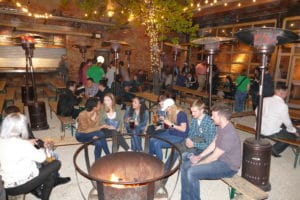 There was still plenty of action inside, of course, as Jordan Kalish took to the ping pong table. He quickly proved to have as much mastery over his balls as he does over his quiz points, hitting innocent bystander Rob twice. By accident. Honest.
If you follow me on Twitter or Instagram, you know that I do LEGO recreations of each Survivor season. As this was my last KIA and I was driving up instead of flying, I had brought my Survivor LEGO sets with me on a whim. Honestly, the juice was not worth the squeeze on that one; I had to check it at Punch Line and while I got it onto a table at the after party, it's just too small to really stand out in a large, dimly lit setting. A few people were excited to see it, and a few others had fun playing with it—after I told Casual Anna that this was how my children learned the names of the cast, she had a go at identifying the minifigures on the Edge of Extinction. We might have to drop the "Casual" from her name, as she nailed everybody except Eric (though she did call Julia "Julie").
Fortunately, I had also brought my tradition of the two piece pyramid puzzle, which is so easy to produce only when relevant. I have wanted for years to see Chrissy Hofbeck try it. I had a private bet with myself that, like fellow mathematician Jeff Pitman, she would be able to do it instantly. I lost that bet. Chrissy could not see the pyramid automatically the way Pitman did, but she still solved it in eighteen seconds, rocketing herself to second in the league table and demoting Curtis Morrison to third.
It was Chrissy's first Know It Alls, and she made up for any weariness among other Survivors. She met her fans with enthusiasm, exclaiming: "These are the people I know from tiny pictures!"
It was a sentiment we all shared, as we matched social media profile pics with lifesize faces: the people we knew but had never met. I was delighted to talk face to face with Gabby and Dr Amanda, both of whom had helped me out on the women and idols blogs. (We agreed that our efforts had retroactively solved the gender gap in finding idols, so next off season, we just have to research why women don't play idols.)
Going even further back, we had a mini Reality News Online reunion: David Bloomberg used to run the extinct website and myself and Teeuwynn Woodruff (you can call her "Tay") used to be columnists. Now all three of us are involved with RHAP in different capacities. I blog, David podcasts and Tee is one of the Behind the Scenes writers, coming up with material for podcasts.
Also outside of the RHAP domain (but always welcome), we finally had a Survivor Maryland player in attendance. Katie An (from Guts and Glory) couldn't watch the episode with us, but she came to the after party, despite not having seen the episode. She's instantly likeable and I hope she somehow got through the evening without being spoiled.
Then there was Casual Anna, who knew nobody and was still trying to figure out why we were all so excited. But while RHAP might be an unknown quantity to Casual Anna, fans of the Dom and Colin podcast were very familiar with Casual Anna. Her evening became still more incomprehensible when people started asking if she would pose with them for pictures. Luckily, Casual Anna is a trooper, so she put on a smile and embraced her fifteen minutes, whether or not she understood it.
Of course, the true stars of the RHAP fans were the Wandoff contestants. Bob with two Bs had been too shy to go up on stage for the theme, but mingled like a pro. Phil T was rocking a Wombats hat and a pink version of Gavin Whitson's pineapple shirt. (Technically, Gavin's rocking the yellow version of Phil's shirt, as Phil had his first.) Alex G and Corey B were bro-ing down by the firepit, where I discussed with them the dangerous addiction of Wandoff Submissions. Sometimes it's OK to step back and not submit for a given week. Live your life! ( / Josh Wigler.)
These are the hard-hitting issues you expect from me on my seventh KIA blog, but you may want to sit down for the most shocking exclusive of the evening… Stephen Fishbach has been running a long con on us. I quote his mother's reaction upon seeing the Tocantins premiere: "You're not from New York and you're not Jewish."
Under interrogation from myself, Dom, and Colin, Stephen confessed that he actually comes from California, only has Jewish heritage on one side of his family and doesn't observe himself.
Everything we've known since 2009 is a lie. Is Stephen, in fact, a surfer dude? Does he hunt squirrels with Elizabeth Olson? Does he write top ten rankings for BuzzFeed under a pseudonym? How deep does this go? Tragically, I don't have enough time left in the States to investigate further, so RHAP may never know…. (Until Stephen's backstory ends up on the wheel for RANAAP.)
Podcast House: The After-After Party
As we passed midnight, some of us began to flag, not least Casual Anna, who was well and truly overwhelmed by this point. The Podcast House entourage decided it was time to go back, but all our attempts to reach the door were foiled by: "Oh, wait while I talk to…" Eventually it became clear that Dom and Colin had no real intention of leaving, so a group of us took responsibility for their casual and walked her back to Podcast House.
If Casual Anna assumed we were going to bed, she was much mistaken: we had invited Aman Adwin (who also had no idea what he was getting into) for an after-after-party, featuring a viewing of the Amazing Race premiere. Taran Armstrong needed to watch it as he was going to interview the eliminated team the next day while Rob was away from his studio. (Yes, technically Taran was also away from his studio, but it's called Podcast House for a reason. There's no vacation from Big Brother updates.)
Taran's main hope was that Rupert and Laura would not be eliminated, as they (and any other Survivor team) would be disappointed they weren't talking to Rob. I speculated that he could just say he was Rob, and Rupert would never know, but Taran pointed out that we as fans would still miss out on some golden Rob / Rupert interaction.
If you watched the Amazing Race, you'll understand that it was a white knuckle ride for Taran. He breathed a sigh of relief after the first fifteen minutes, only for his stomach to drop as Rupert and Laura plunged from first place to last. By the time, Art and JJ beat them to the second roadblock, Taran was a shell of his former self. Thankfully for all but Art's leg, Rupert and Laura somehow managed to escape elimination, and Taran's emotional algorithms could resume their normal processes.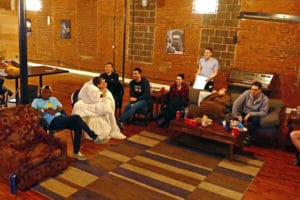 I was supposed to be sleeping in a corner of the main room but as we passed 2am with no signs of the atmosphere abating, I realized this wasn't going to work. I needed to be on the road in five hours, and at this rate, I wouldn't get any sleep. Brent Wolgamott came to my rescue with a gallant offer to share his room, something he is typically reluctant to do at these events, for reasons which became clear during my background check: "Do you snore?" I couldn't guarantee that I wouldn't, but I promised him that I hadn't been congested that day, so Brent took the risk.
I went to sleep half-expecting to be woken by Brent dragging my air mattress outside again, but I must have passed muster. When I woke at 6am, Brent was fast asleep and so was everybody else. Somebody in the main room was an intermittent snorer, but only Matt Geoghegan roused to say goodbye as I packed my things and crept out.
Thursday, Game Night chez Rabinowitz
I was headed back down the Eastern Shore, but others took to the streets of Philadelphia, which held a few unexpected bonuses. For example, the extra photo opportunity, when one group of patrons ran into Brice, Wendell, and Desi.
However, the best event of Thursday was a private one between Jessica Sterling and Will Affourtit. They had met on the patron Facebook group, and in real life at the Boston Know it Alls one year earlier and ever since, their relationship had bloomed. They no longer need RHAP events as an excuse to meet up, but Will did use Philadelphia as his venue to propose, and Jessica accepted. Congratulations to you both, and all the good wishes for the future.
(Can we get a fact check on if this is enough to get Rob and Akiva into heaven?)
Finally, there was one last gathering of fans: Dr. Amanda rashly volunteered her own home for a game night and 25 patrons descended upon her family. Rachel Derwin brought Survivor decor, including a Jeff Probst standee. There was beer from Columbus (though not with two Bs). Mike Christiansen discussed Pokemon with Amanda's four year old. David Bloomberg analysed "Why The Villagers Lost" in Werewolf.
To cap off the evening, and PhiladelKIA, Jordan Kalish gathered nineteen people round a fire in the backyard and emceed a game of Mafia. Not everybody was familiar with the rules—notably David Bloomberg—so Jordan explained them as clearly and concisely as he would any game of This Week in Survivor History…
Things got messy. Dom Harvey lost his life when Brexit was too much for him, and David and Haitham Almeshal brought the final vote to a head when they started shouting accusations at each other. David, you were (W)right… but your logic was incorrect. Bravo, Haitham and your fellow mafioso. Dr Amanda assured me that, with all the fun that was had, everybody was a winner, but we know that's rubbish. You are the ultimate victor of PhiladelKIA.
And with that, I am retired. Lita Brillman will be taking over the KIA blog and giving me all the FOMO come fall. Hopefully, I'll show my face again one of these days, but until then… thank you all for the memories.
Know It Alls, NYC, Kaoh Rong
Know It Alls, NYC, Millennials vs. Gen X
Know It Alls, NYC, Game Changers
Know It Alls, NYC, Heroes vs. Healers vs. Hustlers
Know It Alls, Boston, Ghost Island
Know It Alls, NYC, David vs. Goliath