Amy and Haley chat about The Bachelorette Season 12 Episodes 9 and 10, with JoJo's fantasy suite dates, followed by The Men Tell All.
In this podcast, they talk about:
JoJo's elimination of Luke Pell after hometowns at the airport
JoJo taking the final three guys (Chase, Robby and Jordan) to Thailand
JoJo's final dates with Robby, Jordan and Chase.
JoJo offering Chase McNary the fantasy suite date card and then eliminating him after he said "I Love You"
JoJo's final two: Robby and Jordan Rodgers
The Men Tell All episode, featuring multiple segments with Chad Johnson as well as confrontations with Alex and Saint Nick
JoJo's demeanor at the Men Tell All
Chris Harrison's hot seat segments with Luke and Chase
The inevitability of Luke Pell being selected as the Bachelor next season
Vinny's mom, listener questions, and more!
Amy and Haley provide updates on the draft. In an upset, Haley has snuck into the lead with 140, followed by Amy with 135. Jordan is now in last place having lost his last player, Luke. Follow Scorekeeper George on Twitter (@GeorgeCTV) for full draft point results for the week.
Follow Amy (@RHAPRecapper) and Haley (@hstrong_) on Twitter!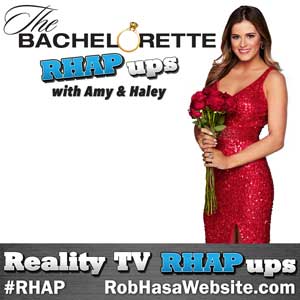 Subscribe to our iTunes Feed![/caption]
 How to Help Support RHAP
Become a Patron of Rob Has a Podcast | RobHasAwebsite.com/Patron