Amy and Haley discuss the Bachelor finale and After the Final Rose, as Ben Higgins decides between Jojo Fletcher and Lauren Bushnell, to whom he both said "I love you"
In this podcast, they talk about:
Lauren and Jojo meeting Ben's parents
Ben's final dates with Lauren and Jojo
Ben making Lauren feel confused and insecure on their final date
Ben's bathroom scene with Jojo, letting her know he loves both women
Ben blindsiding Jojo after promising he wouldn't
Ben's proposal to Lauren
Chris Harrison hyping a wedding on After the Final Rose with Ben's hometown pastor
Jojo and Ben's talk on After the Final Rose
Jojo being picked for The Bachelorette
Caila getting The Bachelorette taken away from her
Ben and Lauren's reveal as a couple
feelings about the season overall
listener questions and more!
#TeamRandworth (Randy Bailey and Kelley Wentworth) won the draft in a landslide. Follow Scorekeeper George on Twitter (@GeorgeCTV) for full draft point details.
Follow Amy (@RHAPrecapper) and Haley (@hstrong_) on Twitter and share your thoughts about the finale and the season overall in the comments!
Thanks so much for listening and providing feedback throughout the season– Amy and Haley look forward to talking Bachelorette with you next season!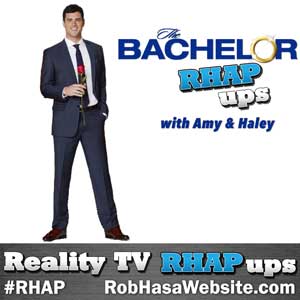 Subscribe for weekly RHAP-ups with Amy and Haley![/caption]