Click to Subscribe or Give Ratings to the RHAP All Show Feed on iTunes[/caption]
Rob Cesternino is joined once again by the latest team eliminated on The Amazing Race 24.  This week, Rob speaks with the fourth team eliminated from The Amazing Race All-Stars Margie O'Donnell and Luke Adams.
To facilitate this exit interview, Rob was able to e-mail questions ahead of time to CBS publicity to be able to get the answers from Luke for the interview.
Interview Questions from Luke:
Rob Cesternino: How close were you to choosing to do what Brendon and Rachel did and taking the flight with the Singapore connection?
Luke Adams: Pretty close! We were afraid that we may missed the connection!
Rob: Did you know that Brendon and Rachel were going for the flight with the connection rather than wait for their flight on standby?
Luke: I wasn't sure what they were up to it exactly but I thought they might going to gamble it with this flight. That's pretty bold move on their part! We should have follow them on this flight!
Rob: How did you and your mom do on the detour and in the sewing task?
Luke: Unfortunately, we did not get to do any tasks in Sri Lanka but we did get to do some sighting-see so that was really nice.
Rob: How much of a help were Brendon and Rachel to you and your mom during the drink mixing challenge from last week?
Luke: They were really sweet. So nice of them to give us a pep talk. The drinking mixing challenge was just extremely difficult. It has to be pretty precise! I was very surprised to see this side of Rachel. Rachel isn't that bad as I thought she would be before coming on this race after seeing how she acted and how she treated other racers on her original race season.
Rob: Will you ever consider a career in bartending now?
Luke: Of course not!
Rob: What was the best experience that you and your mom had this time on the Amazing Race?
Luke: Watching Mom flew through the toy car task. That was pretty amazing! There's no way I could have done that task that quick! Rappelling the waterfall was pretty cool. I would love to do something like that again. Working together to overcome the communication barrier during the rafting task was really nice bonding moment for both of us. And, of course, exploring the beautiful Sri Lanka together was one of cool moments.
Rob: After your appearances on The Amazing Race have you been contacted by Amazing Race viewers in the deaf community?
Luke: There was so much love & support came from the Deaf community. They were so proud of us for showing the world of the s
Rob: Would you and your mom come back to the Amazing Race for a fourth time?
Luke: Of course! There's no way we could say no to this amazing opportunity!!
Rob: Who are you rooting for now?
Luke: The country girls. I love them to death. They're really sweet gals and they have made really effort to learn sign language so they could communicate with me. I hope to visit them in Nashville sometime this summer!
Sunday Night's Amazing Race RHAP-up Show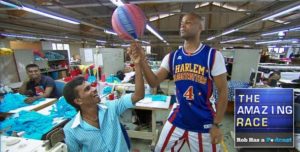 Amazing Race All-Stars Episode 5 Recap: Can't Make Fish Bite – Listen to last night's Amazing Race RHAP-up show with Rob and Jessica Liese to hear them discuss Brenchel's gambit and the problems with flying standby on The Amazing Race.
Next Amazing Race Podcast
Join us on Monday night at 10 pm ET / 7 pm PT for our LIVE weekly Amazing Race recap with Gary and Will from The Amazing Race 21
Thanks to our Sponsor for this Episode:
DraftKings.com – Get FREE entry to play in one-day leagues for Opening Day with a chance to win $500,000 in prizes with Promo Code: ROB
Subscription Options for Rob Has a Podcast: