This week the Amazing Race All-stars got down to just three teams which will compete for the Million dollar prize next week.  Sadly, The Afghanimals, Leo and Jamal, will not be one of those teams after finishing in fourth place for the second consecutive season.  Leo and Jamal make their first ever appearance on Rob Has a Podcast in today's Amazing Race All-Stars
Exit Interview with the Fourth Place Team from Amazing Race All-Stars: The Afghanimals, Leo and Jamal
In this interview, Rob asks Leo and Jamal about the following topics:
After getting lost on the way to the detour, the show made it look like it was a race to the pitstop between the Afghanimals and Brenchel.  How close of a finish was it?
For three weeks, Leo and Jamal conspired with the "Accidental Alliance" to U-turn "The Brenchels", but when Leo and Jamal had their chance, they used the U-turn on The Cowboys.  Was there any fallout from Dave and Connor or Jen and Caroline that didn't make the show?
Why were Leo and Jamal so annoyed with Brendon and Rachel during the "Accidental Alliance" era?
The Afghanimals seemed to have a drastically different strategy between Amazing Race 23 and Amazing Race 24, though they finished in the exact same place.  Did Leo and Jamal find either strategy to be more effective?
How much of the change in strategy was based on having seen themselves on Amazing Race 23?
Did Leo and Jamal realize that they were racing for last place when they gave John & Jessica and The Globetrotters the answer during the Spanish steps task?
How big of a factor was the knee injury that Jamal suffered in the Bull task in Spain?
Be sure to Join Rob and Jessica Liese on Monday evening when we hear from Marie from Amazing Race 23 on the RHAP Amazing Race LIVE Show at 7 pm ET / 4 pm PT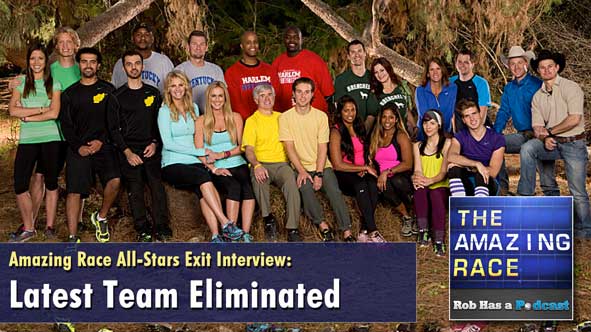 Sunday Night's Amazing Race RHAP-up Podcast: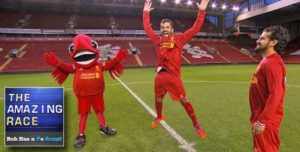 Listen to Rob and Jessica recap everything from The Amazing Race 2014 Episode 11 with their fully recap:  Amazing Race All-Stars Episode 11 Recap RHAP-up
Subscription Options for Rob Has a Podcast: