Rob Cesternino hosts an interview with the latest team who got eliminated from The Amazing Race All-Stars. In episode 10 of Amazing Race 2014, it was The Cowboys, Jet & Cord, who were the last team to arrive to the mat in Seville, Spain. After just missing out on the final four, Jet and Cord talk about their time on The Amazing Race with Rob.
Interview with The Cowboys: Jet & Cord on Amazing Race Stint #3
Among the topics discussed in this interview, Rob Cesternino asks Jet and Cord:
After being U-Turned by the Afghanimals in this leg of the race, why did the Cowboys feel like they had been betrayed by them?
Do Jet and Cord feel like staying above the fray with the Accidental Alliance was the right strategy or did it make the Afghanimals feel like they weren't part of the final 3 deal?
What were Jet and Cord's feelings about how Dave and Connor were so upset about being U-Turned by Brenchel during this season?
Would Jet and Cord have used the U-Turn if there was a slot open to U-Turn somebody?
Which was the toughest of the 3 seasons that Jet and Cord participated in as Amazing Racers?
Was the task with the Bulls too violent for the Amazing Race?
How did the Cowboys do with their Flamenco dancing?
What was the most fun task on this season of The Amazing Race?  What was the worst task?
Join us on Monday Night when Rob and Jessica take your questions about the latest episode of the Amazing Race at 7 pm ET / 4 pm PT.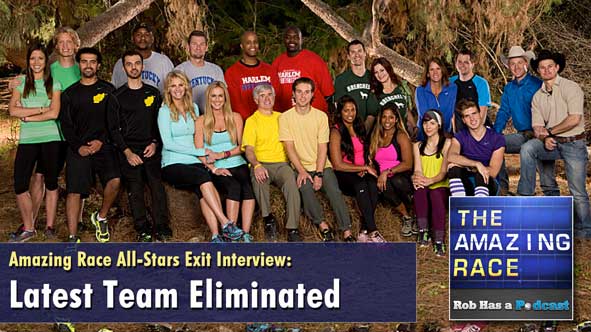 Listen to the Amazing Race RHAP-up Show: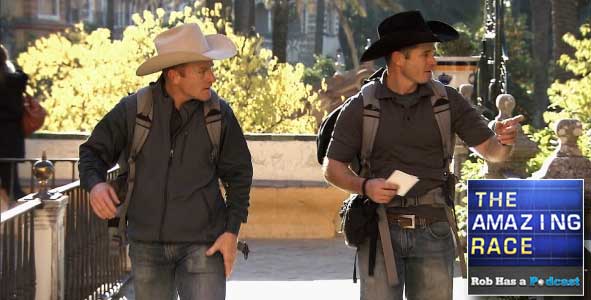 Listen to Sunday Night's Recap of the Amazing Race:  Episode 10 – Return of the U-Turn
Subscription Options for Rob Has a Podcast: