This week on The Challenge we had a long double entendre filled event, the blossoming of a romance, the rebirth of a hard fought elimination and the leading contender for most hysterical question of the season. Brian (@busdriversroute) and Ali (@lashtweets) covered it all!
Brian and Ali covered everything from this episode including a lengthy discussion on Johnny and Averey's status in the game. They even touched on the current season of the Real World and gave an update on long time Challenge favorite Kenny Santucci.
We took plenty of questions from our great fans both from Facebook and Twitter so be sure to submit those all season long. Hear everything that Brian and Ali have to say about this season by subscribing at https://robhasawebsite.com/challengeitunes so you don't miss a single episode.
Follow Battle of the Exes II all season long by subscribing to Reality TV RHAP-ups:   iTunes Link   |   RSS FEED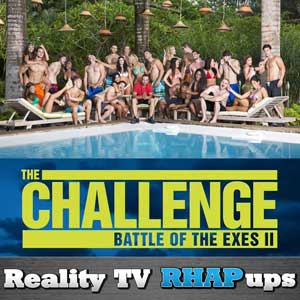 Click to subscribe to The Challenge RHAP-ups[/caption]