Amy and Haley are back to podcast a brand new season of The Bachelorette that launched with a 2-night premiere. They start out discussing the format of the two women competing to be selected as the Bachelorette and the way that Chris Harrison introduced the show.
They also discuss their first impressions of some of the guys and their sometimes wacky limo entrances.
The first episode ended in a cliffhanger about who would be chosen, but included some drama with drunk Ryan M being booted by Chris Harrison for his inappropriate behavior. They talk about the strategies of the guys' voting decisions and some of the gifts that were presented, such as Clint's Chris Harrison-triceratops artwork, JJ's hockey puck, and Tanner's kleenex to Britt. They also talk about Chris who drove the cupcake car and the amateur sex coach with the hot tub "car pool" car, as well as his hilarious discussion with Britt at the end of the episode.
The 2nd episode started with Chris Harrison visiting Britt and Kaitlyn separately to give them the news of who the men voted for. Amy and Haley were happy that Kaitlyn ultimately became the Bachelorette, although it did feel cruel to see Britt's rejection. They discuss whether she may have a future with Brady, the musician who left the rose ceremony to pursue her– the cliffhanger for
Tuesday's
episode. They also discuss Shawn B getting the first impression rose and whether this may be a curse or not, as well as the revelation that many of the men this season have children. They are puzzled why "healer" Tony, who appeared to have a black eye and was bummed out about Britt not being selected, managed to survive the first rose ceremony, so they dub him this year's "producer pick."
Amy goes through the results of the draft (as expertly tallied by @GeorgeCTV): She is in the lead with 13 points, Kelley (off competing on Survivor Second Chance!) close behind with 12 points, and Haley lagging slightly with 10 points.
The men sent home by Kaitlyn were David, Bradley, Shawn E, and Josh the lawyer-stripper. Brady left during the rose ceremony because he felt a connection with Britt, and Ryan M was kicked out by Chris Harrison for his drunken behavior.
Amy and Haley were excited to talk about things that were shown in the season preview- particularly the return of Nick Viall from Andi's season of The Bachelorette, and Kaitlyn revealing to the men that she had sex with one of the contestants.
They RHAP up with listener questions and tweets about the show.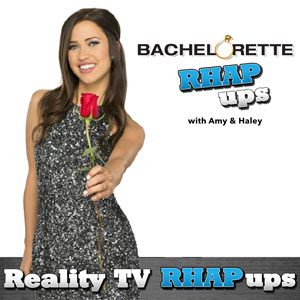 Subscribe to the Bachelor RHAP-up Podcast in iTunes[/caption]