Amy and Haley cover all the action on the latest episode of the Bachelorette with Kaitlyn Bristowe, including:
The cliffhanger resolution with Kupah, as Kaitlyn asks him to leave the mansion
The rose ceremony to start off the episode, in which fashion designer Daniel and Cory without an E were eliminated
Why Kaitlyn kept Tony around (Producer pick, anyone?)
The sumo-wrestling date and Tony's decision to not participate because he is all about peace and love and having a gypsy soul and heart of a warrior
Clint ignoring Kaitlyn on the group date
Ben Z's scary one-on-one date with Katilyn with snakes in a toilet, among other horrors
Ben Z revealing he hasn't cried in eleven years
Ben Z's hotness
The sex ed date in which the guys had to teach children about puberty (except they were child actors and Kaitlyn was pranking them)
Shawn and Ben H getting group date roses
The bromance between Clint and JJ and their "Villains gotta vill" attitude
Continuing predictions of who might be on Bachelor in Paradise or the next Bachelor
The evolution of Chris Harrison– in this case his planning of a date for Kaitlyn, where she didn't know who it would be on the date
Various tangents inspired by cold meds and cider
They also answer listener questions and share tweets from Bachelor Nation, as well as touch briefly on the Lifetime show "UnREAL," a scripted show about a Bachelor-like reality series, which they will be podcasting about with Rob later this week on RHAP.
Draft Standings as of Ep 3
Amy: In the lead with 43 (4 guys remaining- but Clint appears in danger. Ben Z and Shawn lead all the guys with 12 and 11 points respectively.)
Kelley: Close behind with 40 (6 guys remaining, with Jared, Ben H. and Joe all bringing her solid points- 9, 7, and 7 respectively)
Haley: Trailing with 25 (4 guys remaining- JJ is her best performer so far, with 7 points for the season)
Undrafted Corey remains in the game with 3 points total for the season.
Thanks for following along and sharing your comments and questions– what will the return of Nick V. next week bring? Stay tuned.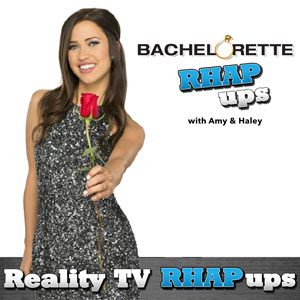 Subscribe to the Bachelor RHAP-up Podcast in iTunes[/caption]