Amy and Haley talk about all the highs and lows of the cliffhanger episode 2 of The Bachelorette season 11 with Kaitlyn Bristowe.
In this podcast they discuss:
the follow-up from last week's cliffhanger: Brady Toops asking rejected Bachelorette Britt Nilsson to be his girlfriend–and they are still dating today
Kaitlyn's boxing group date featuring Laila Ali and boxing matches between the guys: Daniel, Justin, Jared, Corey, Tanner, Kupah, Ben H, Ben Z
Ben Z winning the boxing match and getting the group date rose
Jared getting injured but coming to see Kaitlyn afterward and stealing a kiss
Clint getting the one-on-one date where he and Kaitlyn took underwater engagement photos
The stand up comedy group date featuring comedian Amy Schumer along with Nikki Glaser, Rachel Feinstein and Bridget Everett to mentor the guys: Ian, JJ, Jonathan, Joshua, Chris, Joe, Tony
Chris having the nickname "Cupcake"
The guys pranking Justin by knocking on the door
Kupah confronting Kaitlyn about why she is keeping him and whether it was for a minority quota
Kaitlyn's decision to eliminate Kupah
the cliffhanger of Kupah confronting a producer
Bachelorette producers officially asking Amy Schumer over Twitter to be the next Bachelorette
Tweets Nick Viall wrote about Kaitlyn during Chris Soules' season
a preview released suggesting one of the men, Clint, is falling in love with another guy on the show, JJ
They RHAP-up as always with a recap of the draft, sharing tweets from Bachelor Nation, and answering listener questions.
The draft standings are:
Amy in the lead with 27 points (lost Kupah but gained points from Clint's 1-on-1 date and makeouts, as well as Ben Z's group date kiss and rose)
Kelley Wentworth in 2nd place with 22 points (got some kiss points from Joe and Jared, as well as all 7 of her guys getting group dates)
Haley in third with 19 points (getting the most points from JJ for his kisses and group date rose)
Tune in next week to see if the preview turns out to be true, and what happens with Kupah.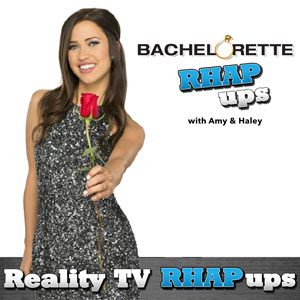 Subscribe to the Bachelor RHAP-up Podcast in iTunes[/caption]