Amy (@RHAPRecapper) and Haley (@hstrong_) invited Melissa Sullivan to help them break down the episode of The Bachelor's Women Tell All this week. Mel (@melgotserved) attended Andi's Men Tell All last season and gives the ladies some details of her experience on the show– including Marquel's cookie throwing and Chris's scream-inducing presence.
They then discuss the women who got called up into the "hot seat" for some one-on-one time with Chris, as well as the women left fighting for their 2 minutes of air time from their seats to audition for Bachelor in Paradise.
They talk about:
Britt's tearful interview and her chances of being the Bachelorette
Kelsey's extended monologue about her portrayal on the show and thoughts on why the other women hate her
The enigma that is Ashley S.
Jade's hurt feelings about Chris's blog on People saying that he was "disturbed" about her photos
Kaitlyn's confusion about getting dumped, her wish that Chris had let her go before the rose ceremony, and her chances of being the next Bachelorette
Carly's argument with Britt and the audience reaction to her
Jillian, Tara, Trina, Samantha chiming in to offer their two cents from their seats
Chris taking the hot seat and his long hug with Britt and his talks with Jade and Kaitlyn
Chris Harrison's new romance novel: The Perfect Letter
the bloopers- were they THE BEST EVER??!
the teaser for next week and their thoughts on whether Whitney or Becca will "win"
Celebrity tweets including Anna Kendrick and Richard Roeper, as well as tweets and questions from all of the beloved listeners
Only one week left! Who will it be: Whitney or Becca? Be sure to tune in next week for Amy and Haley's reactions to THE MOST DRAMATIC FINALE TO THE MOST DRAMATIC SEASON OF THE BACHELOR EVER!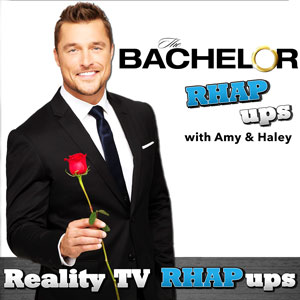 Subscribe to the Bachelor RHAP-up Podcast in iTunes[/caption]