Amy (@RHAPRecapper) and Haley (@hstrong_) break down the dates, makeouts, and meltdowns of Week 2 of The Bachelor Season 19. Chris Soules is taking his women out of the mansion and out on the town… or tractors or helicopters as the case may be. They discuss all the action of Episode 2 including:
Kimberly's bold move of asking for a second chance after being eliminated and Chris allowing her to stay
the first group date of the season: a bikini tractor race in L.A. with Jade, Tandra, Tara, Kimberly, Mackenzie and Ashley I.
Mackenzie getting one on one time and talking about aliens, big noses, pierced ears, and her son Kale
Juelia revealing her tragic story of losing her husband and father of her daughter to suicide
Jillian and Megan sneaking into Chris's guesthouse when he was gone
Megan getting the first one-on-one date: a helicopter ride to the Grand Canyon
Megan revealing her tragic story of her dad dying shortly before she left to come on the show
the zombie apocalypse group date with Kelsey, Trina, Alissa, Tracy, Jillian, Becca, Amber, Ashley S., Juelia, Kaitlyn and Britt
Chris giving a special gift to Britt: a "free kiss" coupon
Kaitlyn getting the group date rose
Ashley S. and her crazy antics on the zombie date
Ashley I. revealing she has never had a boyfriend and is a virgin
Jordan's drunk antics
Whitney setting up a mini-date with Chris
Chris making out with multiple women
Ashley I's belly button ring of Aladdin's lamp that grants wishes
the eliminated women: Tandra, Alissa, Tara, Kimberly, Jordan
They RHAP up by reading tweets from #BachelorNation and answering listeners' Twitter and Facebook questions and provide an update on the Fantasy Draft standings. One point is earned for a rose, one point is earned for a kiss, and 3 points are earned for a one-on-one date. Rob pulled ahead to a commanding lead since Megan got an individual date, as well as 3 kisses, and Amber and Mackenzie also got a smooch from Chris.
Rob earned an impressive 17 points this round, with none of his women being eliminated, for a total of 25 points. Haley lost 3 women from her draft (Tara, Kimberly, Alissa), and Amy lost 2 (Tandra, Jordan). They are tied for 2nd place with 14 points. And all three last round draft picks (Juelia, Trina, and Ashley S) live to see another week!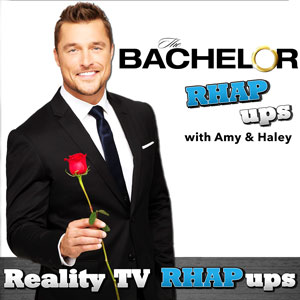 Subscribe to the Bachelor RHAP-up Podcast in iTunes[/caption]