Amy (@RHAPRecapper) and Haley (@hstrong_) are thrilled to be back together again covering the flagship show of the franchise: The Bachelor. They were less than thrilled about the 3 hour premiere that began with a red carpet snoozefest and the fact that Twitter was acting up when they were trying to get their live tweeting on. Both were thrilled with a couple of their draft picks: Haley was really high on her Whitney and Jillian picks, and she also enjoyed Canadian Kaitlyn's bold moves. Amy was as impressed as Chris was with first-night-first-kiss free hugger Britt and widow Kelsey. They both also liked Rob's 2nd pick, last-out-of-the-limo Jade.
The ladies plow through many fertile topics from premiere night including:
Chris Harrison's interrogation of Nikki regarding her break-up with Juan Pablo
Red carpet fashion and fifteen minutes of fame-seekers
Chris the Farmer's "package" (about Iowa) and his personal training with Cody Sattler
Kaitlyn's "plow the field" and "tight seal" jokes
Britt getting the first impression rose
The crazy and creative limo entrances including Nicole with the pig nose, Reegan with the bloody heart, Tara with the wardrobe change, Amanda with the secret admirer note, and Carly the cruise ship singer with the original song
The "shocking twist" of having two groups of fifteen women, with the second group arriving late to the mansion
Ashley S and her onion
The disappointing showing from the #1 draft pick, the Marcus Mariota of the bachelorettes, Michelle and triumph of final draft pick Juelia
Kimberly's dramatic "cliffhanger" exit and return to the mansion
They RHAP up with your Twitter and Facebook questions, including ones from farmer's daughter Kelley Wentworth (@kelleywentworth) from Survivor San Juan del Sur!
The Draft standings after night 1 are:
Rob: 8 points (losing Michelle and Reegan)
Amy: 8 points (losing Brittany, Amanda, and Nicole; gaining a kiss point from Britt)
Haley: 7 points* (losing Bo, Kara, and Kimberly*; unless Kimberly makes it back on the show)
Subscribe to The Bachelor RHAP-up podcast to join Amy and Haley each week for a full recap of "The Bachelor" and have fun following along during the season to find out whose draft ROSE to the top!
Then after this week's episode Amy & Haley will recap each episode for our REALITY TV RHAP-ups Podcast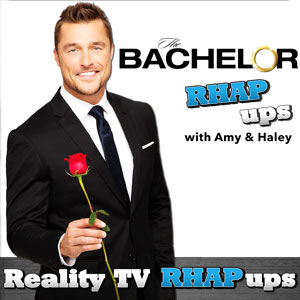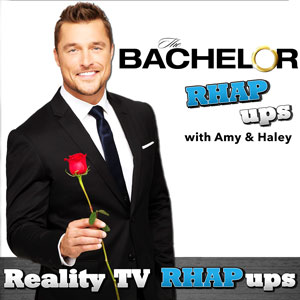 Subscribe to the Bachelor RHAP-up Podcast in iTunes[/caption]