Matt Liguori ranks the players each week with a new guest in RHAP's Survivor Power Rankings. This week Matt is joined by RHAP's expert on all things The Bachelor, Haley Strong!
Note: If reading on a cell phone, rotate your device horizontally to read the rankings side-by-side. However, this may not work for some devices with smaller screens.
Survivor: Ghost Island Week 7 Power Rankings
Personally, I don't think I've could asked for a better merge episode. Seeing the Dom and Chris war finally in action and then come to an end was a really fun way to close out the first half of the season.  Moving forward, I find it interesting how many players remaining have been so quiet in the edit. Now that the season's main storyline has ended, new ones are bound to get started. I'd expect the next episode will set the stage for what Ghost Island looks like without The Noble One, and I think we're in for a fun ride.
As for the legend of Chris Noble… I couldn't be happier we received this person as a player on Survivor. If for no other reason, his Ponderosa video was legendary and will be remembered fondly (by most) for years to come.
My guest this week is the great Haley Strong! You know Haley from all of her coverage of The Bachelor, Top Chef, and everything else she's talking about over on Reality TV RHAPups. If you haven't listened yet, don't miss out on Haley's recent appearance on The Taran Show for a peek behind the curtain of the wonderful person that is Haley Strong. Follow Haley (@hstrong_) and I (@mattliguori) on Twitter, tweet us to let us know what you think and/or leave a comment below!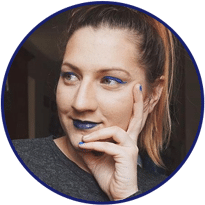 Haley
---


Donathan's still sitting pretty in the middle. I don't know if I see him making #bigmoves anytime soon, but he really doesn't need to. So while he may not be in our faces while things are getting crazy at the start of this merge, he and Laurel should have a lot to do with how things shake out.


1. Kellyn
I like where Kellyn is at right now. She just won an individual immunity and she's proven in the past that she does possess some challenge prowess. She has a good position in the power alliance, but there are so many meat shields surrounding her that are so focused on who has the biggest, uh, idol, no one is looking to take her out.
---


2. Laurel


2

Just like Donathan, I don't think Laurel has anything to worry about right now. There's a lot of people who probably want her vote, so as long as she plays this well alongside Donathan, she'll be fine. Every week I'm torn between wanting more Laurel screentime (because of course I do), and not wanting more Laurel screentime if the lack of it means she's doing well and in no danger.


2. Donathan
Boy, do I love Donathan. First of all, he's an angel. Secondly, it seems like everyone likes him and no one is looking at him as a threat. I think he has some things up his sleeve though, and I'm excited to see where he goes from here. This is great for him!!! Keep on being excellent! I love you!!!!
---


I love where Michael's at right now and I think that may be somewhat of a hot take? I've been high on his chances; like I've said, all of his allies were voted out so he's not part of a threatening duo/group… and he also still has an idol. Sure, he'll be seen as a challenge threat, but there's a lot of fear about the strategic players out there and I'm not sure if he's actually seen as one?


3. Laurel
Oh look! Another person I love! Is this a power rankings or a who does Haley like the most rankings? Who cares! I do what I want! Okay back to Laurel, like Donny, she's playing a great social game – everyone likes her! How could you not though TBH. And like Kellyn, she can rock some challenges. I'm so excited about her. She has been v under the radar so it will be interesting to see how she can maneuver in this position.
---


4. Wendell


2

I worry that Wendell and Domenick going forward will be seen as a physically and mentally strong duo that has to be split up. He'll really need to secure his other relationships on the island so if the target does land on them, Domenick goes first. The high ranking here is because I love Wendell, I loved his voting confessional, and I truly think he's got the capabilities for a deep run.


4. Desiree
She's very solid in her alliance, and she also has the benefit of being meat shielded by Kellyn, BUT this could mean that people might not respect her game in the end.
---


Well I think I've finally figured out Jenna's game. She's Ashley Nolan. At this point last season, Ashley was looking decent (both in the game and in the edit), but still somewhat below the top contenders. Just like Ashley, we check in with Jenna at random times. Just like Ashley, Jenna has a little showmance (though Ashley's went nowhere). I feel like I'm onto something.


5. Jenna
SoOoOOoo we haven't seen much from Jenna, have we? She seems fine. She's the least likely of the OG Malolo tribe to be picked off. But I also feel like she has a 0.00000% chance of winning the game. She's in an interesting place with Libby and Sebastian, both who will go before her but like, let's not kid ourselves here.
---


6. Sea Bass


2

I'm pretty sure he's still there, but I definitely can't confirm.


6. Sea Bass
With those abs, Sebastian absolutely has the ability to win some challenges. He's so laid back that no one is going to gun for him while there are still some big dawgs left in the game… and he'll have the Malolo kids on his side thanks to his 'partnership' with Jenna.
---


7. Kellyn


6

Not looking too bad, not looking too great? I'm happy to put Kellyn right in the middle this week. I'm thrilled she made it through the merge, but I do worry about this group of four she has. I think my main concern is that two of the four are Chelsea and Angela, two total wildcards. I don't know where Kellyn goes from here, but hopefully she can stay under the radar for a bit.


7. Angela
I wouldn't say I'm a stAngela by any means, but I like her a lot. But I feel like she keeps getting the rug pulled out from under her and doesn't always have her finger on the pulse of the tribe which will be trouble in the long run.
---


8. Libby


2

These editors really like to trick us into thinking Libby's going home. I'm trying to hold tight to what we heard early on. "Don't trust the sneaky blonde." Libby is going to ruin somebody's game, but the question is.. whose?


8. Wendell
I think Wendell probably has the best standing of all of the idol boys. Also, he has an idol which seems like a helpful thing in the game. He's not dumb enough not to play it (LOOKING AT YOU, CHRIS). Wendell is a smart guy, but I worry that he will never be able to get a grip on the game and it will move on without him.
---


9. Domenick


2

With the war over, Domenick came out on top. However, there was so much attention on Domenick because of the feud. I don't expect that target to disappear just because Chris did. It's so easy to see a group forming to go against him and Wendell, but I have faith in my Long Island guy.


9. Libby
The name on everybody's lips is going to be, Libby! But for real you guys, people are despy to get Libby out. They think she's Parvati reincarnated. She's been on the chopping block for like 6 straight weeks. I don't know how much longer she's going to be able to avoid her torch from being snuffed.
---


10. Desiree


3

It's concerning that Desiree was the one voicing the need to take down Libby. They took a shot and missed. I'm sure they were in on the Chris plan, but putting their votes on Libby could absolutely come back to bite them. If the rest of the tribe sees the four Naviti women as a strong group that needs to be broken up, Kellyn or Desiree might be in trouble.


10. Michael
Now that Chris is gone, Dominick is going to set his sights on the next best set of abs, and that's you Michael! Yes, he has an idol in his pocket, BUT let's all reminisce on last time, when he misplayed one. Ahh, memories. Anyhoozen, Michael has a target on his back. He can only avoid getting hit for so long.
---


11. Chelsea


1

I see Chelsea and her group of four being targeted if Libby and her old Malolos come together with Wendell and Domenick. I'm going to have to keep ranking Chelsea (and Angela) towards the bottom until they give me a reason otherwise.


11. Domenick
Ohhhhhhhhh dommy, what are we going to do with you? I would assume enjoying your inevitable demise is high up on the list. Domenick seems like the king of 'too hard, too fast'. With Chris gone, his ego is going to inflate even more and he won't see his downfall coming.
---


12. Angela


3

Angela is one of the only people we know were supposedly close to Chris, and now he's gone. Angela's hanging on by a thread here. Whether she's out next or gets dragged to the end… she ain't winning. (File that under "DUH").


12? Chelsea