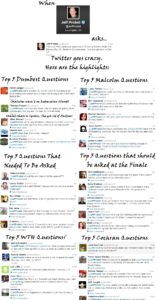 The top tweets sent to Jeff Probst for the Survivor Finale, assembled by Mike Shaheen[/caption]
Rob Cesternino welcomes Todd Herzog, winner of Survivor China back to the podcast for the first time since 2010.  On this show Rob and Todd will break down the events that transpired on this week's Survivor, including Brenda Lowe's tough decision on the family visit reward challenge, Dawn's decision to blindside Brenda and whether Cochran has what it takes to master the jury like Todd did in China.
Talking with Todd Herzog
Rob starts out with Todd by discussing some of the heat that Dawn Meehan is taking over this last episode.  Rob feels like people are upset with Dawn because she plays the part of a mom but then does the actions that are not consistant with that character.  Todd also feels for Dawn since she is a fellow Utah Survivor player.  Todd also felt bad for Brenda for the way that she went out of the game this week.
Rob talks with Todd about his performance with the jury on the Survivor China finale.  Would Cochran be able to survive the onslaught from the jury on Sunday night?  Todd believe that Cochran will be okay but worries that he has become too cocky this season.  Rob thinks Cochran would do particularly well, which is why the other Survivors ought to get rid of him before that point comes up.
Rob and Todd discuss how the final five scenarios will go and how it looks like it's Cochran's game to lose right now.  Todd also answered a number of questions from our Facebook fan page.
Nicole on the Podcast
Talking with Nicole, Rob starts discussing the abuse that Dawn is taking on twitter right now.  Rob starts a game called "Twitter is Getting out of @Meehand" and asks Nicole to pick out the fake tweets to Dawn from the real ones.  After the game, Rob and Nicole listen to your Survivor voicemail which even includes a few song parodies this week – including "Cochran's Mom"
Rob and Nicole also discuss the things the survivor players on twitter regarding the Sprint Fan Favorite of the season.  Also, Rob reads from a list of questions that have been submitted to Jeff Probst before the Survivor Finale on Sunday, May 12th.
Watch Last Night's Survivor Know-It-Alls