Fresh off of returning from Vegas this week and shaving his head, Rob Cesternino is joined by Nicole Cesternino for one gigantic podcast.
Recapping Las Vegas and The Podcast Awards
Rob and Nicole discuss what the latest state of the Cesternino marriage is at this hour.  Nicole is still not thrilled that Rob went ahead and shaved his head after winning the Podcast Award for Best Entertainment in Vegas last week.  However, Rob didn't want to let the listeners down who voted for him to do it.
Rob and Nicole recap their trip to Vegas where they stayed at the Rio and saw plenty of Amazing Racers Jaymes and James, whose Chippendales theater is located at the Hotel.  Nicole talks about what Rob's reaction was when he found out that he had won the podcast award.  Rob thanks the audience of this podcast once again since they were the ones that did all of the voting for the award.
Miss Survivor Voting Kicks Off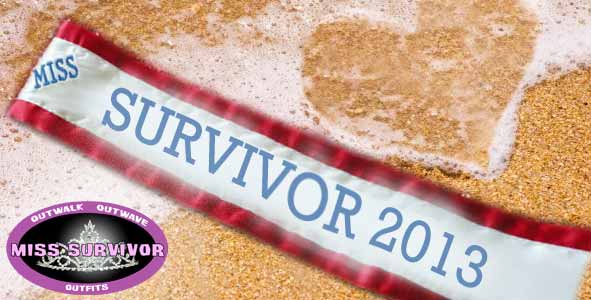 Since it's January  it's time once again to elect a new Miss Survivor.  Rob explains that this year there will be two rounds of voting.  In the first round, you will get to select three names from the 18 women who played Survivor on TV in 2012.  From these top 3 that are chosen, Rob and Nicole will conduct interviews with the finalists and then there will be a final round of voting to determine Miss Survivor.  You can vote for Miss Survivor just once at RobHasAwebsite.com/MissSurvivor2013
Rob and Nicole also discuss the possibility of a Mrs. Survivor competition.  Rob thinks that the criteria for Mrs. Survivor should be the female contestants that are over 40 years old.  Nicole originally was going to say over 30, but then she remembered her own age.  Rob thinks that both the Mrs. Survivor and Mr. Gay Survivor should be a part of the potential RHAPpy awards this summer.
First Impressions of the Survivor Caramoan Returning Players
Rob and Nicole discuss the 10 returning players who are back for the upcoming 26th season of Survivor, aka Survivor Caramoan.  The Returning players are:
Brenda Lowe (Survivor Nicaragua)
Corinne Kaplan (Survivor Gabon)
Dawn Meehan (Survivor South Pacific)
Andrea Boehlke (Survivor Redemption Island)
Francesca Hogi (Survivor Redemption Island)
Phillip Sheppard (Survivor Redemption Island)
John Cochran (Survivor South Pacific)
Brandon Hantz (Survivor South Pacific)
Erik Reichenbach (Survivor Fans vs. Favorites)
Malcom Freberg (Survivor Philippines)
As far as the women goes, Rob thinks that they did a great job to bring Brenda back to the show.  Rob is also happy to see friends of the show Corinne, Andrea and Dawn get a second shot.  While a lot of people have wondered why Francesca was brought back, Rob thinks it could be interesting to see what happens if a first boot returns to the game.  On the men side, Rob loves bringing back Cochran, Phillip and Malcolm.  However, Rob doesn't know why they needed to bring back Brandon Hantz AND Erik Reichenbach since they both pretty much went out of the game in the same way.
Rob and Nicole discuss some of the players that were snubbed by the producers, starting with the men.  Rob's snub list included Stephen Fishbach, Marty Piombo, Matt Elrod, Jim Rice and Colton Cumbie.  On the girl's side, Rob and Nicole wonder why Shambo has never been brought back to play again.  Plus, Rob adds other potential female snubs including Holly Hoffman and Kristina Kell (who got a raw deal from Boston Rob like Francesca).
Prime Time Alex Stein Returns to TV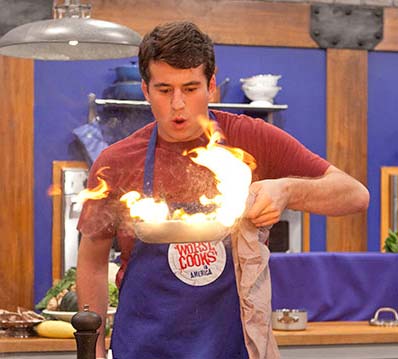 Nicole checks out and Rob and brings in the first man to ever be evicted from "The Glass House", Prime Time Alex Stein.  Prime Time is going to be appearing on a new reality show and wanted to tell the listeners of Rob Has a Podcast about his new project.  Alex Stein will be a contestant on the new season of the show "Worst Cooks in America" premiering on February 17th on The Food Network.  Alex tells Rob about what he can expect on the upcoming show and what he's been up to in the last few months since the end of "Glass House".
Show Links:
AudiblePodcast.com/RHAP – Get a FREE Audiobook download when you subscribe to Audible.