After a Survivor night that won't soon be forgotten, Rob Cesternino welcomes Phillip Sheppard from Survivor Caramoan back to Rob Has a Podcast.  Starting with last night's tribal council Phillip begins by discussing how Malcolm Freberg needed to use two hidden immunity idols to take down the head of Stealth R Us last night.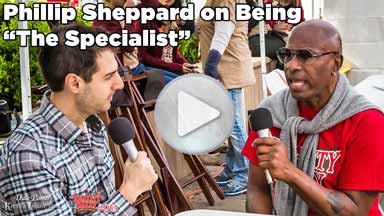 Phillip discusses the strategic game that he was playing and how the smartest player he played with, Boston Rob, thought that he should go to the end with Phillip – while Malcolm and the three amigos felt like it was imperative to get him out of the game.  Phillip brought up last week's tribal council and the fact that he got an idol flushed out from his talking at tribal council.  While many believed that Phillip spilled the beans, he set a trap which Reynold and Malcolm played in to.
There was suspicion that Malcolm may have had the idol and Phillip says that he, Cochran, Andrea and Dawn all were out looking for that third hidden immunity idol, which ultimately was used to save Eddie.  Phillip doesn't believe that Survivor karma had any role in his demise from the game after he sat out of an immunity challenge in this week's show.  Phillip actually wanted Sherri to be a part of his final three because he felt like she couldn't win the game.  Phillip would've liked to have gotten to the final three with himself, Sherri and Andrea.
Phillip also does not think to highly of Corinne and thinks she was a sore loser.  He also said that he was surprised to see that Erik Reichenbach had animosity towards him because allegedly Erik told Phillip that his family said not to trust him.  Phillip also believes that Brandon Hantz suffers from some serious emotional issues and accuses him of the same behavior Russell exhibited after eliminated on Redemption Island in season 22.
Join us later today when we podcast with Sophie Clarke, the winner of Survivor: South Pacific.
Subscribe to Rob Has a Podcast:  https://robhasawebsite.com/itunes