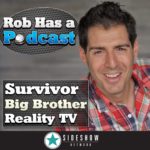 CLICK to Subscribe to Rob Has a Podcast on iTunes[/caption]
After last weekend's Survivor Blood vs Water finale, Rob Cesternino and Nicole Cesternino get together one last time to talk about this past season of Survivor.
Rob and Nicole take your voicemails and questions from Facebook on all listener feedback edition of Rob Has a Podcast.
Among the topics discussed in the episode we address your questions on the following subjects:
Would Survivor Blood vs Water have ended differently if there was no Redemption Island? – Jeremiah Panhorst
Should an alliance of 3 adopt the Vytas threat with each other? – Scott Chupack
Was this season popular with fans because of low expectations? – Thomas Mullaney
Why was there no tribute to BB Andersen at the finale? – Thomas Mullaney
What would have been the best time for Gervase and/or Monica to have made a move against Tyson? – Adam Ferrario
Was the lack of a loved ones challenge and the lack of a Sprint player of the season connected? – Dan Wiertelak
Why are competition wins not as important to the Survivor jury as they are to the Big Brother jury? – Michelle from Long Island
How would Rob and Nicole have done on this season? – Matt Morales
When will Survivor return to the Blood vs Water format? – Josh in New Hampshire
What happens after the end of the final tribal council? – Scott from New York
What will Tyson do with his million dollars? – Larry in Pennsylvania
Who played the second best game this season? – Eric Corbridge
Which returning players will probably return again in another season? – Brian Scally
Will Tyson be inducted in to the Survivor Hall of Fame next December? – Ryan Alexander
Who would win the game if Tyson would have pulled the white rock? – Thomas Forsey
Will we see a Survivor 50 – Ron Chan
What were the best moments of the season? – Brendan Fitzpatrick 
Plus many more that I don't feel comfortable writing about in the show description!
Subscription Links:
Subscribe to RHAP (All Shows) on iTunes: RobHasAwebsite.com/iTunes
Subscribe to RHAP (All Shows) on Stitcher: RobHasAwebsite.com/Stitcher
Subscribe to RHAP (All Shows) on Soundcloud: RobHasAwebsite.com/Soundcloud
Subscribe to RHAP (All Shows) on YouTube: RobHasAwebsite.com/Youtube