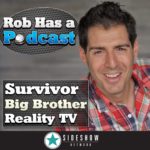 CLICK to Subscribe to Rob Has a Podcast on iTunes[/caption]
Listen to the Show:
Rob Cesternino welcomes the latest player eliminated from Survivor Blood vs Water for the final regular Thursday Exit interview of the season.
This week its Katie Collins who became the latest person to leave Redemption Island and she makes her first Rob Has a Podcast appearance to discuss her experience on the show.
In this episode Rob and Katie discuss:
Rob starts off by offering up his condolences to Katie and Tina for the loss of Taylor Collins
What was it like for Katie to compete against her mom in the Redemption Island duel and was it a hard decision for her to let her mom move on at her expense?
Did Katie have any hesitation before drawing rocks at last week's tribal council?  What was Katie's feeling after seeing that she had pulled the white rock?
Did Katie suspect that Ciera had told Tyson the plan to vote against him at the final 7?
How difficult was it for Katie to be at the bottom of the pecking order throughout the post merge game?  Was anybody willing to even talk with her?
What was it like for Katie who grew up watching her mom win Survivor Australia, to come back and ultimately play in a season of Survivor with her mom?
Show Links
RedCross.org – In Lieu of flowers, support the Red Cross' efforts in the Philippines in honor of Taylor Collins